Berry season is upon us once again and family farms and fruit stands can be found across Arkansas for the fruit you seek. Below are four fabulous finds to put on the radar!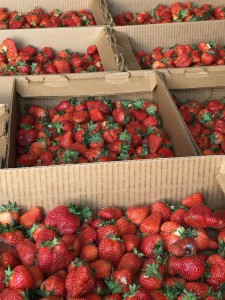 1. The Reagan Family Farm is a family-owned and operated, 10-acre farm in the heart of Fayetteville. This urban farm sells strawberries, local honey, and farm fresh eggs. The "buy local" mindset of Fayetteville and surrounding area residents keeps this place busy. You can pick your own strawberries for $4 a pound or purchase a tub of berries picked for you at $5 a pound. You can buy a pint of honey for $10 and see the bee houses it came from located near the entrance of this farm. Eggs cost $3 a dozen.
This year the family planted blueberries, which will produce in a couple of years. The Reagan Farm address is 241 E. 13th St. However, you actually enter the farm from 15th Street. Just look for the big berry sign sitting on the ground at the entrance and the big red barn. Only cash or checks are accepted. For more information, call 479-443-5529.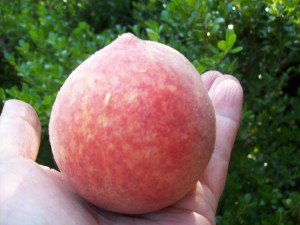 2. Suzanne's Fruit Farm in Hampton is a 155- acre farm that specializes in "you pick or we pick" peaches, plums, blueberries, blackberries, muscadines, scuppernongs and pumpkins. Yum! In business since 1975, the Reddin family shares its farm and farming heritage with visitors during the harvest season, which lasts June through October.
Of note, make sure to call before you head to the farm to see what fruit is available and opening hours. There is also a harvest calendar available on their site. For more details call 870-798-4975 or visit suzannesfruitfarm.com.
3. If you have strawberries on your mind, check out Berries by Bill near Newport. This marks the 17th year that Bill Landreth has offered the succulent red berries at his produce stand. But in June, you'll find a great variety of watermelons, purple hull peas, yummy sweet corn, and cantaloupe at the stand. For more information, call 870-503-0139.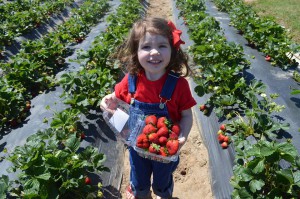 4. BoBrook Farms, nestled on 235 acres in Roland near Pinnacle Mountain State Park, is so much more than a berry patch! Summer begins at BoBrook with the arrival of blueberries in mid-to late May. Then come the blackberries, which will overlap blueberries for a short time before taking center stage. Cooler temps bring pickers back to the pumpkin patch in the fall; add a barn, sunflower maze, and hayrides, and you've got a top destination for both weddings and kids' birthday parties. Adults appreciate BoBrook's River Bottom Winery, where fruit wines and preserves made fresh from the farm are sold on the weekends. Blueberries are expected by May 14, but call ahead to be sure. The address is 13810 Combee Lane and they are open Tuesday, Thursday, and Saturday from 7 a.m. to noon. For more details call 501-519-5666.
Thanks to Jill Rohrbach, Kim Williams and Katherine Stewart for helping with this piece!