Big River Crossing now open to bicyclists, runners and pedestrians
Editor's note: The event featured in this article occurred in 2016.

There's an exciting new way to cross the Mighty Mississippi River in West Memphis. The Big River Crossing officially opened on Oct. 22 amid fanfare, fireworks and special events on both sides of the mighty river.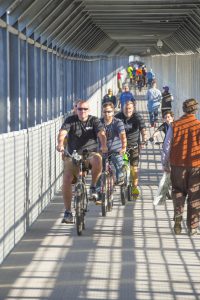 The Big River Crossing now connects West Memphis, Ark., to downtown Memphis. A major focus of the Big River Crossing is the "big river" itself, which visitors view from the nearly one-mile walkway built alongside the historic Harahan Bridge, one of the river's former roadways. Opened in 1916, the Harahan Bridge connected West Memphis and Memphis and was used for over 30 years. The structure features two railways and two roadways built off the side of the main bridge structure. The bridge was used for vehicle traffic until 1949, when the nearby Memphis-Arkansas Memorial Bridge (or now known by locals as "The Old Bridge") was opened.
The Big River Crossing has the distinction of not only being the longest public pedestrian bridge across the "Father of Waters," it is also the country's longest active rail/bicycle/pedestrian bridge. The unparalleled views of the mighty Mississippi from the walkway are unlike most that visitors have seen before.
When fully completed, the Arkansas side of the Big River Crossing will also boast the Delta Regional River Park, complete with biking and walking paths, wayside exhibits and a focus on the ecology and natural beauty of the area.
"It's been incredible to watch the growing interest in biking," said Joe David Rice, director of Arkansas Tourism. "This bridge is just what the doctor ordered. It's going to make a big difference in the Arkansas Delta and for tourism opportunities in The Natural State."
In conjunction with the opening of the Big River Crossing, for the first time in history, the St. Francis Levee board approved unanimously to open the Mississippi River levee from West Memphis to near Marianna to bicyclists and pedestrians, allowing creation of the Big River Trail. Future plans include connecting the Big River Trail to the Delta Heritage Trail State Park near Helena-West Helena.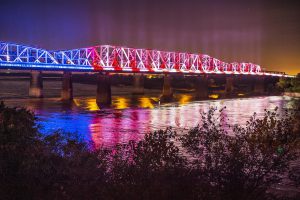 "The Big River Crossing will add to the attraction of our Arkansas State Parks, especially the Mississippi River and the Delta Heritage Trail State Parks, to cyclists nationwide," said Grady Spann, director of Arkansas State Parks. "Theaccessibility of the St. Francis Levee District opening the levee to cyclists makes this a destination for many guests wanting to explore the unique beauty of the Arkansas Delta through natural, cultural and historic experiences.  It will allow our cycling guests to easily connect to our state parks in the Delta."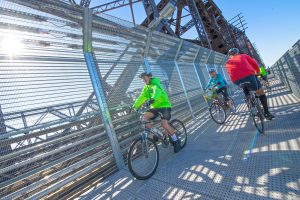 For more information on the Big River Crossing, log on to www.bigrivercrossing.com.