Billy's House of Guitars in Glenwood
Update: 1.3.2014: It is with great sadness that we have learned of the passing of Billy Herrell. He was a wonderful musician and brought a smile to the face of many with his humor and kindness. He will be greatly missed.
Photographer Tim Schultz and I made a stop by Billy's House of Guitars and Musical Museum in Glenwood last week. While there, we got a chance to interview owner Billy Herrell, hear him create a new song about Arkansas, and enjoyed the large collection of music and movie memorabilia that can found throughout the museum.  It was a wonderful visit and if you find yourself in Glenwood sometime, be sure to stop by the shop to say hi to Billy. Below is a video from our venture and more details about the museum. Enjoy!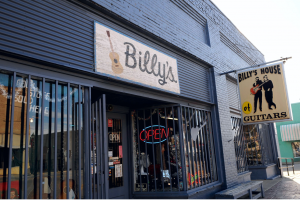 Among the storefronts along the downtown streets of Glenwood is Billy's House of Guitars and Musical Museum.
The store, which opened in 1995, not only features guitars for sale, it serves as a museum of music heritage. There is a "mom and pop'" feel to the store/museum that adds to the allure of the depth of musical history preserved here. And all of the pieces come from owner Billy Herrell's personal collection.
Whatever genre you might be into, blues, country, rock, … it's there.
The shop hosts quite an elaborate collection, what Herrell describes as "Americana." A visitor needs hours to take it all in and absorb the stories associated with each eclectic piece.
Different mementos fill every nook and no matter how many times your eyes scan through the store, a new piece seems to come to the surface each go around.
You don't have to be a musician to enjoy the museum. Everything ties together and genres cross. There is a lot of movie memorabilia in the museum too.
At the museum is one of Willie Nelson's guitars, dating back to an appearance Nelson made at a Glenwood radio station. Roy Rogers' stagecoach, which took Herrell three years to land, is here, along with an autographed Bill Clinton guitar, a 1946 working Seeburg jukebox that plays 78 rpm records, a framed case showcasing Lynyrd Skynyrd's drumsticks from a show he did at the store, and the list goes on. And on. And on.
Then there are the walls, which are packed with photos, most signed. Every which way you look, another familiar face greets you: Ray Charles, Johnny Cash, Lightnin' Hopkins, George Harrison, Marilyn Monroe, Bob Dylan…
Herrell grew up in Bald Knob and began collecting items as a child. Even then he was a meticulous collector.
Music was a part of his life for as long as he can remember. His father Carl worked with Elvis at the Louisiana Hayride, a radio show based out of Shreveport. In 1969 Herrell moved to Hot Springs, where he worked at the old Vapors nightclub. He was a member of several bands including American Timepiece. In 1980 he moved to Glenwood and has been here ever since.
Along with his collection, there is an area he calls the "Front Porch," where  live music shows take place.
Herrell has an energy and enthusiasm for music  that is hard to harness with words. It's best to experience him and the museum in person.
Billy's House of Guitars and Musical Museum, open 9:30 a.m. to 5 p.m. Tuesday through Saturday, is located at 201 E. Broadway; 870-356-4301. There is no charge to see the museum but they do take donations.