Bobby's Bike Hike Boosts Arkansas's Dynamic Bicycle Tourism Scene
Bobby's Bike Hike is now closed. Learn more about bike tours and rentals at Rock Town River Outfitters. Experience cycling in Arkansas. Our world-class terrain spans the state and is a route to fun and adventure. Riding here can be done year-round and caters to all levels.
The Arkansas River Trails System in Pulaski County has opened up new options for pedestrians and bicyclists to explore more of the river's banks. Now there's a company that's offering a way to enjoy those trails, even if you don't own a bicycle. That's Bobby's Bike Hike-Little Rock, located in the River Market District.
"We've been pleasantly surprised with the general interest of local citizens in the future of the River Trail and the development of downtown," said Jeremy Lewno, Director of Operations of Bobby's Bike Hike – Little Rock. "We have people stop in our shop daily and discuss how happy they are with the trail system in Central Arkansas and what that means to the healthy future of the citizens that use them. They're also excited to see all what's happening downtown and in the River Market. It's an exciting time to be in Little Rock and to be a part of all the positive change."
Lewno, a Little Rock native, moved up to Chicago on a whim shortly after college graduation. He started Bobby's Bike Hike 10 years ago because he wanted to create a more fit way to explore the Windy City. He named the business after his late father, Bob, who was a motor coach tour operator in Little Rock. "He inspired my passion for travel, community, and health, which are the three tenets that drive my business both in Chicago and in Little Rock," he said. Lewno opened the Little Rock location this spring.
Along with bicycle rentals, the company offers interactive bike tours. "We think it's extremely important for people to understand the history of the place they call home, as well as teaching visitors about our area," said Lewno. The Historic Neighborhoods Tour takes riders off the River Trail and into the historic downtown neighborhoods of MacArthur Park and Quapaw Quarter, over to Central High and the State Capitol, before winding along the Arkansas River back to shop headquarters in the River Market.
Another tour option, Bobby's Tike Hike: Family Edition, sticks primarily to the River Trail and has stories suited for families with younger riders. The focus is fun and interaction. There is also the Pork and Bourbon Tour which features the Southern delicacies of pork, cupcakes, and bourbon. "If bourbon isn't your thing, you can always try the Swine and Wine tour, said Lewno. "Same tour, just with wine."
The company offers similar tours in Chicago. "We try to highlight the different aspects that make each city unique," said Lewno. "Usually that stems from the neighborhoods, the people, and food. So that is what we look to highlight."
"We have a really good mix of locals, international visitors, and tourists from other U.S. states," said Scott Branscum, who works at Bobby's Bike Hike-Little Rock. Branscum said they get a lot of customers from Heifer International, the Clinton School, and from the airlines. The convention crowd is also big for the company due to the nearby location of the Statehouse Convention Center. The popular River Market address is also a benefit. "You get people who may not necessarily have had any intention of riding a bike 15 miles that are here and just decided to go for a ride," he said.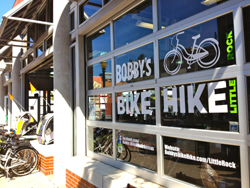 "This is going into one of the busier times of year with fall and the nice weather and there are a lot state wide and nationwide cycling events now too," he added.
Lewno said they want to work in tandem with other companies to promote bicycling as both fun recreation and as a healthy transportation option.
"The cycling scene is amazing in Arkansas for recreational riding," he said. "In many conversations I've had, I've noticed that people classify themselves as road bikers and mountain bikers primarily. We're blessed to have so many beautifully paved paths and off-road paths around Central Arkansas."
Even with the growth of cycling in the region, Lewno said the area hasn't come close to reaching its capacity. "The one thing we'd like to see is more of an emphasis on bicycling as a transportation mechanism," he said. "From a health perspective, we have a real opportunity to embrace bicycling as transportation, which will have a huge impact on our region's future health care costs. We'd like to see more bike lanes in the city proper to accommodate for that."
Lewno said that national trends show both Big Business and young entrepreneurs are increasingly choosing quality of life issues and a cities to invest in. "So citizens are seeing the need for a more livable, walkable, and bike-able Central Arkansas," he said.
Lewno and his wife live in Little Rock full time and plan to raise their children here. They visit Bobby's in Chicago about once a month, and said there is the possibility of further expansion of the company. When he first started the business, "I knew more about tourism than I did bicycling," he said. "I sold my car to raise money to start the business. That is when I found myself car-less and started using my bike as transportation. It changed my life. I quickly realized how many aspects of personal responsibility were wrapped up in my choice of transportation. The bicycle kept me healthy, it saved me money, it helped me connect to my neighborhood and community since it was so easy to pull over and talk to friends on the street. It also had such a positive impact on our environment. It just felt good. So my business in Chicago became more than just a business, it became my passion. I was able to recruit a management team and staff that believed in similar values and we've worked hard to create what is now considered one of the top tour companies in Chicago. I'm extremely excited to have the opportunity to expand my business to Little Rock. But I'm even more passionate about the opportunity to create a healthier, more bike-able and walkable region in Central Arkansas."
Bobby's Bike Hike is located at 400 President Clinton Ave in the River Market's Ottenheimer Market Hall. The company offers rentals of road bicycles, tandems, hybrids, mountain bike cruisers, and children's bike equipment. The rental shop is open year round and also offers group and corporate outings. Rentals start at $8/hour or $12 for a half day. For more information call 501-613-7001.