Commemorating the 150th Anniversary of the Sultana Disaster
On the early morning of April 27, 1865, the Sultana exploded on the Mississippi River near Memphis. It became America's greatest maritime disaster, killing nearly 1,800 of the almost 2,400 passengers on-board. Many of those were former Union soldiers, on their way home following the end of the Civil War. The boat sank near Marion.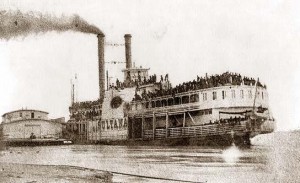 On April 23-25, Marion is the site of activities commemorating this historic event.
On Thursday, April 23, those pre-registered for the event can pick up their information packets at the Marion Hampton Inn from noon until 5 p.m. The Sultana Museum in Marion, located at 104 Washington St., will be open to the public from 10 a.m. until 5 p.m.
The commemoration begins on Friday, April 24, at 9 a.m. at the Marion United Methodist Church with a series of lectures. Topics include "Where the Sultana Disaster Really Began," followed by "The Naval Battle of Memphis" at 10:30 and "The Search for the Sultana" at 1:30 p.m. The Sultana Museum will be open for visitors from 10 a.m. to 5 p.m. A Civil War encampment will be located on the grounds of the Crittenden County Courthouse, directly across from the Sultana Museum, beginning at noon. A commemorative wreath laying takes place at the Sultana Monument, located adjacent to the Marion City Hall at 3:30 p.m. A wine and cheese reception is scheduled for the Sultana Museum from 4 to 5 p.m., followed by a traditional Southern dinner at the Marion United Methodist Church. The dinner is $15 per person and includes a Civil War period concert and performance by the 52nd Regimental String Band.
Saturday's activities kick-off with a bus tour beginning at 8:30 a.m. The tour includes visits to Fort Pickering, Jefferson Davis Park, the Gayoso Hotel, the Hunt-Phelan House (site of U.S. Grant's headquarters in Memphis), the Memphis Navy Yard, and Washburn Alley. Cost of the bus tour is $27 per person. The Civil War encampment opens to visitors at 9 a.m. and the Sultana Museum at 10. A special tour of the Mississippi River Museum commences at 12:30 p.m., including the museum's Civil War and Transportation on the Mississippi exhibits.
To learn more about the 150th anniversary commemoration, visit www.sultana150.org or phone the Marion Chamber of Commerce at 870-739-6041.