Crossett's Christmas Wonderland to be Featured on ABC Tonight
Tonight, Sam Finney of Crossett will be featured on ABC's "The Great Christmas Light Fight." Finney, who has decorated his house for 30 years, opens Christmas Wonderland each year to the public. Mr. Sam, who grew up on a dairy farm in Ohio, remembers that each year his parents would take the family to a nearby holiday light show, and he vowed that when he grew up, he'd do everything he could to provide a Christmas lights experience for his community. And he's done just that!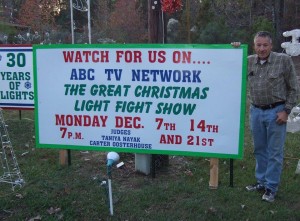 ABC's "The Great Christmas Light Fight" is a holiday decoration competition, now in its third year. The program features families and neighborhoods from across America decorating their homes to the "extreme" for Christmas. A total of $300,000 in prizes will be given away.
Finney will be featured in the Dec. 21 episode, which airs at 7 p.m. CST.
Christmas Wonderland is free and open to the public. Donations are accepted, and all donations are used to pay the increased electric bill during the Christmas season and to buy new lights. Mr. Sam is normally on-site each evening, greeting his guests as they drive through the display, encompassing a half-mile of the Finney family's land. The display opens each night at 5:30 and is open until 10 p.m. on weeknights and until 11 p.m. on Friday and Saturday nights through New Year's Eve. Christmas Wonderland is part of the Arkansas Trail of Holiday Lights.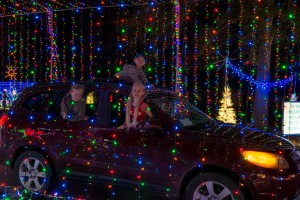 You can visit a special Facebook page dedicated to Mr. Sam and Christmas Wonderland here.