Crossett's Christmas Wonderland WINS "The Great Christmas Light Fight!"
Editor's note: This blog was published in December 2015.

On Monday evening, ABC aired the last of the 3-part holiday special, "The Great Christmas Light Fight." Sam Finney of Crossett, who has lovingly created Christmas Wonderland for the past 30 years, was the final winner!
Christmas Wonderland is a project close to Mr. Sam's heart. As a child, growing up in Ohio, he remembers his family going on a rare outing each Christmas season to a nearby holiday lights display. He says he promised himself that when he grew up, he'd do something for his community during the holidays to help families create lasting memories.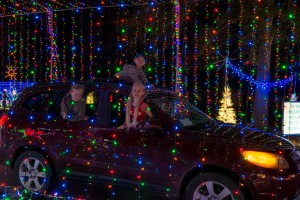 Sam Finney came to Arkansas to visit a military buddy he'd spent time with in Vietnam and met the friend's sister, Julia. The two married in 1971. The Finney's completed a new house in 1985, and Finney began decorating the new home. Thirty years later, and after losing his beloved wife, Julia, Mr. Sam still dedicates months to preparing for Christmas Wonderland.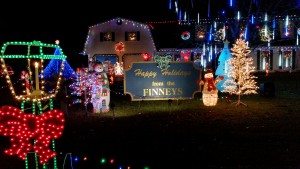 Finney began preparing this year back in August. Along with a single helper, Mr. Sam began assembling the display, which includes nearly 800 extension cords, approximately one million lights, 100 flood lights, two bubble machines, two snow machines, two motion projectors, three still projectors, and one train.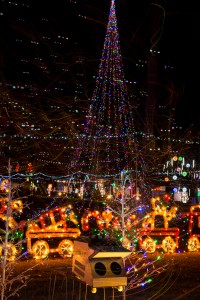 Christmas Wonderland is located at 123 Goshen Road in Crossett. Admission is free, but donations are accepted (which Finney uses to pay the increased electric bill from the lights and to buy new lights for the upcoming year). The display is open nightly, beginning at 5:30 p.m, and closing at 10 p.m. on weeknights and 11 p.m. on Fridays and Saturdays, through New Year's Eve. However, Mr. Sam told me that they may extend this year's dates because he expects an increase in visitors after the win on "The Great Christmas Light Fight."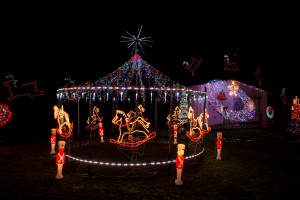 HUGE congratulations go to Mr. Sam and all the volunteers who make Christmas Wonderland happen every night during the holiday season!
Check out the special Christmas Wonderland Facebook page here for more information.