Experience a National Recreation Trail in Arkansas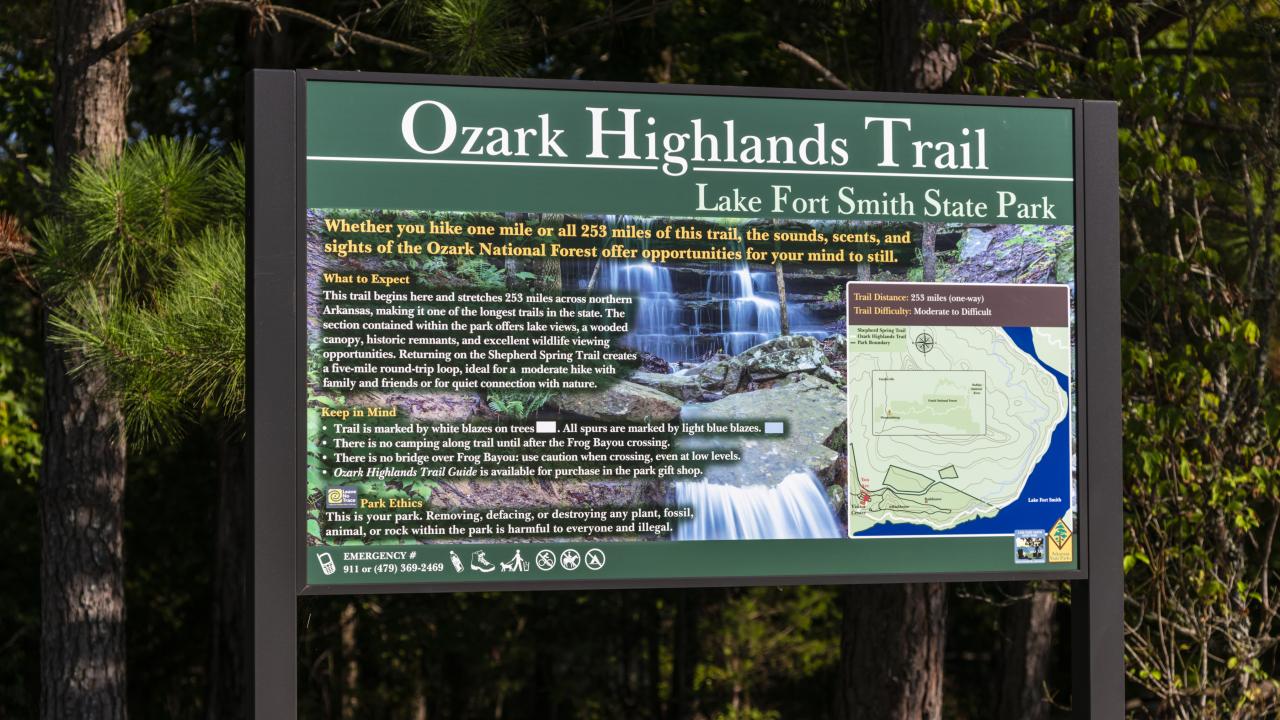 National Recreation Trails are recognized as exemplary trails of local and regional significance and there are more than 1,200 designated trails in all 50 states. Arkansas has a plethora of NRTs that range from short, accessible paths to trails for those that seek an arduous adventure.
Whether you're looking for a path less traveled or just a stroll to soak in the great outdoors, a place to discover nature and wildlife or to enjoy fitness and fun, here are some Arkansas NRTs worthy of your time:
Northwest Arkansas
Located in Newton County, this loop trail passes a nice bluff line and one of the largest natural rock bridges in this part of the country. Look for the wild magnolias and free roaming goats.
Located at Devil's Den State Park, this is a popular trail that gets high use. It has a natural surface and is considered moderately strenuous due to elevation changes, numerous rock steps and uneven surfaces.
Hike 300 feet in elevation to one of the best views in Devil's Den State Park atop the Yellow Rock, where you'll have an unobstructed view of the Lee Creek valley. Along the way you'll also see cedar glades, interesting rock formations and the first structure built in the park. (Do you know what television series was filmed in part at this location?)
Spanning most of the northern half of the Ozark Mountains from Lake Fort Smith State Park to the Buffalo National River, this trail is popular for backpacking, diverse landscapes, and scenic beauty.
This winding trail consists of three loops and is used by hikers and bikers. Part of Springhill Park, it lies just outside of Barling, and is a close drive into Van Buren and Fort Smith.
This self-guided trail overlooks Ozark Lake from atop the high bluffs and leads to an overlook shelter. Displays at the overlook describe the history of the area.
The trail winds along a rugged northwest slope overlooking a portion of Shoal Creek and passes under a rock arch. There are three routes but the total length is one mile for the entire trail. Look for information trail markers along the way.
One of the oldest trails in the state, this trail began as a footpath for Summit Park Hotel guests and became a more elaborate trail built by the Civilian Conservation Corps in the 30s as part of Mount Nebo State Park, the second oldest park in the Arkansas State Park System. It's moderate to strenuous and has 12 historical points of interest.
Located in Old Post Road Park, this trail has a series of 12 interconnecting loops. The trail has beginner, intermediate and advanced sections and the park has traditional amenities.
Located in Russellville, the Bona Dea winds through 186 acres of wetland habitat, where you're bound to see wildlife. It also has exercise stations.
This trail is a quarter-mile asphalt fitness trail on flat terrain.
North Central
This backcountry trail system is popular with mountain bikers, hikers and photographers and provides access to the scenic areas of Norfork Lake.
From limestone bluffs to cedar glades, this trail is a splendid hike through nature that climbs a buff high above Norfork Lake.
Located at Blanchard Springs Cavern, this trail is underground on a lighted, paved walking path through two huge rooms filled with sparking flowstone, columns, stalactites, stalagmites, and delicate soda straws. Unlike the others, there is a cost to this trail, which includes a guided tour.
This unique trail is on accessible by boat. It's located on Sugar Loaf Mountain Island, which rises 540 feet above Greers Ferry Lake and 1,002 feet above sea level at the highest point. Reach the top for an unequaled panoramic view of the surrounding lake and Ozark Mountain terrain. You can catch a ferry at Fairfield Bay Marina. (Read about the two mountains with the same name here.)
The 660-foot long Buckeye Trail was constructed to provide a quality trail experience that's accessible to wheelchairs. Its smooth, level surface is easy to walk as well.
This trail winds along a wooded bluff with the overlook at the trail's end offering a scenic panorama of Greers Ferry Dam, the National Fish Hatchery, and Little Red River.
The trail is used by campers in Dam Site Park, as well as hikers, walkers, runners, bicyclists, and nature enthusiasts visiting the area.
More National Recreation Trails located in Central, Southwest and the Delta regions of Arkansas can be found on this map.