Finding Arkansas's Waterfalls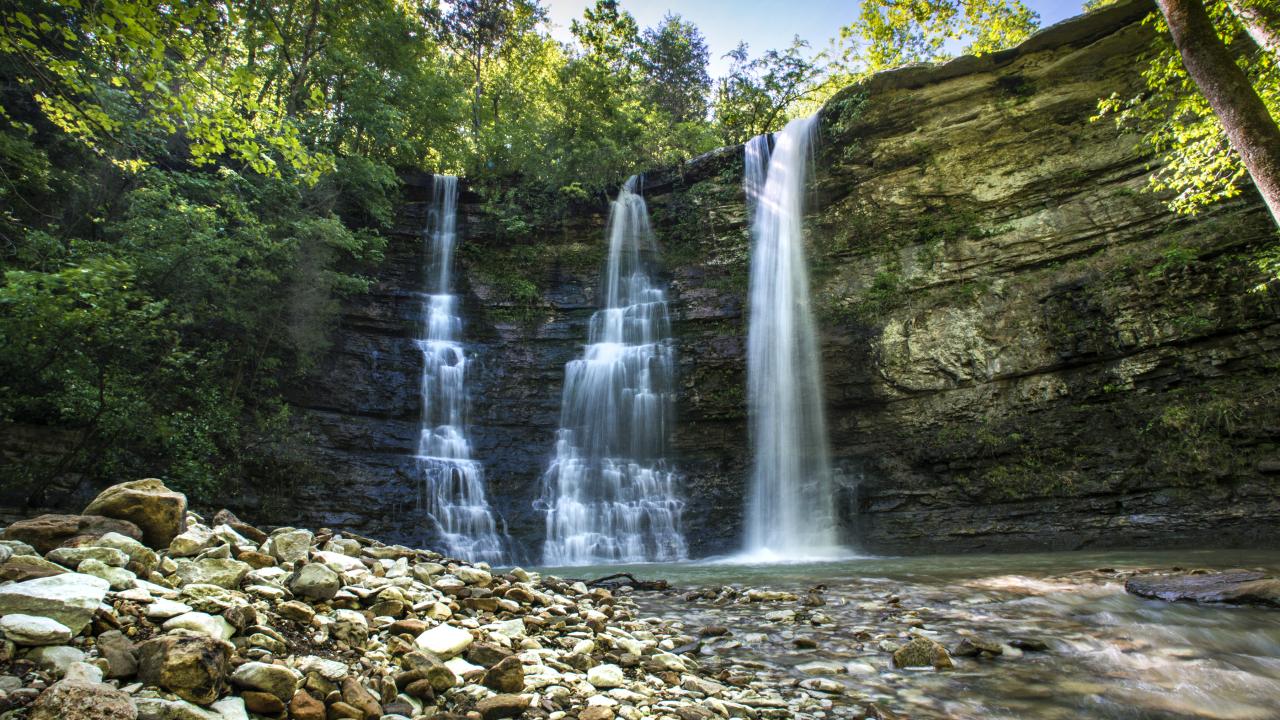 Directions to some of The Natural State's prettiest waterfalls:
While we're feeling a bit soggy in the Ozark and Ouachita mountains from all the recent spring rains, every cloud does have a silver lining. The waterfalls are roaring. While more rain is forecast for this week, it appears there will be plenty of breaks in the weather for a good hike. Another advantage, cloudy days are great for photographing waterfalls.
So, strap on your hiking shoes and grab your camera. Below are suggestions on where to go and tips for photographing waterfalls. One can be seen from the road while varying lengths of walking are required to reach others.
Little Missouri Falls
Mena, AR
From Hot Springs, go west on U.S. 70 to Glenwood, then onto Salem. At Salem, turn right (west) on Arkansas 84 to Langley. At Langley, head north on Arkansas 369 where you'll find signs directing you to the falls.
Haw Creek Falls
Hagarville, AR
From Arkansas Highway 7, turn west at Pelsor (35-40 miles north of Russellville) on Arkansas 123. The falls will be found adjacent to a small U.S. Forest Service campground a little beyond the bridge over Big Piney Creek. The campground is about 10 to 12 miles from Pelsor and is marked with a sign.
Eden Falls
Kingston, AR
On Arkansas 43 between Boxley and Ponca, turn onto the road to Lost Valley, a unit of the Buffalo National River. Park at the end of the road and follow the signed trail to the bluff shelter. Eden Falls will be found at the far end of the massive overhang.
Falling Water Falls
Smyrna Township, AR
At the junction of Arkansas 7 and 16 at Pelsor, turn east on 16 to Ben Hur, then south about 1.5 miles to Forest Service Road 1205. Turn east on this road and remain on it for about 3 to 4 miles (maybe less). You'll be following Falling Water Creek and will come upon the falls to your right — easily visible from the road. Also if you continue another 6 to 8 miles on this road, you'll come to Richland Creek Campground, a trailhead for trips back to Richland Falls and Twin Falls.
Richland Falls/Twin Falls
Sand Gap, AR
From I-40 at Russellville, go 36 miles on Arkansas 7 to Pelsor. Turn east on Ark. 16 and drive approximately 10 miles to Forest Service Rd. 1205. Turn north and go about 8 miles to Richland Creek Campground. Park at the lower campground and go west, immediately crossing Falling Water Creek. Hike the Richland Creek Trail for about 2 miles to the confluence of Devil's Fork Creek and go straight for 1/4 mile. Twin Falls are 1/4 mile up Devil's Fork; Richland Falls is another 1/4 mile up Richland Creek (a topographic map is suggested)
Hemmed-In Hollow Falls
Compton, AR
At Ponca, ask one of the local outfitters for directions. You'll have to hike in anywhere from 3.5 to 5 miles (one way), depending on your choice of trailhead.
Cossatot Falls River State Park Natural Area
Umpire, AR
The park extends from the Ouachita National Forest, near the Arkansas 246 bridge on the north, to the Corps of Engineer property on Gillham Lake, south of Arkansas 4. The falls can be reached via Weyerhaeuser Road #52200 which runs between Highways 4 and 246 on the east side of the river. From Road 52200, turn west on 52600 which leads to Cossatot Falls.
The Falls at Lake Catherine State Park
Hot Springs, AR
From I-30 (Exit 97) near Malvern, go north 12 miles on Highway 171 which dead ends at Lake Catherine State Park. Follow signs to the Falls Branch Trail. The waterfall is located approximately 1/4 mile from the trailhead.