Five Fun Fall Outdoor Activities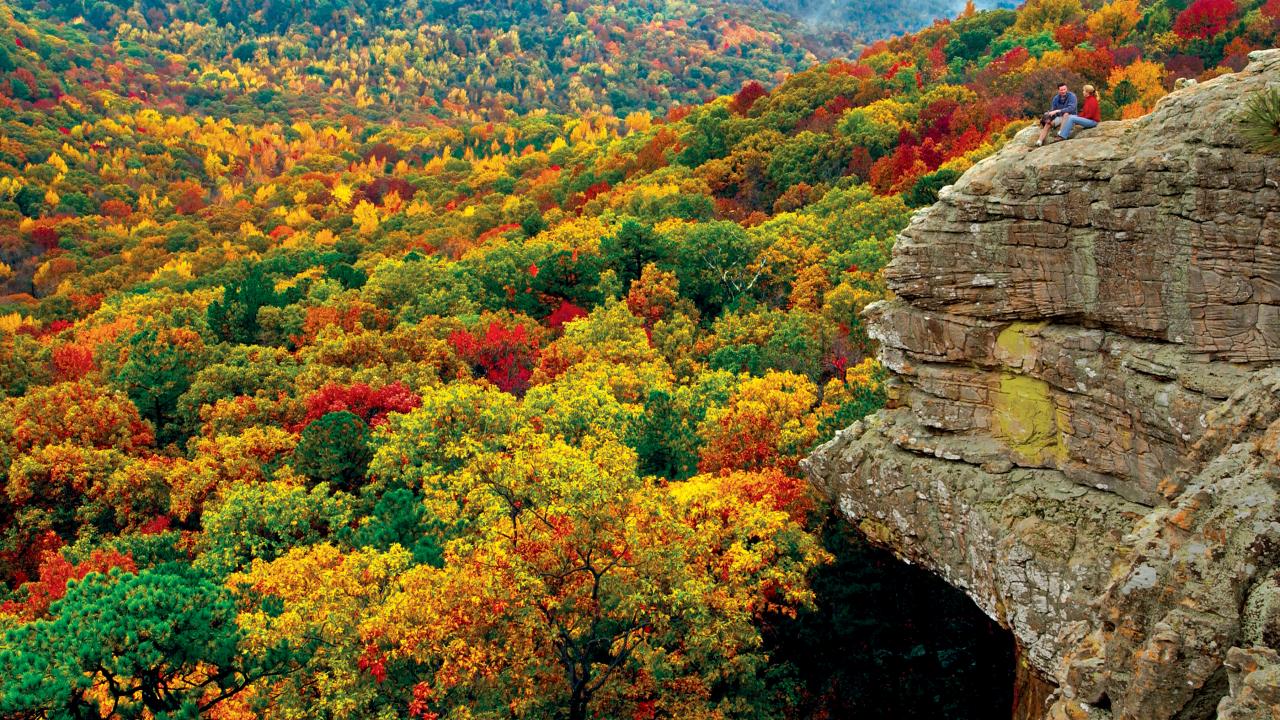 When the lazy hot days of summer pass and the cooler crisp air of fall moves in, the great outdoors beckons. The Natural State offers many ways to see the changing leaves up close or via sweeping panoramas. Try these ideas for getting outside to hike, bike, ride, drive or paddle in the Arkansas Ozarks.
1. Hike a Trail
Mount Kessler Greenway offers hiking, biking, and running trails in south Fayetteville. This terrain includes vast open meadows, steep rolling hillsides, beautiful bluffs, and mature native forests filled with typical Ozark species including oaks, hickories, dogwoods and redbuds. Two intermittent streams flow through this property providing an invaluable supply of water for the wildlife. Parking and trail access is available from the regional sports park, also located here.
Pigeon Creek Trail System, located north of the Pigeon Creek Park near Mountain Home, this 'stacked loop' trail system offers more than 20 miles of hiking opportunities along the shoreline area of Lake Norfork. It has popular hiking routes that can be short and easy while others are hilly and better suited for robust hikers. Trails have lake views, are part of old logging roads, have Ozark flora, or cling to hillsides.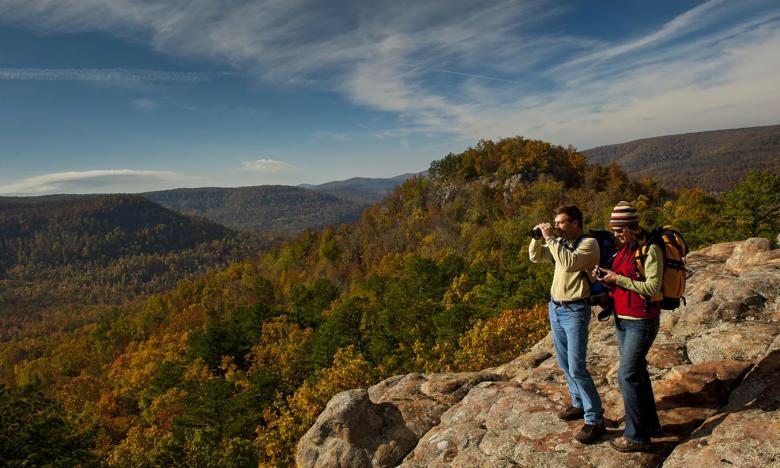 2. Bike Mountains and Cycle Paths
Oakridge Mountain Bike Trail is a multi-use trail for hikers and mountain bikers. Accessing remote areas of Bull Shoals-White River State Park, the trail traverses the oak-hickory upland forest, dirt roads, open meadows, and crosses creeks. The loop trail allows users to choose from two levels of difficulty. Clockwise, marked with blue blazes, is moderately difficult with strenuous uphill slopes. Counter-clockwise, marked with green blazes, is moderately easy. Rental bikes are available at the Camper Registration Center in the park and bicycle helmets are strongly recommended.
The Northwest Arkansas Razorback Regional Greenway is a 36-mile-long, shared-use trail that extends from the Bella Vista Trail in Bentonville to the Frisco Trail in Fayetteville. The paved trail contains impressive bridges, follows along several creeks, runs through farmland and wooded areas, and connects to other trails, lakes, and parks. While the greenway offers plenty of scenic beauty, it also links dozens of popular community destinations, including six downtown areas, the University of Arkansas, arts and entertainment venues, restaurants, historic sites, playgrounds, and residential communities.​
3. Ride a Motorcycle Route
Eureka Springs is a premier motorcycling destination in mid-America. With plenty of biker-friendly venues, it's a great hub for riders. This 26-mile loop ride out of Eureka Springs offers great views of the water since it crosses Beaver Bridge and the Dam at Beaver Lake. It takes a little less than one hour to ride the route, which consists of Ark. 62 and Ark. 187.
Mount Magazine Scenic Byway runs from Ark. 10 in Havana, north on Ark. 309 up and over the state's highest peak at 2,753 feet and then down to Ark. 23 at Webb City. Stop at Mount Magazine State Park for a bite to eat at its restaurant or to stretch your legs and take in the view. The byway length is 45 miles.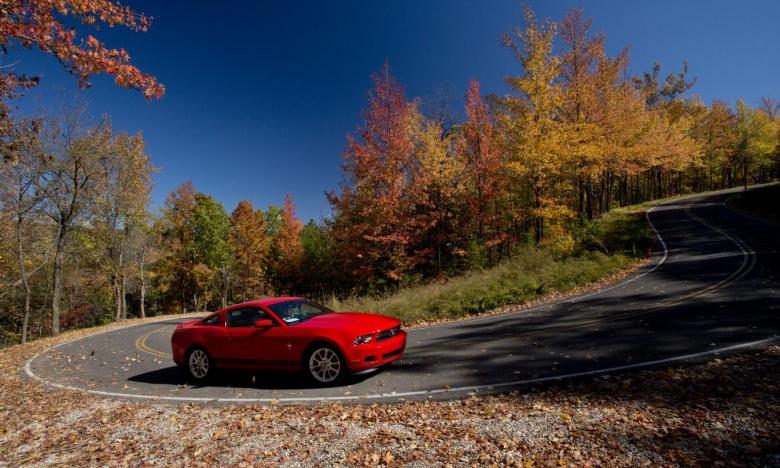 4. Drive a Scenic Byway
Scenic Byway 7, the state's first state-designated scenic byway, travels through four of the state's varied geographical regions. From El Dorado to Harrison, the route goes through rolling terrain with dense pine forests, beside DeGray Lake, through historic downtown Hot Springs, through the Ouachita National Forest, crosses the more level terrain of the Arkansas River Valley, and ascends into the Ozark Mountains and the Ozark National Forest. The length is 290 miles.
Boston Mountains Scenic Loop consists of two state scenic byways — U.S. 71 and Interstate 49 (formerly I-540) — that provide two very different experiences through the Boston Mountains, the highest portion of the Ozarks. U.S. 71 (42 miles) is a more intimate route with plenty of curves, while I-49 (38 miles) provides stunning panoramic views and expansive bridges. 
5. Float a River
Siloam Springs Kayak Park is positioned along the scenic Illinois River. This family-friendly park features an engineered river for skilled kayakers as well as beginners with length of rapids approximately 700 feet and Class I and II difficulty. The park has specially designed riverbank access plus a climbing boulder, a picnic area, accessible walking trails, rain garden and designated changing area.
Spring River in Mammoth Spring starts at the huge natural spring at Mammoth Spring State Park that creates a constant year-round flow of fresh water for 20 miles of whitewater canoeing. Many areas of the upper Spring River are popular with fly fishermen. Outfitters and launch facilities are available along the Mammoth Spring-Hardy stretch (17 miles). The river is crystal-clear, with long pools and whitewater falls. The scenery is mostly hardwood forest with some rocky bluffs.