FOUR PARKS, FOUR BIG ADVENTURES IN CENTRAL ARKANSAS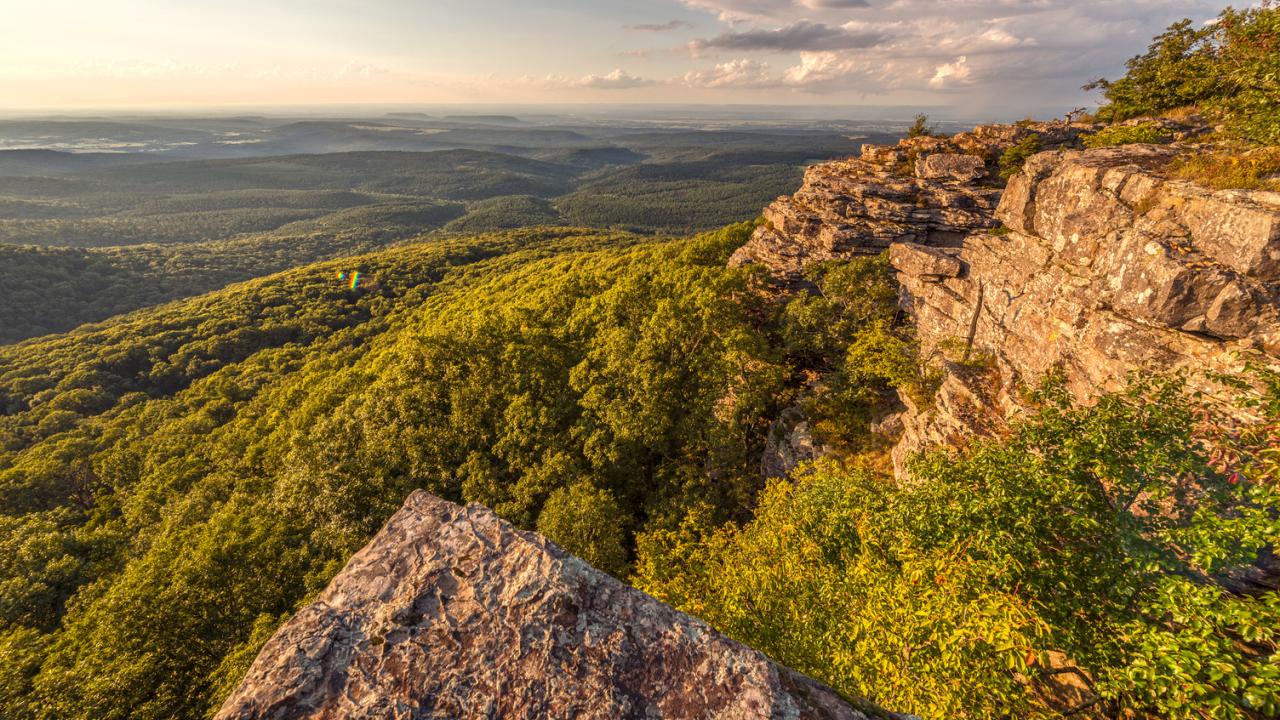 Experience the best state parks Arkansas has to offer when visiting the Arkansas River Valley. Three of the state parks are located on top of the iconic flat-top mountains of Mount Magazine, Mount Nebo and Petit Jean Mountain, while the fourth is located around the large and beautiful Lake Dardanelle. See what adventures you can discover.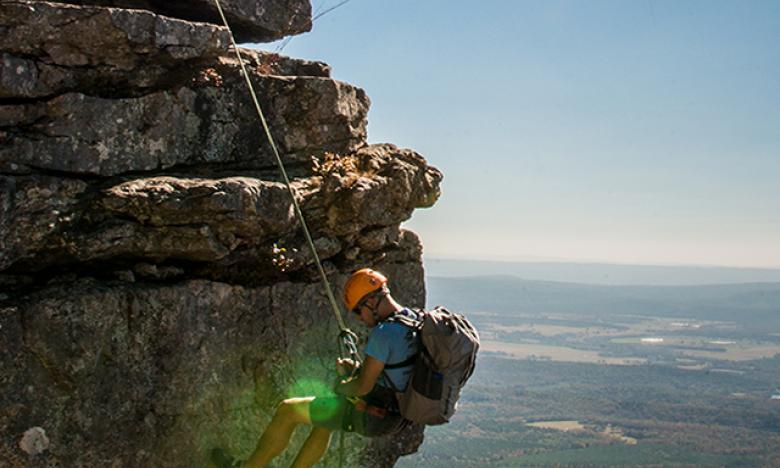 MOUNT MAGAZINE STATE PARK
Get away to where the views are grand, the accommodations are luxurious, and the adventures are plentiful. Containing Arkansas's highest point at 2,753 feet, Mount Magazine State Park exudes unmatched natural beauty and one-of-a-kind thrills. Try hang gliding for the first time at one of the park's two launch sites. Take on the most dramatic location for technical rock-climbing. Go mountain biking, horseback riding or roll out the ATV. See all that the state park has to offer on nine hiking trails that twist around the mountain, leading you to epic views and forest walks. Or simply cruise on Overlook Drive to multiple outlooks that point in every direction and are perfect for watching the sunrise and sunset.
Want to spend all weekend on the mountain? Stay at The Lodge at Mount Magazine and wake up every morning to panoramic views of the river valley. Have unbeatable food at the Skycrest Restaurant. Swim in a heated indoor pool or gain bragging rights among family and friends at the game room. There are also 13 cabins available with cozy fireplaces, kitchens, covered decks and soothing hot tubs that overlook the valley and Blue Mountain Lake. And for those wanting a more primitive experience, 18 campsites are scattered across the mountain as well.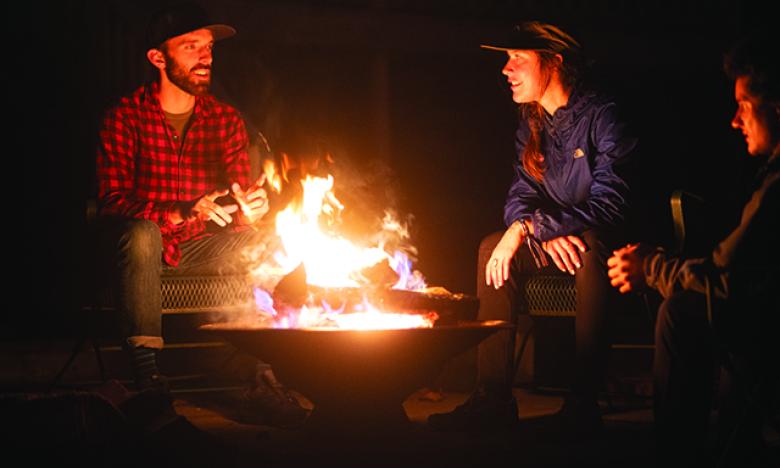 MOUNT NEBO STATE PARK
Ready for your next hiking trip or mountain biking adventure? How about a peaceful night in a cabin with sweeping views? If the answer is yes, then head to Mount Nebo State Park.
Just 45 minutes from Arkansas Wine Country, Mount Nebo exceeds expectations with 16 different hiking trails and a 25-mile mountain biking trail system that offers views of Lake Dardanelle, the Arkansas River and surrounding mountain ridges. Go swimming at the local pool; play a game of tennis, or have a picnic at one of the pavilions. And if a peaceful outing is what you seek, relax into serenity at Sunrise and Sunset Point as you sit back and enjoy the beauty of the area.
Pitch a tent at one of the 34 campsites or stay in a 1930s-era Civilian Conservation Corps cabin with a kitchen, fireplace, grill, fire pit area and large patio. For a fun fact, Cabin 1 was the first cabin rental in Arkansas State Park history! Stay in one of the 12 out of 15 cabins that are positioned along the bluff, have spectacular views of the valley and are a prime spot for nature and wildlife viewing. Sit on the patio and view deer grazing across the mountain top, and at night watch the city lights glitter from the towns below as the milky way shines in the sky above.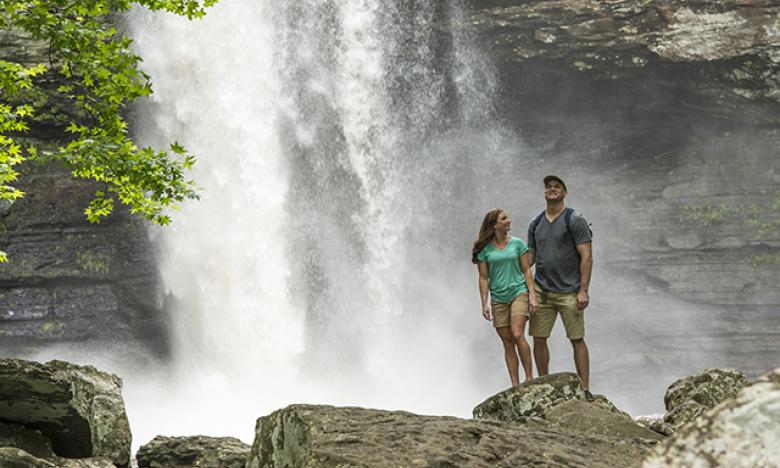 PETIT JEAN STATE PARK
Visit Arkansas's first state park that is full of outdoor adventures, historic architecture and views that go on for miles. At Petit Jean State Park, you can explore the Civilian Conservation Corps-constructed trails, bridges, cabins and historic Mather Lodge that has 24 rooms, a restaurant and a cozy seating area with a large fireplace. The Lodge is also the perfect place to watch gorgeous sunsets dip behind Cedar Creek Canyon. A total of 125 campsites, 33 cabins and four yurts are also available, giving you and your family numerous ways to soak in all that Petit Jean State Park has to offer.
For outdoor activities, spend the day at Lake Bailey fishing or gliding across the water in a pedal boat or kayak. Find tranquility at multiple overlooks around the park and take in the immense beauty that is The Natural State. Wander through the forest and meadows, over canyons, alongside streams and across the mountainside. Discover out-of-this-world attractions on eight hiking trails. Stand beside the spectacular 95-foot Cedar Falls, walk through a natural bridge, hop across giant turtle rocks, unwind at a secluded grotto, and feel tiny within expansive caves.
LAKE DARDANELLE STATE PARK
Lake Dardanelle, the picturesque location of Lake Dardanelle State Park, is a 34,300-acre reservoir on the Arkansas River and a prominent fishing tournament and water sports site. The park is split between two sites along the lake, Russellville and Dardanelle, allowing visitors to experience outdoor fun in multiple areas. Check out the world-class Sport Fishing Weigh-in Pavilion and fishing pier where you can fish for bass, catfish, striper, crappie and sunfish. Rent a kayak or take your boat out for a day on the lake. Make waves at the swimming beach or stroll along the boardwalk.
Stop by the impressive visitor center that has five aquariums filled with fish from the lake, Arkansas River, Piney Creek and Illinois Bayou. Guests can also attend a variety of programs lead by park interpreters and even go on bald eagle boat tours! While visiting the park, choose from a plethora of lodging in the nearby towns of Russellville and Dardanelle, or stay at one of 75 campsites spread throughout the park. Ranging from Class AAA to Class B, the campgrounds have launch ramps, pavilions, picnic areas, restrooms and bathhouses with hot showers.