The Fun Never Ends on Lake Norfork
Summer on Lake Norfork in north central Arkansas has that hustle and bustle that everyone loves. People on jet skis, wakeboards, water skis, tubes and boats of all sizes make waves. Beach-goers sun themselves, balance on stand up paddle boards and splash in the lake to cool off. Golf is popular in the area as well.
When September arrives, the only thing that really changes is that school starts. The water and outside ambient temperatures are still great. Weekends, especially Sunday, become the busier days for lake fun because kids are busy with school and football season starts.
With less traffic on the water, it's the perfect time for couples and groups of friends to find a secluded cove, beach spot or resort to relax in.
"You can have some one-on-one time with your significant other," Richard Hanson of Quarry Marina says. "It's a good time to take advantage of that. Break out that bottle of wine and enjoy the resort because you won't have anyone playing basketball, shuffleboard or Marco Polo in the pool."
Hanson says the vacation season never ends on Lake Norfork, it just changes speed.
"It's just a relaxing time to be here. The campgrounds are half full. You don't have to be in a hurry to get there to get a camping spot. You don't have to fight for your line in the rotation to wake board," he says. "The quietness of the lake is another great thing. People enjoy sitting out on the dock in the morning drinking coffee. It's just really quiet except for nature, birds and fish flopping. It's just hypnotizing."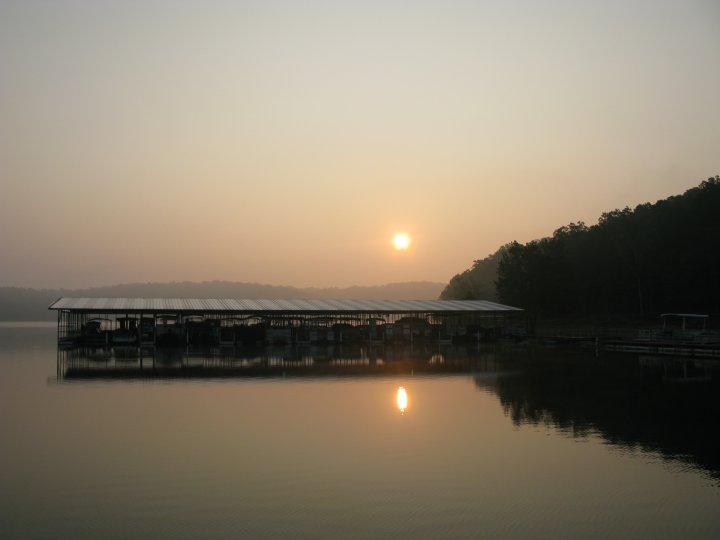 As the days ease into fall, the lake sees more boat riders instead of swimmers. People enjoy sightseeing around the lake, watching the leaves and sunsets turn brilliant colors of orange, red and yellow. Camp fires and s'mores become the draw. There are 19 developed U.S. Army Corps of Engineers parks that provide plenty of opportunities for camping.
Spring is much the same, except instead of fiery fall colors, people enjoy the many shades of green as trees begin leafing out and dogwoods make their flowery show. Plus, it's the start of dive season.
One of four lakes constructed by dams on the upper White River Basin, Lake Norfork is unlike all of the others because the land was clear-cut before it was flooded. Good recreational diving can be found at 20 feet to 40 feet on Norfork Lake, says Dan Weber of Jordan Marina. Out of 31 marked dive sites, some are as deep as 70 feet with a couple wall dives down to 150 feet below the surface. Diving on this lake is best from April to October with greatest visibility between 40 feet and 60 feet in the spring. The closer you get to the dam the clearer the water, Weber adds.
For anglers, fishing is great year round. Almost all varieties of fresh water game fish are found in the lake, which is fed by the North Fork River and its tributaries. Bass, walleye, crappie, bream and catfish all make their home in its waters. The oldest of Arkansas's large man-made impoundments, Lake Norfork contains one of the best striped bass fisheries in Arkansas. The lake is stocked annually, and stripers over 40 pounds are common and many in the 30-pound class are caught every year.
Black bass fishing is at its best from September through May, while crappie fishing is prime in November and December.
The North Fork River below the dam is a popular and productive trout fishing stream, and the Norfork National Fish Hatchery is available for tours. Scenic Dry Run Creek starts at the Norfork National Fish Hatchery and runs roughly 3/4 mile to its confluence with the North Fork River below Norfork Dam. This popular youth-only stream is known for big beautiful fish and easy access to wading or bank fishing.
Dry Run Creek is open from sunrise to sunset to anglers under the age of 16, accompanied by an adult, and to mobility impaired anglers, who may fish from the pier or boardwalk. The area is catch-and-release; trout must be released immediately. Only artificial lures with single, barbless hooks are allowed. You cannot fish with natural or scented bait. The creek carries the hatchery effluent (32 million gallons/day) and has significant numbers of large trout trying to migrate from whence they came.
All of these outdoor experiences are catered to by outfitters, marinas, and guides. In addition to parks for camping, there are many resorts offering accommodations, some with private docks, swimming pools and other recreational amenities.
There's truly an experience for everyone on Lake Norfork all year long.
Norfork Lake has more than 550 miles of shoreline and covers some 22,000 acres. For more information on things to do and places to stay, contact the Norfork Lake Chamber of Commerce: 870-706-0596; norforklakefun.com.