Happy Birthday, Johnny Cash!
httpv://www.youtube.com/watch?v=Xo-TJ5WM2X0
This video, in which Johnny talks about growing up in Dyess, aired on The Johnny Cash Show on Sept. 6, 1969.
Johnny was born 81 years ago today in Kingsland. The Cash family moved to Dyess in March 1935.  Johnny would remain in Dyess until July 1950, when he enlisted in the United States Air Force.
The Dyess Colony was established in 1934 as one of the nation's first agricultural resettlement community under the Works Progress Administration and the Federal Emergency Relief Administration. The federal government acquired 16,000 acres of land in Mississippi County and laid out the colony in a wagon-wheel design, with a town center at the hub and farmsteads for 500 colonists stretching out from the middle. The colony's centerpiece was a large Greek-Revival Administration Building dedicated by First Lady Eleanor Roosevelt in 1936.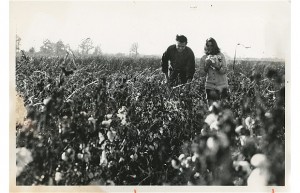 The Johnny Cash Boyhood Home and the restored Dyess Colony Administration Building are expected to open to the public this fall. The Cash home will be furnished as it appeared when the family lived there, while the Administration Building will include exhibits about the colony and the impact of Dyess on Cash and his music. The project is a joint effort between the City of Dyess and Arkansas State University. Other buildings will be restored or recreated in the future.
The video below is from a trip Johnny made to Dyess with his wife June and his sister Louise.
httpv://www.youtube.com/watch?v=cF6EMSO9nxk