Lake Wedington Recreation Area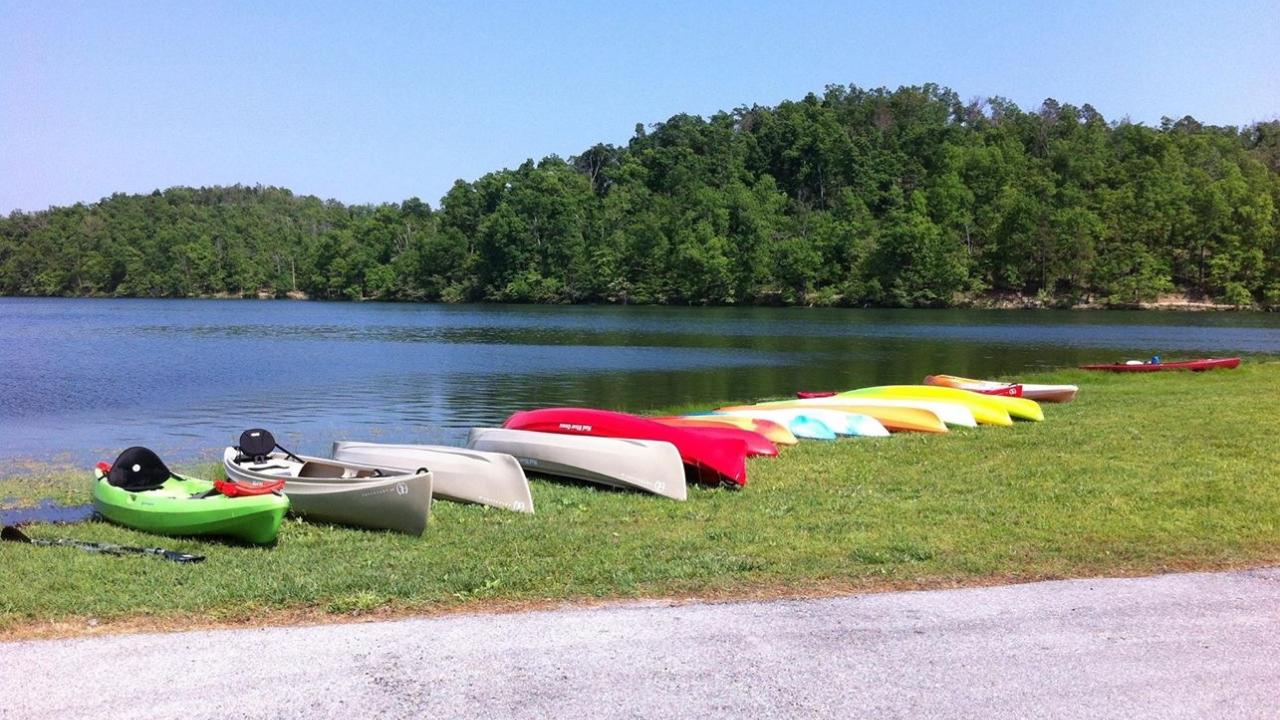 Primarily built by men and mules during the Great Depression, 37-acre Lake Wedington Recreation Area surrounds a 102-acre lake located amid a lush hardwood forest just west of Fayetteville.
Constructed by that era's Works Progress Administration (WPA), Lake Wedington attracted visitors from as far away as Texas when it opened in 1938. Nearby Beaver Lake did not exist at the time. (Constructed by the U.S. Army Corps of Engineers in the 1960s, Beaver is the largest lake in Northwest Arkansas and has numerous recreational sites along its more than 460 miles of shoreline.)
Today, Lake Wedington Recreation Area is still a popular destination for those who enjoy the outdoors. On the National Register of Historic Places, it is one of northwest Arkansas's best-kept recreational secrets.
Summertime fun splashing in the lake is a favorite activity for many. Love to Float Outfitters services the lake.  Rent boats for use on lake by the hour, half day or full day. Available watercraft rentals include flat bottom boats with trolling motor, pontoon paddle boats (canopies available), canoes, single and tandem kayaks, single and tandem standup paddle boards, and tubes for use in Lake Wedington swimming area only. Floating equipment is also available - dry boxes and bags, paddles, life jackets, various pieces of camping equipment, fishing gear, and live bait. 
Outfitters Grill sells hamburgers, hot dogs, chips, French fries, Frito chili pie, corn dogs, bottled water, sports drinks, and items for your sweet tooth. It also has basic supplies such as ice, eggs, milk, bread, hot dog buns, hot dogs, cheese, sandwich meats and the makings for campfire smores.
The sand volleyball courts and horseshoe pits get a lot of action as well. A seven-mile hiking and mountain biking trail is open year-round. Other amenities include a lodge, pavilion, boat launching ramp and boathouse. The lake contains bass, bream, crappie, and catfish.
It's a great family getaway, not overrun with folks. And, the cabins at Lake Wedington are often available when those at ultra-popular places such as Devil's Den State Park near West Fork are booked.
Overnight guests can stay in any of the six refurbished cabins built by the WPA. The air-conditioned cabins have fully equipped kitchenettes and sleep from three to six persons with rents ranging from $70 to $80 per night.
There are 18 family-unit campsites (no utilities) with hot showers at the restroom facility and 19 family-unit picnicking sites. Camping trailers are allowed. The swim area and fishing pier are wheelchair accessible.
Admission is $5 per vehicle. Lake Wedington Recreation Area can be reached from Fayetteville by traveling Ark. 16 west for 13 miles. The route is easily negotiable by camping trailers. The cabins, lodge and pavilion may be rented by calling 501-667-2191. 
Reservations can be made by calling 1-877-444-6777 or at http://www.Recreation.gov. For general information, call 479-442-3527. To rent from Love to Float, call 479-799-5683.