Letterpress Entrepreneur at Clayton House
Fort Smith native Sarah Martin Ridgley developed a passion for "vintage emphemera" – paper items such as invitations and note cards – while researching invitations for her wedding in 2005. Today she sells her hand-cranked invitations, cards, coasters and prints through Etsy, the e-commerce website that focuses on handmade or vintage items. The products of her company, Pheasant Press, have sold to customers as far away as Australia and Japan.
Ridgley will discuss her business journey with old-fashioned letterpress printing at a high noon tea at the Clayton House on Saturday, April 12.
The one-hour tea will include English scones provided by the Danish Bake House, hot tea and other refreshments, as well as Ridgley's presentation and a piano performance by Northside High School senior Jade Espina. Following the tea will be a complimentary guided tour of the circa 1882 historic house museum.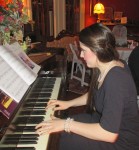 She has owned five presses since beginning this dynamic venture that combines the antique printing press and the internet for a worldwide success.
"I'm lucky to be a part of the 'small press movement' – the group of people who treasure this antiquated art form — and to get to produce the art and sell it through my online business," Ridgley says. "The quality of letterpress printing connects us to a less-rushed time. I love being able to share that today."
Reservations for the tea, which is held in the circa 1882 Clayton House servant quarters, cost $10 and can be made on the museum's website, www.claytonhouse.org, or by calling 479-783-3000.
The Clayton House, located at 514 North 6th Street in Fort Smith's Belle Grove Historic District, is featured in the National Geographic Guide to America's Great Houses. Restored from 1970 to 1977, the home of the federal prosecutor of Judge Isaac C. Parker's court, William Henry Harrison Clayton, is operated by the nonprofit Fort Smith Heritage Foundation.