Lights of the Ozarks Parade Expands to Block Avenue and Dickson Street
The annual Lights of the Ozarks Lighting Night parade, set for 6 p.m. on Saturday, Nov. 23 in Fayetteville, is even bigger and better this year with an expanded route to include Block Avenue and Dickson Street as well as the downtown square.
Always held the Saturday before Thanksgiving, the parade route begins at the Fayetteville Public Library, heads east on Mountain, north on East Avenue, west on Center Street, north on Block, west on Dickson Street and south on School Avenue, ending back at the library.
The expansion comes from an August decision by the Fayetteville City Council to expand the Lights of the Ozarks to include sidewalk street lamps wrapped with LED lighted garlands on Block Avenue and light pole fixture that hang over the sidewalks on Dickson Street.  Merchants along those streets are planning to decorate their businesses as well to add to the festivities.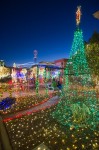 Celebrating its 20th year, the Lights of the Ozarks festival is the highlight of the holiday season in Fayetteville and is a featured stop on the state's Arkansas Holiday Trail of Lights. The City of
Fayetteville Parks and Recreation Department installs the lights over 6 weeks, a process that begins in October each year and takes over 3,000 man hours. Approximately 400,000 bulbs are hung and the lights are 100% LED.
The Fayetteville Visitors Bureau works with the University of Arkansas Hospitality Special Events Management class, taught by Dr. Godwin-Charles Ogbeide, to organize the parade and the coordinate the nightly festival events, which include camel and pony rides, food vendors, carriage rides, Santa and his reindeer, and other activities.
For more information about the Lights of the Ozarks parade and festival, visit https://www.experiencefayetteville.com/lights-of-the-ozarks or call the Fayetteville Visitors Bureau at 479-521-5776.