Logoly State Park dedicates new visitors center
Logoly State Park in McNeil (5 miles northeast of Magnolia) recently dedicated the park's new 7,161-square-foot visitors center to a crowd of excited guests who, regardless of their age, became children-at-heart as soon as the exhibits opened: crawling around, sniffing scents, engaging (through glass) with the baby alligator, and watching bees make honey. I include myself as one of those adults who, if only for a little while, felt like an inquisitive 10-year-old. But more about the exhibits later.
Logoly has the distinction of being Arkansas's first environmental education state park with a mission focused on interpreting the importance of the natural world and our place within it.
The building had a minimum impact on the landscape. Most of Logoly's 368 acres comprise a State Natural Area that includes a unique collection of plant species native to the western Gulf Coastal Plain as well as mineral springs that were long thought to have medicinal properties. The visitors center was designed to be environmentally friendly, using innovative sustainable technologies and locally sourced materials where possible. Geothermal wells utilize the earth's natural energy storage capabilities to reduce energy consumption while a photovoltaic array on the roof generates power for the building systems. Rainwater tanks, located near the building entrance, provide water for flushing toilets and for site irrigation without pulling groundwater from the local aquifer.
The new visitors center is a registered project with the U.S. Green Building Council and is currently being considered for Leadership in Energy and Environmental Design (LEED) for New Construction Platinum Certification. The visitors center features numerous elements that minimize the impact of the building's environment on its surroundings.
But for me, it was all about the exhibits! Upon walking into the center, guests are greeted by a large beech tree diorama, detailing the history of the area. Nearby, guests can explore exhibits relating to the park's ecosystem by touching, hearing, seeing and smelling. The "sniffing stations" were fascinating, especially since the sense of smell can trigger strong memories. So visitors can "sniff" their way through the exhibits, focusing on the scents of honey, sassafras, wild azalea, and even a decomposing tree…all scents that can be encountered in the outdoors surrounding the park. The smaller visitors can scamper through a hollowed-out tree trunk (although, I did see a few adults doing exactly that!). The exhibits are not only educational but they're fun for all ages. And the gift shop offers great items ranging from apparel to educational items for all ages to snacks and drinks.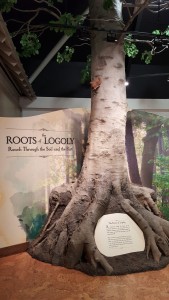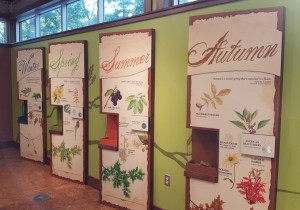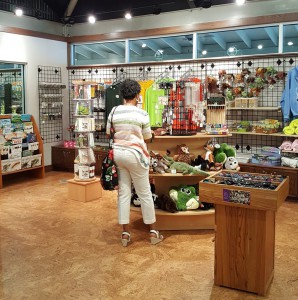 To find out more about Logoly State Park, visit the park's website here.