Me and my Big Mouth at Terra Studios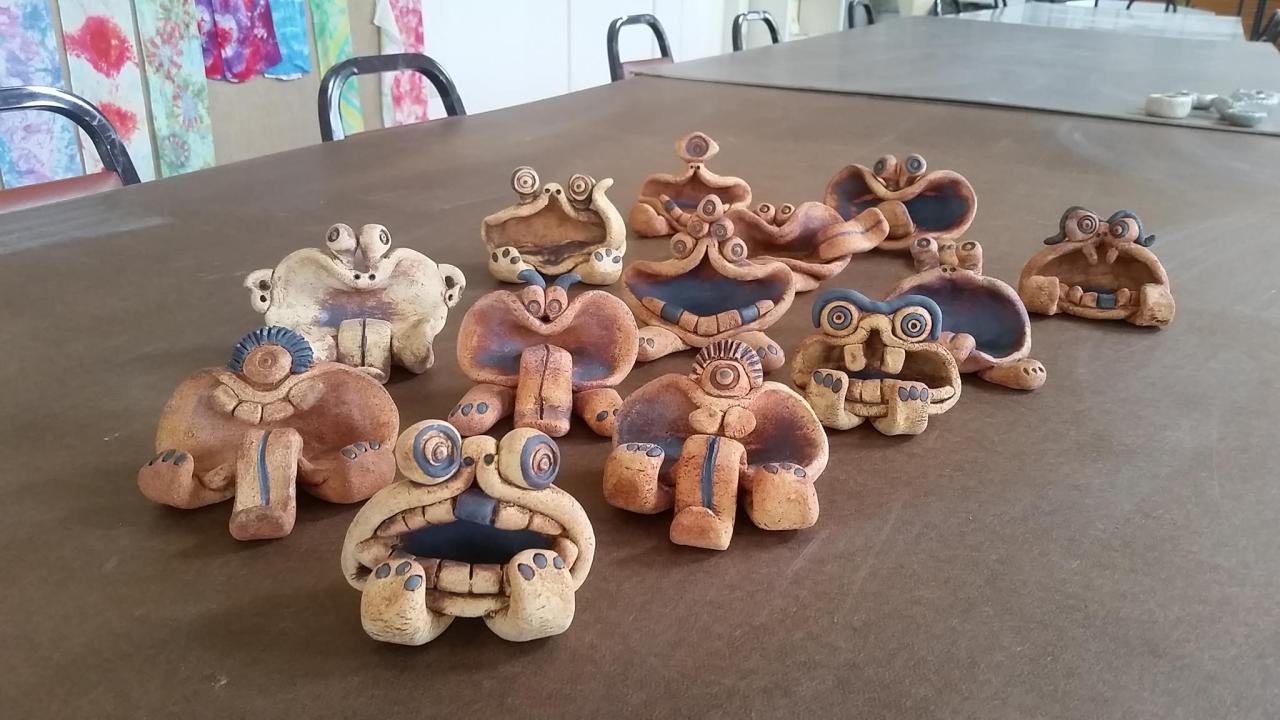 He finally arrived in the mail. My "Big Mouth" made with my own two hands at Terra Studios, located just east of Fayetteville. He is a clay figure extraordinaire and he enhances my office décor in a whimsical way.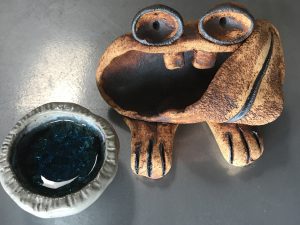 ​
Terra Studios is a wonderland of art and creativity featuring a gallery of more than 100 regional artists, an art park, sculpture gardens, murals, fountains, café, classes, and hands-on art projects.
It's one of my favorite places. I have visited many times over the years with my husband and two boys to sit on the throne in the wizard room, walk the labyrinth and mural trail, watch Bluebirds of Happiness being made, and enjoy the art and funky vibe of the place.
But my latest visit was with a group that was scheduled to make pinch pots and Big Mouth creatures out of clay. I was a first timer and had no idea what I was doing, which turned out to be just fine because all that was required was to have fun and be creative.
We were guided through the process of making pinch pots first, to give us the feel for working with the clay. Then, we moved on to the Big Mouths, which are essentially bigger pinch pots turned on their sides with added features like eyes, tongues, and teeth. There's no right or wrong way. The best part is seeing all the different creations of everyone at the table.
These clay works had to be left at Terra Studios to be fired in the kiln. They were later mailed to us. But there are many classes available where you take what you make home with you that day.
Terra Studios offers short mini-workshops for both adults and children. Each course is especially designed to allow you to learn basic techniques and complete a project in a single visit. Classes vary from 30 minutes to a full day, but most are about two hours long.
So grab some friends, create something with your child, or just make it an artistic retreat for yourself, and sign up for a class. Private classes for six or more are available too. Terra Studios will even cater your lunch or dinner. 
Whether you consider yourself an artist or not, I promise you'll have a good time.
Terra Studios is open from 10 a.m. to 5 p.m., seven days a week, except Thanksgiving, Christmas, and New Year's Day. Admission is free; donations to the nonprofit are appreciated.
The home of the Original Bluebird of Happiness® and the Pink Bird of Hope®, Terra Studios glass demonstrations can be seen daily from 11:30 a.m. to 4:30 p.m., mid-March through New Year's weekend. Sunday Music at Terra (March – December) features live, original, local music on Sunday afternoons from 1 p.m. to  – 4 p.m.