Editor's note: This blog was published in April 2017.
Arkansas artist James Hayes was born and raised in Pine Bluff. After receiving an art degree from Hendrix College, he searched for a new medium to express his artistic talent. Three months later he discovered glassblowing at the Arkansas Arts Center Museum School. The award-winning glassblowing artist has studied in Murano, Italy; Columbus, Ohio; and the Pilchuck Glass School near Seattle, Wash. At his studio/gallery in Pine Bluff, James Hayes Art Glass Company, you'll find items ranging from vases, bowls, stemware, jewelry, chandeliers and other lighting fixtures, and Christmas ornaments. Hayes' work is highly collected throughout the world, and James was once asked to create a Christmas ornament for the White House.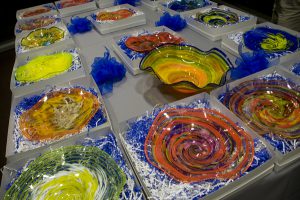 Watching Hayes create his art is art in itself. At his studio in Pine Bluff, Hayes creates awe-inspiring pieces starting from glass "pellets." Check out this video to see Hayes at work.
To find out more about James Hayes and his beautiful artwork, visit www.HayesArtGlass.com.