Meet Pumpkin Hollow's Ellen and Darrell Dalton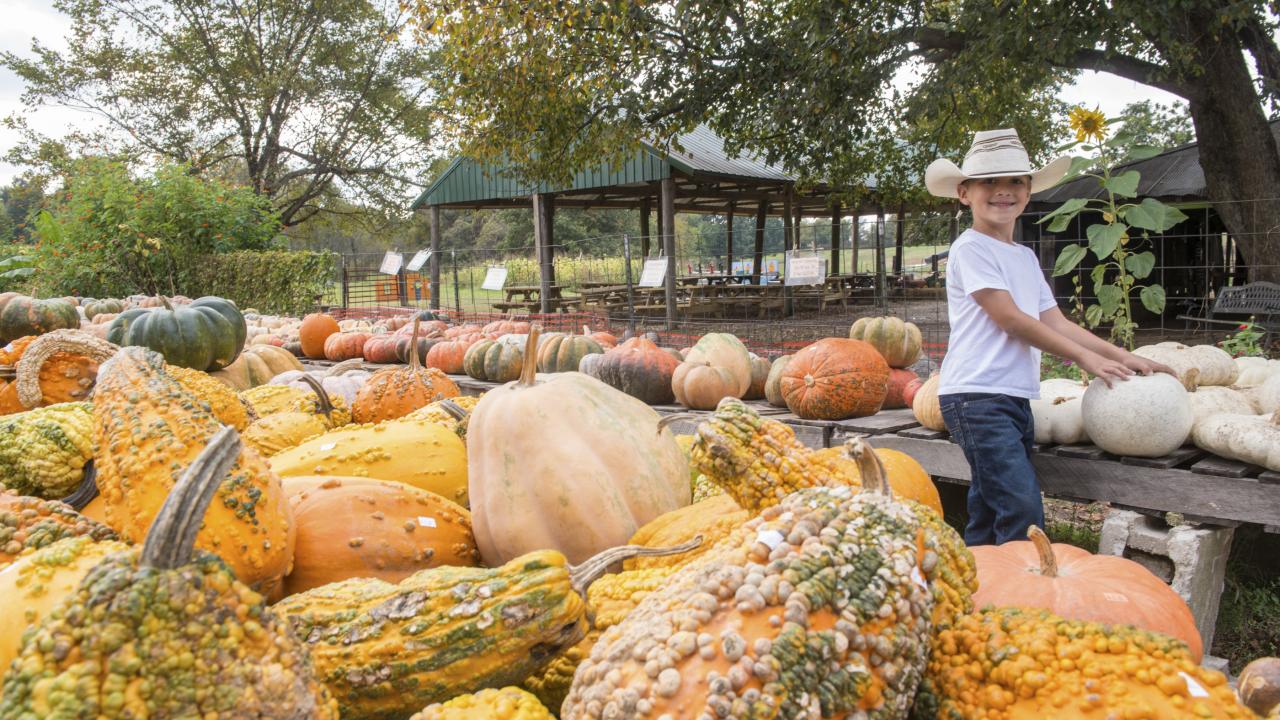 Fall means many things to different people. For me, it means cooler temperatures, pumpkins…and Pumpkin Hollow! And Pumpkin Hollow is now open!
Located near Piggott, Pumpkin Hollow offers something for everyone. Home of Arkansas's first cornfield maze, Pumpkin Hollow includes a new "puzzle" each fall, along with a huge pumpkin patch. You can select your own pumpkin, gourd, corn stalks, the Friendly Forest, and other fall decorations. There are hayrides, pony rides, a petting zoo, the infamous pig scramble, pedal tractors and much more for all ages. Pumpkin Hollow is also famous for Horror in the Hollow, its haunted attractions held each Friday and Saturday night through  October 31.
USA Today Travel named Pumpkin Hollow as one of the country's coolest pumpkin patches in 2014.
Ellen and Darrell Dalton started Pumpkin Hollow in 1993. I posed a few questions to Ellen so we could all learn more about the Hollow.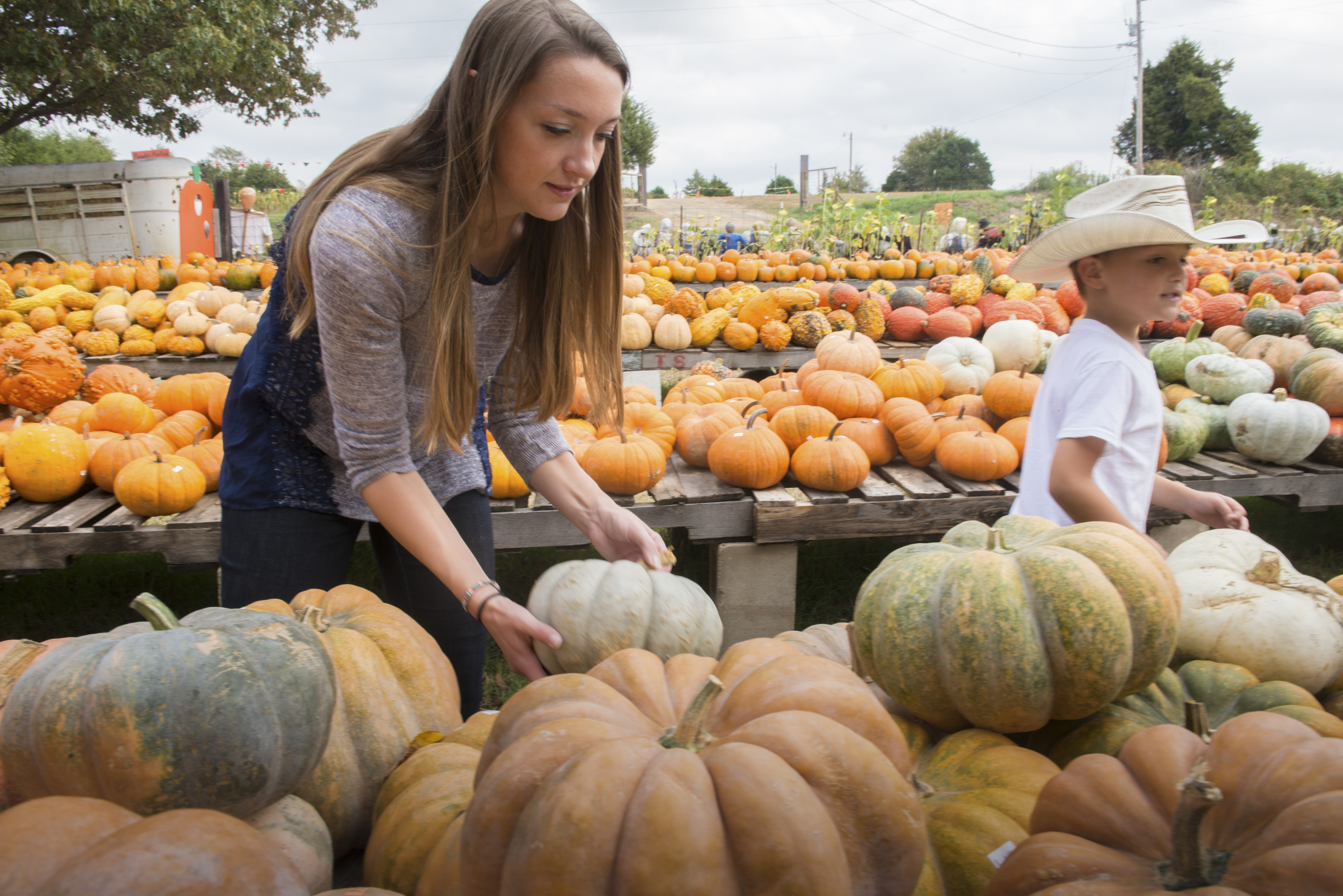 KW: Pumpkin Hollow has become a "must visit" during fall for so many people, especially families, in the region. How did Pumpkin Hollow come to be?
ED: In 1991, we grew our first pumpkins in a small area of a larger field. Darrell's brother, Gary, lived in St. Charles, Mo., where an annual Oktoberfest is held.  A large street area was decorated each year with pumpkins, gourds, corn stalks, etc.  Gary learned that the city was in need of a supplier for these decorations, so we traveled to St. Charles and decorated their main street with our farm products.
In 1992, we grew a larger field of pumpkins. Gary heard about a "pumpkin patch" farm in the St. Louis area whose pumpkin fields had been flooded and was in need of pumpkins. He and Darrell delivered a load of pumpkins to their farm. An idea was born. Maybe we could do a similar thing at our farm? In the meantime, local schools learned that we were growing pumpkins and wanted to bring a kindergarten class to the field. That fall, Piggott School buses drove straight to our pumpkin field.
The children got off the bus, looked around at the pumpkins growing, and soon returned to school. In 1993, the idea of a pumpkin patch type operation at our farm persisted, and we had a large field of pumpkins to market. It was scary, but we decided to take the plunge. We cleaned out a 1950s era dairy barn, larger livestock barn, and the farmstead home that were not being used at the time.
Our college-age daughter made a flyer, we distributed it to local schools, and announced a grand opening!  We were amazed at the response from area schools. That first year, we had a small store, a little spooky house in one side of the old barn, and a maze made of straw bales all contained in one or two acres of ground. 
Today, we use about 70 acres for our corn mazes, daytime, and evening events.
KW: Gourds from Pumpkin Hollow have become famous! Where are some of the places, including movies, that the gourds have been used?
ED: We began growing gourds by accident. In 1990, we had several acres of bell peppers and tomatoes. They were transplanted into plastic row covers. When the transplanting was finished, there was one row of the plastic unused. I went home and gathered miscellaneous garden seeds and planted them into holes I made in the plastic. One of the packages was a "mystery package"
I received when I placed an order for garden seed with Gurney Seed Company. All summer, I watched these unknown plants growing. I assumed they were winter squash of some sort. When the fruits were so hard we couldn't cut them open at the end of the summer, I decided they must be gourds.
In the spring of 1991, I ordered a package of mixed gourd seeds and planted them around an old hog facility. Our gourd business had begun. When we took pumpkins to decorate the St. Charles street, we also took along green gourds. A lady from Illinois came looking for the owner of the gourds she saw on the street. She became our first gourd customer and still occasionally orders from us.
We have sold gourds to Disney World and the Lady Bird Johnson Wildflower Center in Texas.
A large gourd grown by Pumpkin Hollow and painted by a Florida artist sold at a celebrity charity auction for $6,000. In 2011, we delivered a trailer load of gourds to Pennsylvania for Anthropologie stores to be distributed to each of their U.S. locations. Canteen gourds we grew at our farm were in the most recent Alamo movie starring Billy Bob Thornton.
More recently, we sold gourds to be used in the 2014 "Dawn of the Planet of the Apes" movie. In August 2015, we sent a large shipment of gourds for use in a "Planet of the Apes" movie to be released in 2017. More common, though, is shipping to gourd artists all across the United States and occasionally to Canada. Our artist customers vary from those selling $20 craft pieces to those selling fine art pieces for hundreds or thousands of dollars.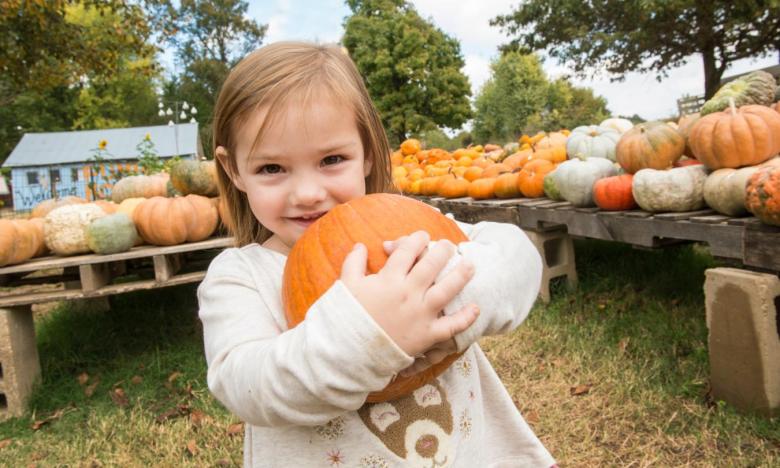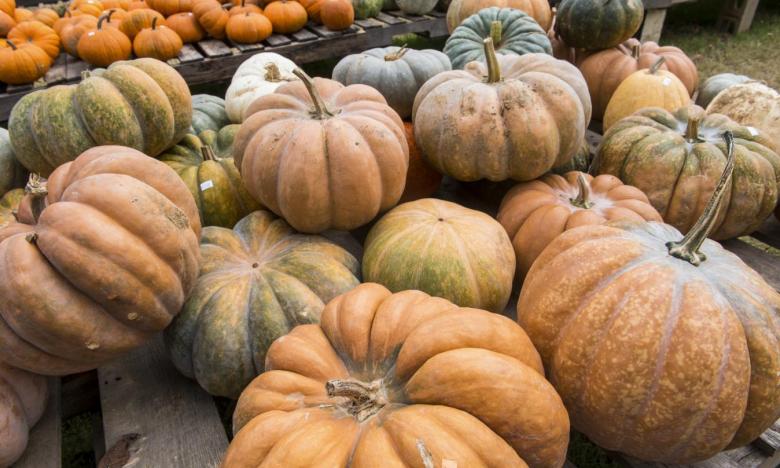 KW: Ellen, you know I'm a big "scaredy cat," but some people LOVE being scared! Tell us about the haunted attractions at Pumpkin Hollow, which start up on Sept. 25.
ED: We have three major professional farm-related haunted attractions. From 1999 to 2001, our haunted activities had been in the corn maze. As a result of problems connected with that activity, the Forest of Fright was started in 2002.
We decided that large trees could not be mowed over by terrified guests as was sometimes the case with corn stalks in the corn maze. It was an immediate hit and is still a favorite of nighttime visitors. The Forest goes completely dark at night, but what happens there is even darker. 
It is not your typical nature walk! Amidst the foggy trails, creepy music, and foul smells lurks Leroy Cyrus and his family. You get the picture.
Our next haunted attraction was built in 2006. We added a second story in an old hay barn, and Bubba's Butcher Barn was born. In 2014, Bubba got a new and better barn near the Forest of Fright for his demented activities. He guarantees everyone will have a squealin' good time! Just the sounds coming from Bubba's Butcher Barn are enough to keep some paying customers from using the tickets they purchase.
The Frightmare Farmhouse debuts its 4th season this fall at Pumpkin Hollow. Legend has it that Dr. Lance Sores went crazy from voices in this house. He started digging up the dead and positioning them around his house as his guests. The doctor was rumored to have  committed suicide in 1962, but he still seems to be haunting and roaming the corridors as though his business never closed. Guests to this farmhouse have lots of surprises in store.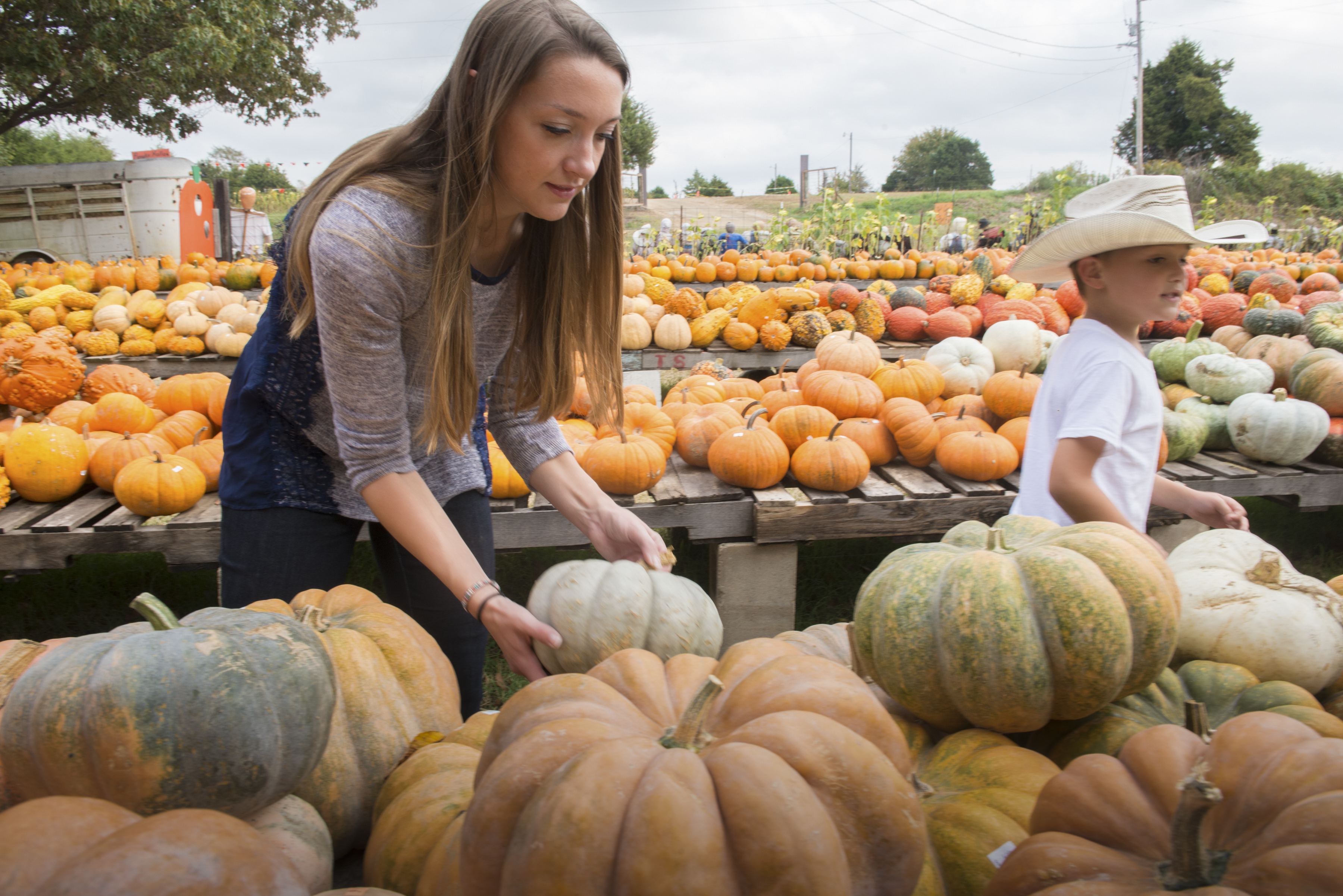 KW: How many people came visited Pumpkin Hollow last year?
ED: Rainy weather caused us to close on a few occasions last year, but we still
had total attendance over 20,000 for our fall season. We expect to exceed
that number in 2015 if the weather cooperates.
KW: What's new this year for Pumpkin Hollow?
ED: We are really excited about our newest evening attraction opening in 2015. The Zombie Paintball Patrol promises to be one of our most popular events. Riders on an old military truck should expect a major adrenaline rush when they board a patrol vehicle and man the mounted paintball gun turret. They must be ready to defend themselves and other riders from a Zombie Invasion!
Different areas on the ride provide ample targets, giving riders the option of shooting paintballs at a single enemy or taking down multiple threats. It's up to each person on the patrol to shoot as many of the flesh-hungry ghouls as possible.
The Friendly Forest (daytime activity) has been completely revamped for the 2015 season. Our new covered wagon play set is proving to be a hit with youngsters.
Also a daytime attraction, the new Country Bumpkin Playground has farm/country related ball games and other activities that are new to the farm this fall. We think it will fill a need here at the farm for entertainment for older kids.