More to Explore in Murfreesboro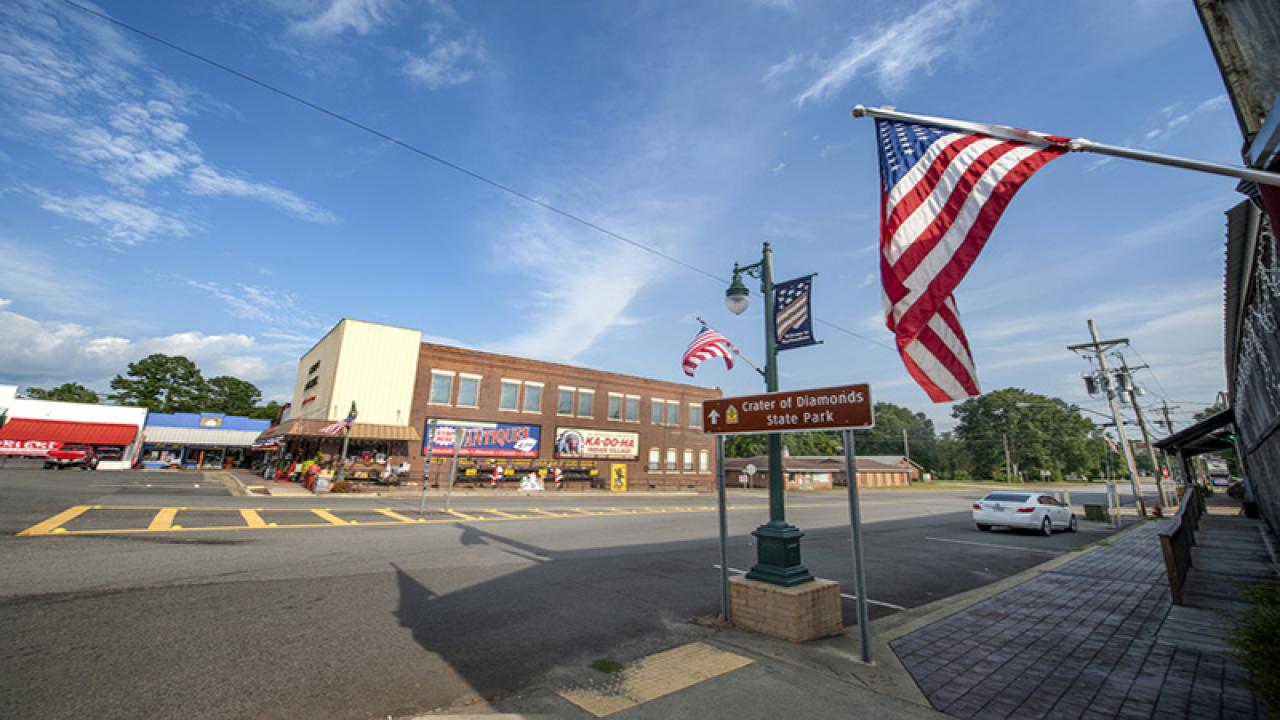 Even though hunting for diamonds at Crater of Diamonds State Park or fishing on the Little Missouri River are some amazing experiences to have while in Murfreesboro, there is so much more to see and do in this little town!
KA-DO-HA INDIAN VILLAGE
Ready to uncover hidden treasures? Then look no further than Ka-Do-Ha Indian Village where you can explore Indian mounds, find arrowheads, crystals and jewelry, see ancient artifacts and buy unique crafts.
Just five minutes from the historic town square of Murfreesboro, you'll find the picturesque valley once home to the Kadohadacho Indians, or as modern men knew them, Mound Builders. The Kadohadacho lived on this land for hundreds of years and were traced back to living here since 1000 A.D. That means a plethora of artifacts have been left behind throughout the centuries for you to uncover and experience.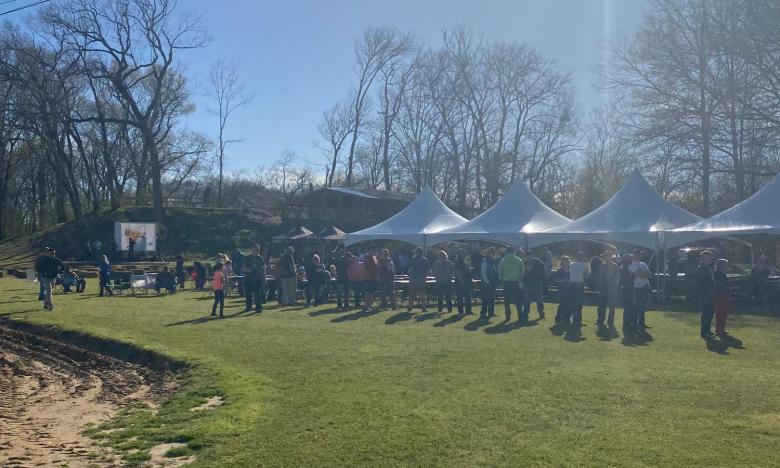 At Ka-Do-Ha Indian Village, you will be able to gaze backward in time and see beautifully molded and decorated pottery, stone tools and pipes and expertly chipped flint at the Ancient Art Exhibit. You will be able to take tours to the top of two temple mounds, where you can look down into the excavated mound and see replica skeletons of a Ka-Do-Ha chief and his worldly possessions found during an actual archeological dig. After taking a tour, head to the designated digging area across from the mounds and hunt for arrowheads and crystals. And before leaving, take a stop at the Historic Indian Trading Post, where you can stroll through aisles of moccasins, spears and drums and purchase historic and pre-historic Indian crafts.
If you're not interested in Indian artifacts, you can also hunt for gems and buried treasure! At Ka-Do-Ha Gemstone Adventure, you will find quartz crystals, fossilized shark teeth, arrowheads, cut quartz crystals and a multitude of semi-precious polished gemstones in your personal bucket. Ask about Ka-Do-Ha's special buckets that even have a genuine cut diamond in them! Take your bucket to the wash area and mine through the sand, wash your stones and then head to the gift shop where you can have your finds identified.
You can also go on a Metal Detecting Adventure and hunt for treasure. Rent an authorized Tesoro Metal Detector for 30 minutes or an hour and head to one of the two designated areas – Kids 12 & Under and Adults 13+. While hunting, you can find old U.S. coins, Civil War bullets, gold jewelry and diamonds. Twice a year, in the summer and fall, there is also Treasure Fest, where you can hunt for treasure and enjoy an array of vendors with other treasure seekers from across the country.
DINO DIG
When your kids get tired of digging out in the sun all day and just want to find some trinkets, the place to be is the air-conditioned treasure room at Dino Dig. You will receive a treasure bag, digging tools and access to the treasure room, where you can spend all day digging for polished rocks and keep whatever will fit into your bag. Dinosaurs you will see while digging through the sand range from a giant velociraptor to a flying pterodactyl that hangs from the ceiling. You can even have your picture taken with the large triceratops, Glen, that guards the outside of Dino Dig.
It is the perfect place to have a "roaring" good birthday party or field trip. There is also plenty of seating indoors if you're a parent who just wants to sit and relax while the kids stay preoccupied and play. Next to the treasure room, there is also a large gift shop filled with Arkansas diamonds, arrow heads, dinosaur-related gifts, toys and t-shirts.
Come and have a fun experience at Dino Dig where you will always find something.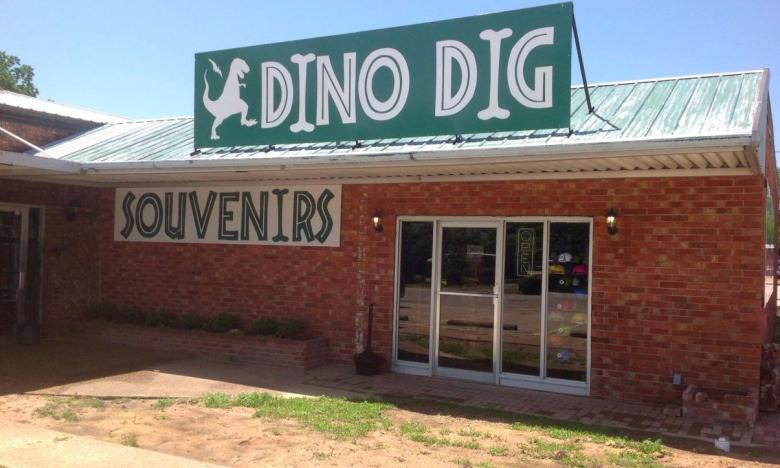 GYPSY UNDERGROUND
Gypsy Underground is not only a flea market, but a community gathering place. Come here for a refreshing lemonade from the food truck right outside the store and enjoy occasional pop-up events where you can bring anything you want to sell and set it up for free in the parking.
Head indoors to the large flea market made up of 108 booths fashioned from houses that were once unsalvageable and then repurposed to make the Gypsy Underground. Walk through aisles of mini homes that look like chicken coops and enjoy a wide range of booths filled with antique furniture, superhero collections, honey, clothes, jewelry, glassware, books with a section for local authors, furniture, whiskey barrels, locally made crafts, candles and preservatives. Every booth is an owned by a different member of the community, giving everyone an opportunity to thrive and have their own small business.
The point is that anyone can come here, find something they like, have a good experience and feel supported. It's just that simple at Gypsy Underground, a real community-based store.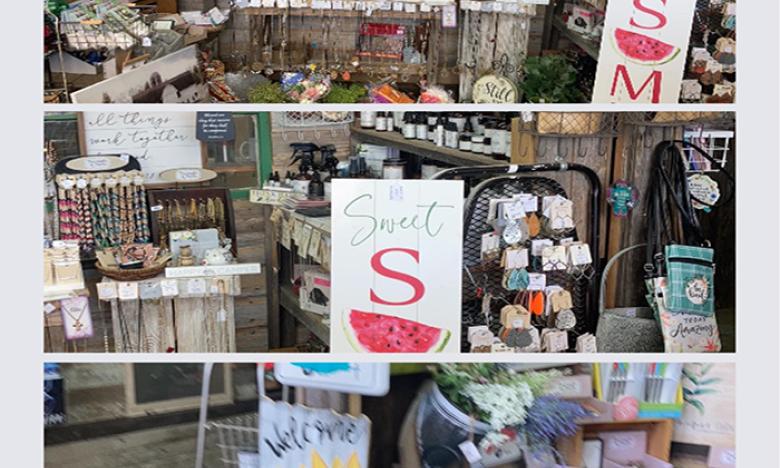 A FUN TIME SHOPPING
Located on the Courthouse Square is Caddo Antiques. Known as the "everything store," Caddo Antiques has unique pottery and crafts, jewelry, rocks and minerals, toys, folk art, furniture, gourmet foods, hats and more.
Walk right across the square to Town Square Gallery where you can own the rare and unique. See Murfreesboro's largest display of locally found diamonds, pre-Colombian and tribal art, estate and designer jewelry, Arkansas prehistoric art and quartz. Art for the beginner to the most advanced collector is also available for purchase.
At Pawn Kings, you will find plenty of high-end jewelry, tons of guitars to add to your collection, outdoor equipment, TVs and all the fishing and hunting supplies you will ever need.
Don't miss out on a trip to Murfreesboro, where there really is an adventure for every hobby and every family vacation.