Nature Centers Provide Fun and Learning in One Cool Place
It's August but there's still time to get out and have fun before the kids head back to school. Why not combine fun and learning with a trip to one of two Arkansas Game and Fish Commission's nature centers in the Arkansas Delta?
The Forrest L. Wood Crowley's Ridge Nature Center is located in Jonesboro. The center is a fun and insightful way to learn more about Crowley's Ridge, its geography and topography, and the "critters" that call the region home. Don't miss the 16-minute film, complete with special effects and animation, that explains the formation of the ridge. Hands-on exhibits tell the story of the plants and wildlife that call the area home. Outside the center, visitors find the Habitats Trail and a connection to the Craighead Forest Park trails, both offering the opportunity to experience the flora, fauna and topography of Crowley's Ridge. Interpretive programs are offered regularly. You can log on to www.CrowleysRidge.org for more information.
In Pine Bluff, you'll find the Gov. Mike Huckabee Delta Rivers Nature Center. The center was designed to look like a hunting lodge and is located among Pine Bluff Regional Park's Delta bottomland, Lake Langhofer and Black Dog Bayou. The Delta and its rivers are the star attractions, and exhibits vividly describe how meandering waterways have changed the land and why swamps are incredibly valuable ecosystems. A model of the Arkansas River reveals how oxbow lakes form. A simulated crop duster flight buzzes fertile fields. A short film follows Hernando De Soto's early trek through forbidding land. Check out the hands-on laboratory where kids can learn more about the critters that call the area home. Make sure and spend some time outside watching the fish and the turtles in the pond outside the center's entrance. Visit www.deltarivers.com for details.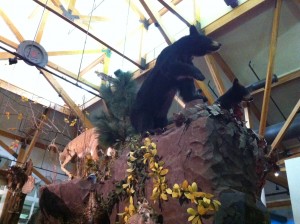 These nature centers are great examples of how you can have fun…and learn something in the process!