Oaklawn Jockey Ricardo Santana Jr.
Jockey Ricardo Santana Jr. is a rising star in the world of horse racing. The jockey, who has been the leading rider at Oaklawn Racing and Gaming in Hot Springs the past two years, was born in Panama and is from a underprivileged part of the country known for its gang activity.
Fortunately, he had the footsteps of his father, Ricardo Sr., a former jockey, to follow.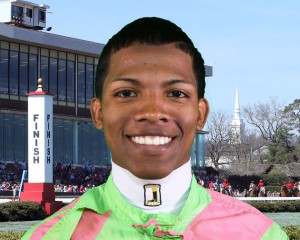 ​
Known for his strong work ethic, Santana, Jr. became the leading apprentice rider in Panama and first came to the U.S. to ride at Delaware Park around five years ago.
He moved to Hot Springs in January 2011 for the racing season at Oaklawn. "My favorite thing about living in Hot Springs is the race meet at Oaklawn Park," he said. "And the incredible support for racing from the fans…Here people come with their families and really enjoy the races. We love to see crowds come to see us ride."
This year, the live race season at Oaklawn starts January 9 and runs through April 11.
In the 2014 season at the track, Santana Jr. won eight stakes including the Southwest Stakes with Tapiture, the Honeybee Stakes and the Count Fleet Sprint Handicap. In 2013 he earned his first career graded stakes in the Count Fleet Stakes. His first stakes victory came at Oaklawn in the 2011 Spring Fever.
When not racing, Santana Jr. says he enjoys going to the lakes of the region and experiencing the dining scene of the city.
"I did not know anything about Arkansas before coming here, just what people told me," he said. "I was told it was a very friendly place which I've found to be true."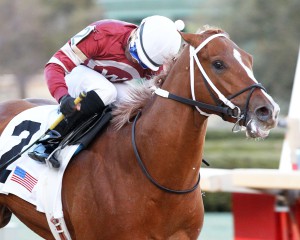 ​
Santana Jr. said he is impressed by Bathhouse Row downtown and "that people come from everywhere to visit the bath houses here."
As for his favorite place to visit in the state, "I usually stay in Hot Springs so I do local things, like go out for dinner, go to the gym," he said.
"In this small city everything I need is here, so I really never leave."
"For 2015 I just want to work hard, have fun riding my horses and maybe be the leading rider again," he continued. "It will be very hard but I will work harder and at the same time enjoy my time here."
Oaklawn Park, located at 2705 Central Avenue, is Arkansas's only Thoroughbred racing venue and is one of the top tracks in the country. The track is well known as the home of the Racing Festival of the South and the Arkansas Derby. A record $23 million in purses will be available at Oaklawn this season and a newly expanded gaming area offers 50 percent more games. Oaklawn Park Racing & Gaming was recently selected as the Best Racetrack/Racino Facility by Southern Gaming and Destinations magazine.