Outdoor Expo in El Dorado set for September 9!

Editor's note: The event featured in this article occurred in 2017, but we hear that this year's will be the best yet. Find it on our Events page.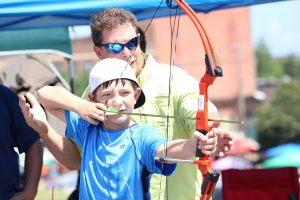 The 19th annual SouthArk Outdoor Expo is September 9 in El Dorado! The family friendly day is geared for those who enjoy the outdoors and events on the lineup include a a rib cook-off that serves as a backdrop to the day's activities, a chainsaw wood carving demo, archery demonstrations, target shooting, food trucks, a 5K, live music, children's activities like a BB-gun shooting range, and more. Live music will take place throughout the day including appearances by Missouri country act Back Road Story at 9 a.m. and Arkansas cover band Aces Wild at 12:30. Children's musical duo of Brian and Terri Kinder will take the stage at 10 a.m.  
New this year will be a dog show, which will start at 11 a.m. with awards being given in various categories including scruffiest. Overall, there will be more than 70 exhibitors and vendors on site including those selling outdoor gear, boats, ATVS, duck calls, and more. The event will be held  from 9 a.m. to 4 p.m. at the El Dorado Conference Center.
For more details and a look at the complete lineup, visit southarkexpo.com.