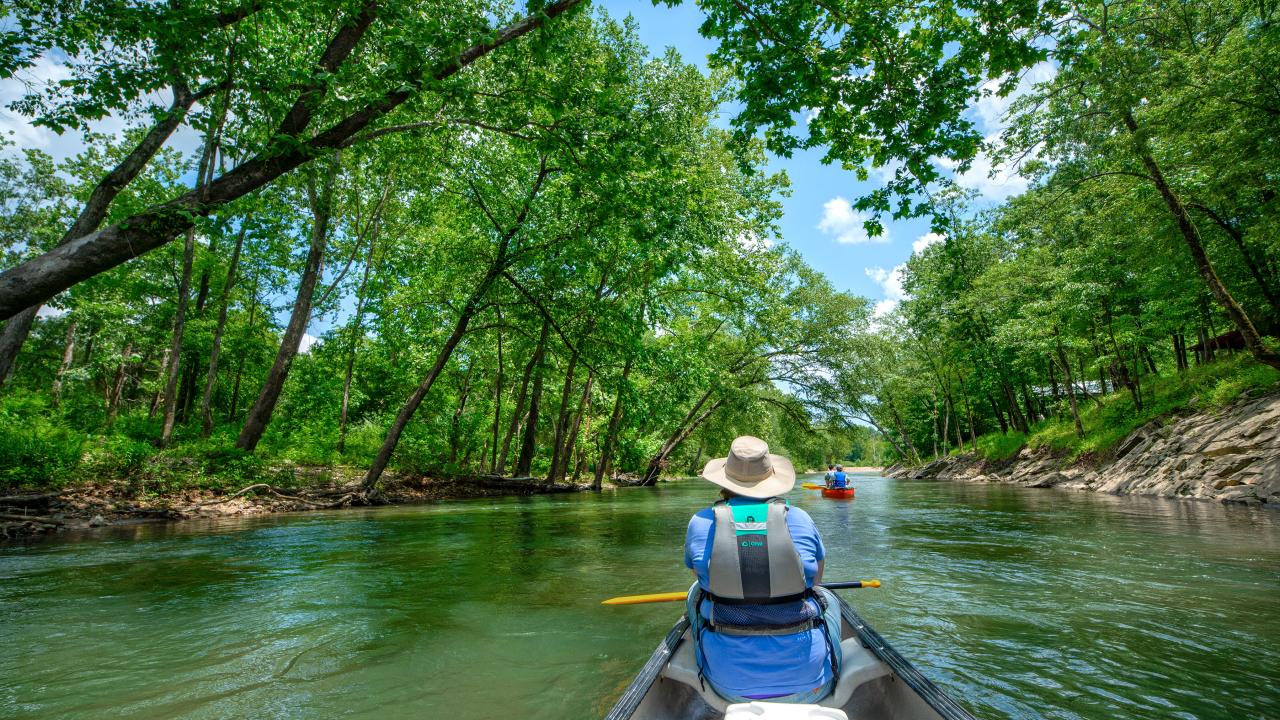 If you are looking for a paddling venture to take on, the Caddo River is a solid option to head to.
"The Caddo River is a great river for all levels of paddling experience," said Gayla Claborn, owner of Caddo River Camping & Canoe in Glenwood. "This typical pool and drop river is gentle enough for novice paddlers to learn on yet with enough class I and II rapids along the way to keep it exciting. There are good places to stop to swim and fish along the available routes surrounded by the beautiful Ouachita mountains."
"It is one of the most consistent floating rivers in Arkansas, allowing our season to span from March to September."
A popular route of the river is a 7.5 mile section from Caddo Gap to Glenwood. It hosts a mix of both calm waters and rapids and the view is varied, from houses (most of the property along the Caddo River is privately owned) to hillsides to rocky outcrops. There are also gravel bars that can be used to rest, scope out the river, or enjoy lunch from.
According to Claborn, prime water levels for this route occur usually from March through at least half of June and temperatures from late April through early June. If one is interested in tubing, the best months are May-August. She mentioned the popular months for everything river related, meaning canoes, kayaks, tubes, cabins and camping, is from May until school starts back up in August.
"No matter what the river level or the temperature is, this is when people will come," she said.
When the river level drops below 5.2 feet, Claborn said they switch to their low-water route down the river. "It's deeper and wider and stays a decent float throughout the summer," she said. "Except for during floods, rain and storms, we always have something open March- September. We will just switch the routes based on what is working best when the person arrives." It's important to know the river's water levels and the various routes before you head out.
The office for Caddo River Camping & Canoe is at 26 Hwy 8 E, which is up a hill from the intersection with Hwy 70. Here you can rent equipment such as kayaks, canoes or tubes for floating down the river. If you have your own equipment, you can also arrange to catch a shuttle, which gives you access to a private access launch. The cost to do this is $20 for the first boat and $10 for each one after that. There are also public access options to access the river if you have your own equipment and want to use your own shuttle.
"Glenwood is a great little town that has vacation cabins, restaurants, a golf course, shopping and markets too," she said.
"The Caddo River is convenient and a centrally located destination for visitors to plan to spend multiple days in the surrounding area. Near here is Crater of Diamonds State Park, Daisy State Park on Lake Greeson and Hot Springs is only 40 minutes away."