Party with the Zombies in Paragould This Saturday!
Halloween is almost upon us! And that means it's time for the 2nd annual Zombie Walk in the one-and-only downtown Paragould.
The fun begins the evening of Oct. 26. Registration begins at 5 p.m. The costume contest begins at 7 p.m. Zombies can enter the contest for a fee of $2 for adults and $1 for the kids ages 12 and under. There are five categories in this year's costume contest: most grotesque, celebrity, novelty, best group and best zombie kid.
There will also be a photo booth to capture your time as or with a zombie. Prints are $2.00 each with proceeds benefiting our friends at Main Street Paragould (that's the zombie form of Main Street Paragould director Gina Jarrett on the right!). The booth will be available from 5:30-8:30 the night of the Zombie Walk.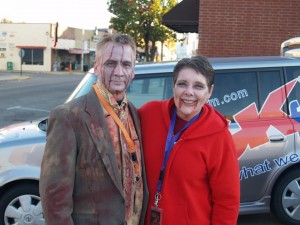 The walk begins at 8:30 p.m. Last year, over 550 zombies made their way to downtown Paragould for the first Zombie Walk. Organizers are expecting even undead this year. As you know, zombies like to travel in packs!
There will also be a variety of concessions and booths lining the downtown area. So you'll be able to grab food and drinks and various zombie paraphernalia.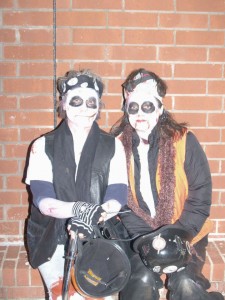 Admission for the 2nd annual Downtown Paragould Zombie Walk is $5 for adult zombies, $3 for zombie kids ages 12 and under, and $2 for brave humans who want to interact with the undead wanderers. To learn more, check out the Zombie Walk Facebook page here or give Gina Jarrett a call at 870-240-0544.