"Picking" in The Natural State
httpv://www.youtube.com/watch?v=X2SXxNBZAEo
It started with this Facebook post from "American Pickers" on Monday: Hey, Arkansas! Mike and Frank are heading down to The Natural State, so send us your tips for the biggest piles of rusty gold in your neck of the woods — from the Ozarks to the Mississippi and everything in between!
"American Pickers" is one of The History Channel's most-watched shows. Mike Wolfe and Frank Fritz, pickers extraordinaire, make their living by "restoring forgotten relics to their former glory, transforming one person's trash into another's treasure." Nearly 4 million viewers watch the show, one of the most popular on cable television, each week.
Now Mike and Frank will be traveling our great state, in search of "hidden gems in junkyards, basements, garages and barns." These guys are looking for folks who've collected for years and years…they don't visit retail shops or flea markets. And they look for virtually everything…from antique motorcycles and bicycles to metal toys.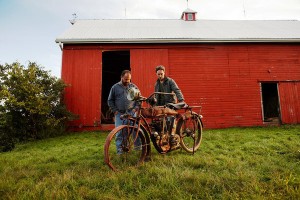 This is how you can help make their trip to The Natural State a success! If you, or someone you know, have piles "of rusty gold" you've collected over the years, tell Mike and Frank! To make suggestions, email [email protected] or call 646-493-2184. Let's all make their trip to Arkansas outstanding!