Reasons to Visit Eureka Springs in the Winter
Now that the holidays are over, it's time to take some time for yourself and what better way than to book a visit to Eureka Springs? During the winter, the crowds dissipate, but businesses remain open.
This is the perfect time to do some leisurely shopping and antiquing. Stroll the winding streets lined with Victorian-era storefronts housing dozens of specialty shops, galleries and vendors selling locally made goods. 
Our Victorian village boasts the country's only entire downtown on the National Register of Historic Places. 
Explore the springs and trails to really discover what makes Eureka Springs special. With no leaves on the trees, you can see springs and homes tucked into the hillside that you wouldn't notice in other seasons. The 1,600-acre Lake Leatherwood City Park is crisscrossed with more than 21 miles of hiking and mountain biking trails ranging from easy to highly technical, all wrapped around the 85-acre spring-fed lake.  
When it gets too cold for outdoor exploring, there's only one thing to do — cozy up indoors! Eureka Springs has lodging options that include something for everyone — from bed-and-breakfasts to guesthouses and unique or familiar brand hotels to historic lodgings (ghost stories optional). If you're looking for something out of the ordinary, we even have tree houses, safari cabins, Hobbit caves and castles! If privacy is more your thing, we have intimate cabins and cottages tucked into the woods. Other cabins are perched high atop mountains with majestic water views. Or if you prefer to be close to the action, there are options near downtown. Everyone can find a place to stay that's within their budget and has the amenities they want. Even better, you can usually score great "offseason" rates at this time of the year.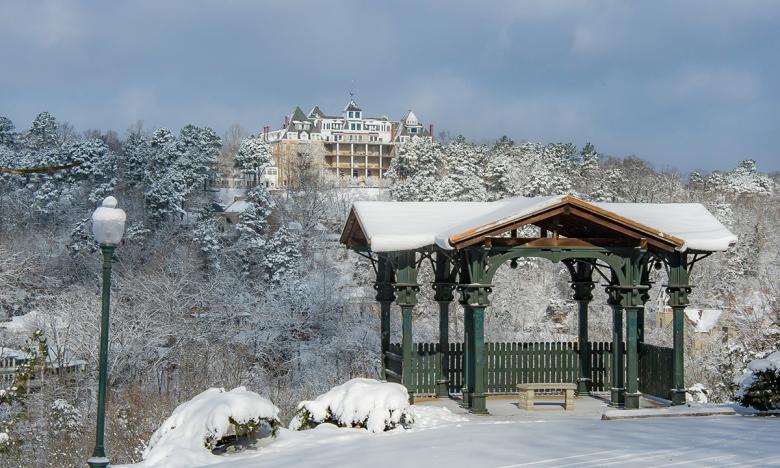 The town's history is colorful and lengthy. Artifacts of Eureka Springs' rich past are displayed in the Historical Museum. Eureka Springs first drew visitors in the late 1800s because of the healing powers believed to be present in more than 60 natural springs there. The healing tradition spawned by the springs in the early days lives on today in the abundance of day spas, massage therapists, herbalists and alternative healers. Eureka Springs has nearly two dozen spas to help you relax and recharge. Whether you are seeking pleasure, relaxation or wellness — a spa day in Eureka Springs is an extraordinary experience. 
Eureka Springs, Arkansas has been in the romance business since day one. The city was officially incorporated on Valentine's Day, February 14, 1880 — the Victorian Era — and since then has been the perfect destination for a romantic getaway.  
Eureka Springs can satisfy anyone's appetite for everything from down-home southern food to romantic, candlelit dinners. Award-winning restaurants serve savory Czech-German dishes, authentic Italian cuisine and spicy East Indian fare. You'll also find Mediterranean, Chinese, Irish, Mexican, Cajun and Thai options.
While Eureka Springs considers winter its quiet season, we still have to have a good time. From January to March, we celebrate Mardi Gras Eureka Springs-style! Gather up your beads and masks and join us during this monthlong festival, the largest of its kind in Arkansas! The 2019 Eureka Springs Mardi Gras Extravaganza promises fun and revelry with several costume balls, parties, two parades, Cajun food, coffee and beignets, umbrella decorating and more. Laissez les bon temps rouler in Eureka Springs!