Shuttle Hound Mountain Bike Shuttle Service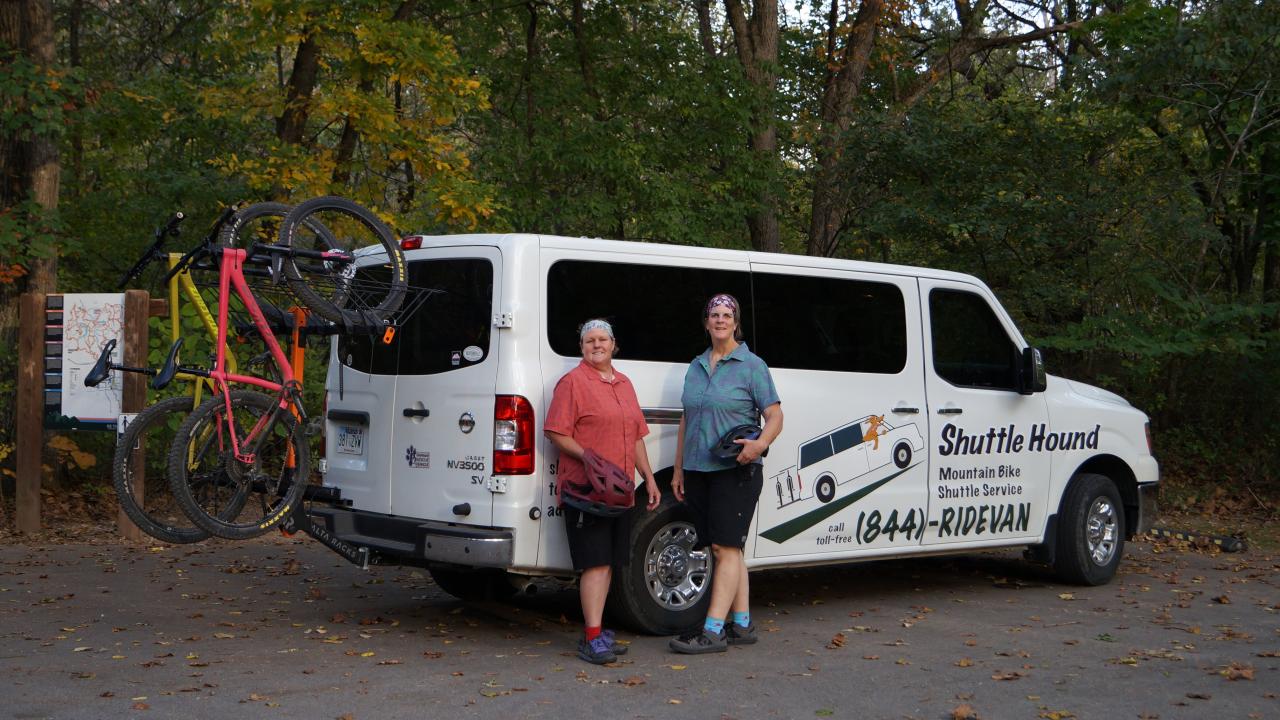 While there are numerous bicycling shuttle services in Northwest Arkansas, Shuttle Hound prides itself on offering convenience, safety, comfort and flexibility.
Choose point to point rides or hourly options. The service offers half-day downhill tours of sections of the Slaughter Pen, Back 40 and Little Sugar trail systems. Additionally, Shuttle Hound will custom pick up or drop off — where riders live or stay, bike parks, trailheads or even random points along a trail if there is a place to park. Or, riders looking to build their skills or practice jumps on a section of trail can ride it over and over on an hourly basis with Shuttle Hound taking riders back to the starting point again and again. Also popular is their one-way Razorback Greenway shuttle, giving riders the ability to ride the Greenway without having to drop a vehicle at the other end.
Transport for riders and bikes is in a Nissan NV3500 passenger van with bikes secured to a 6-bike ALTA rack.
Sometimes people need help because of mechanical failures like flats or a split side wall. Shuttle Hound has tools and a pump to keep their customers riding.
"We're really the only shuttle company that just does shuttles all around Bella Vista and Bentonville trails. I pretty much will drop anyone anywhere along a trail system as long as it's van accessible and pick up is basically the same thing," Lisa Winfield says. She owns the company with Abbie Seidel.
The shuttle service is valuable to local residents who don't want to worry with the hassle of parking at popular trailheads. The service is even more valuable to folks from out of town who aren't familiar with the area or perhaps have rental cars and no bike rack. Winfield says she sees a lot of people who fly into town and either bring their bikes or rent bikes when they get to Northwest Arkansas. "They don't always have a way to transport the bikes to the trail," she explains.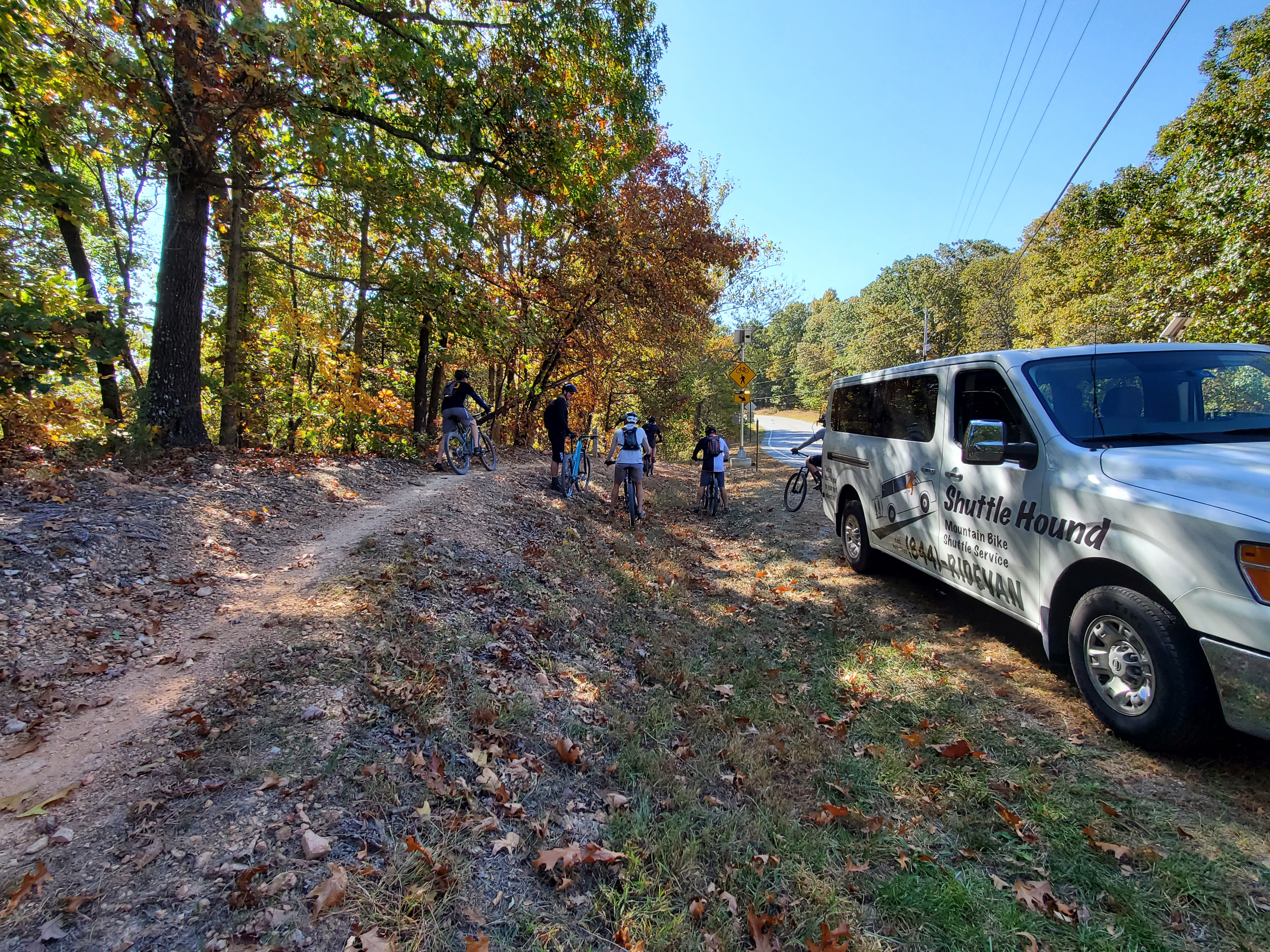 Winfield says Shuttle Hound has seen folks from the Orlando area, Colorado, New Mexico, California and Wisconsin. "Just basically all over, although no international at this point." Winfield adds. "YouTube in a way has a lot to do with it. People see trails and destinations they want to visit."
Those who come to ride are impressed by the quality of Arkansas's trails, Winfield adds. "There's just so much variety," she explains. "The trail building has truly been world class. It's like the Disneyland of mountain biking."
Shuttle Hound does not guide riders (unless you purchase their one premium guided route package) but can provide information about routes, such as where to start on a trail or which direction to ride in to have more fun or more of a challenge.
Winfield and Seidel both ride; in fact, their mutual passion for mountain biking brought them together in 2005 in Dallas, Texas. They volunteered with the Dallas Off Road Bicycle Association, raced locally and rescued dogs. Eventually they started a pet-related business, which they ran for a little more than 10 years.
Their first visit to Arkansas was a mountain biking event in Hot Springs. Then Seidel's sister bought a place in Northwest Arkansas because she and her boyfriend both enjoy riding here. Seidel and Winfield had a goal to move here in the future, which became sooner than later when their house in Dallas was lost to a fire in 2019. They sold their pet service business and moved up their timeline to retire and move to Northwest Arkansas.
"We loved that business and we loved what we did," Winfield says. "The fire was hard but look where we got to move to."
"I never thought I would live in Arkansas," Winfield adds. "But, I don't miss Dallas. I don't want to live anywhere else." Winfield and Seidel have jumped into the community whole heartedly with their business and their continued desire to give back. They volunteer for area trail work through FASTTAP (Friends of Arkansas Single Track Trail Adoption Program) and at Crystal Bridges Museum of American Art in Bentonville.
They moved to Northwest Arkansas in April of 2020 during the height of the Covid-19 pandemic. They opened Shuttle Hound (a name combination of their love of biking and dogs) that same year.
"I think we offer a valuable experience to people visiting and those that live here," Winfield says.
Plus, Winfield and Seidel have Tunnel Vision Nights AirBnb, oriented toward the needs of mountain bikers with secure indoor bike storage, a bike wash, and tool stand with tools. It can be booked here.
In addition to mountain bikers, Shuttle Hound is available for hikers to use as well. Winfield says shuttles can be reserved for bikers seeking gravel routes too. For details on pricing and other information, visit www.shuttlehound.com.