Southern Sandstone – Rock Climbing in Arkansas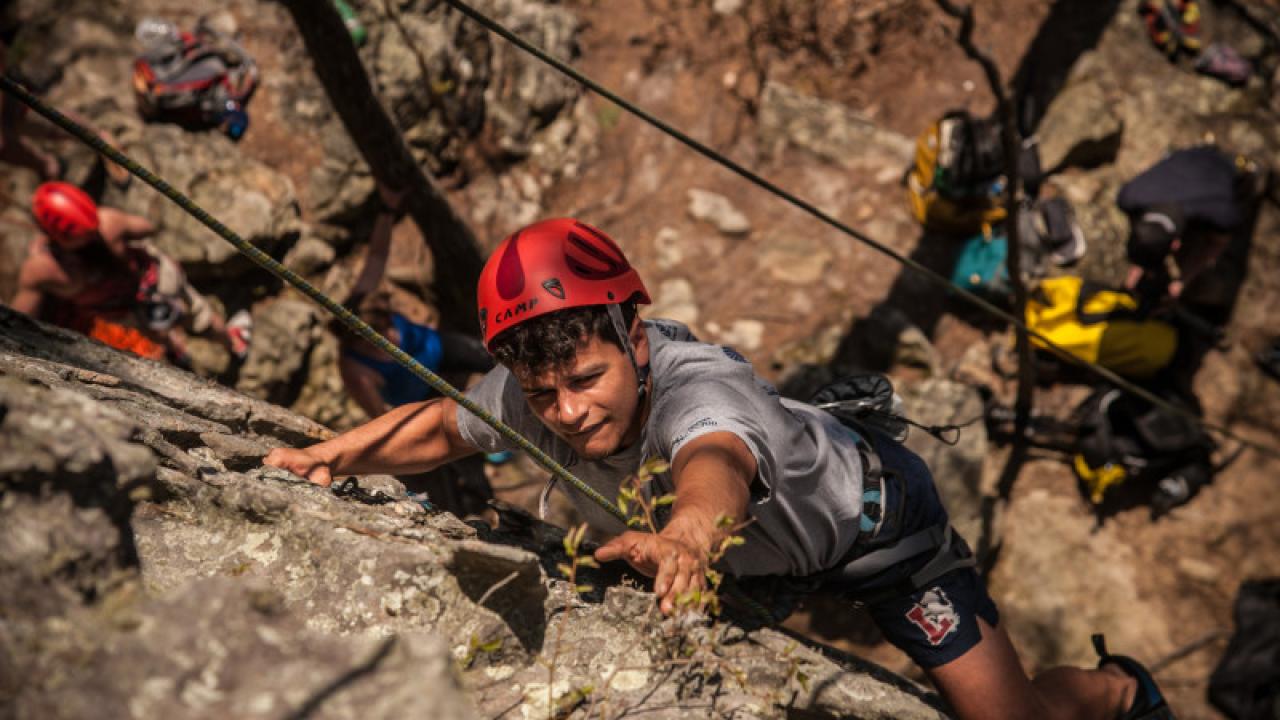 The Natural State has great bouldering, sport, and traditional climbing for route seekers of all skill levels. The Ozark Mountains, especially Newton County, are synonymous with rock climbing in Arkansas while the state's highest peak in the Arkansas River Valley offers a dramatic crag.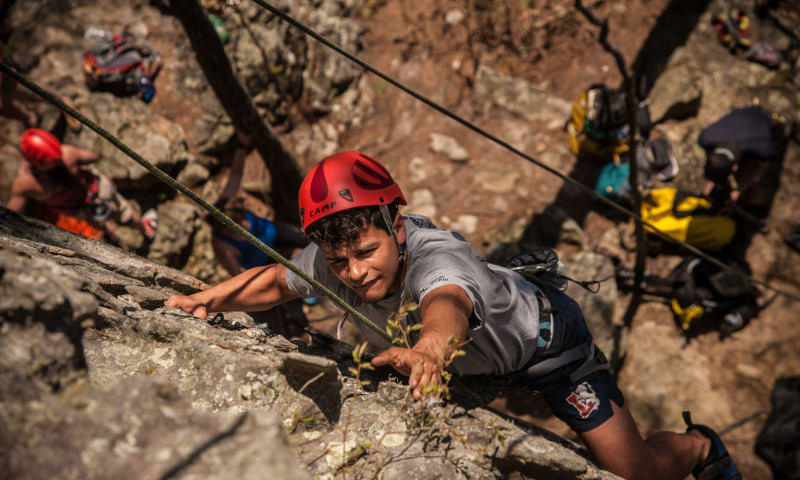 Earlier this year, I sat down with George Bieker to discuss rock climbing in Arkansas. Bieker is a graduate assistant for the University of Arkansas Recreation Outdoors in Fayetteville. He owns Guide Arkansas, a service offering personalized rock climbing trips and instruction and other outdoor guided trips. He works for Alaska Mountain Guides for which he has guided trips in Utah, Alaska and Africa. And, he's a Fayettechill Athlete.
If you don't know about the great rock in Arkansas, here's the skinny on some of our southern sandstone.
Sam's Throne
There's more to it than just Sam's Throne. Within about a two-mile radius of Sam's Throne is Candy Mountain, a really pretty sport climbing area, and Valley of the Blind, offering some of the tallest cliffs that are bolted in Arkansas. And, it's all free for camping and climbing. Bieker says that the American Alpine Club donated around $10,000 about three years ago for bathrooms at Sam's Throne.
"One of the hindrances of Sam's Throne is that it is mostly traditional climbing, which is placing your own protection as you go up, cams and nuts and stuff, and that takes a lot more technical skill for a rock climber to do safely," adds Bieker. "So, it's not so beginner friendly. It takes more involvement, but it's definitely my favorite spot for traditional climbing in Arkansas."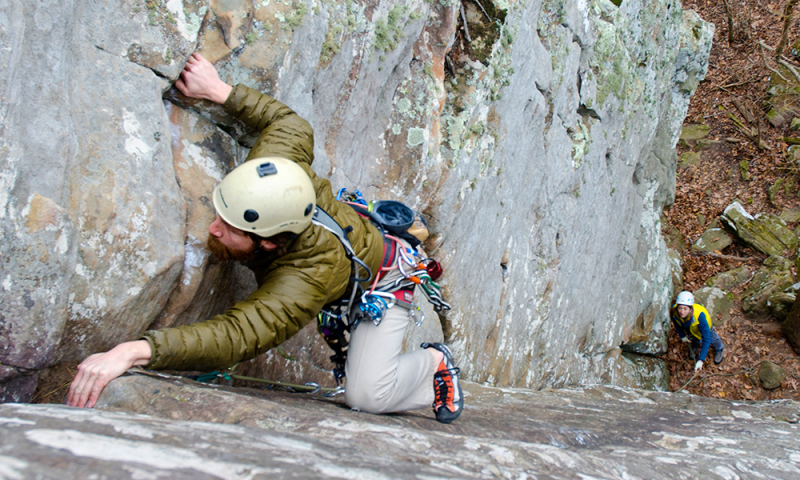 Cowell
This little town located along Scenic Highway 7 in Newton County has some of the best bouldering in the state and some very hard sport climbing. "There are maybe five different sectors once you get to Cowell," Bieker says. "The quantity and quality of rock in this small area is hard to fathom."
Lincoln Lake
Located near Fayetteville, Lincoln Lake has a lot of sport climbing. Bieker says right by one of the main parking areas there are around 40 climbs on a cliff band that follows the lake for maybe 200 yards. "That's going to be more beginner friendly stuff. There's no approach," explains Bieker. "You can take a first or second timer out there. It takes like three minutes to get to your rock climbs."
The dam side of the lake has great rock for moderate bouldering. "Just the pad people are going out there. There's a lot of beginner friendly rock climbs there so that's where we'll take people that don't want to get on the ropes," Bieker adds.
"Outside of those two areas, there's very high quality bouldering that just takes like a 30-minute hike. Surrounding the whole lake you've got great rock climbing in different locations. One's called the Turtles Area; one's call Beauty School. Mad Max is another sport climbing sector that has seen a lot of development."
Shepherd Springs at Lake Fort Smith
Remote with high quality stone, Shepherds Springs is for the adventure-minded climber. "It's just not trafficked, so it feels dirty," Bieker explains. "It feels like you're climbing it for the first time and some people don't like that." It's scarier for some because you can't see the chalk holds "whereas some people like that comfort of 'this is exactly where the climb is going' and 'I don't have to brush off moss or anything like that.'" He adds that it's very stout for the grade.
Horseshoe Canyon
The best well-rounded graded area is on private land at Horseshoe Canyon Ranch, located in Jasper near the Buffalo National River, says Bieker. The cost is $5 to camp and $5 to climb. It's also known for the 24 Hours of Horseshoe Hell event, taking place this year on Sept. 23-27.
24HHH
24 Hours of Horseshoe Hell is an endurance rock climbing competition held annually on the last full weekend of September within the steep sandstone cliff walls of Horseshoe Canyon Ranch. Teams of two have the opportunity to choose between a 12-hour and 24-hour climbing event. The festival lasts a full four days with food, camping, music, swag, games, competition, and most of all fellowship, according to the website.
This event starts off with participants yelling out the Climbers' Creed, and a banshee yell goes out every hour, sweeping through the whole canyon. More than 130 teams participate. Bieker adds that it was the first 24-hour competition of its kind in the country.
Bigfoot Hollow
About an hour south of Fayetteville on the Mulberry River is a new area of rock being developed. "That's going to supposedly be the next big rock climbing area," Bieker says. "It's a national forest area."
Bieker says other areas of the state known for climbing, including: Batesville, Mount Magazine, and some in the Ouachitas.
Jamestown Crag
This sport climbing crag in north central Arkansas has approximately 70 bolted routes that span nearly a 40-acre area. There's a donation box on site.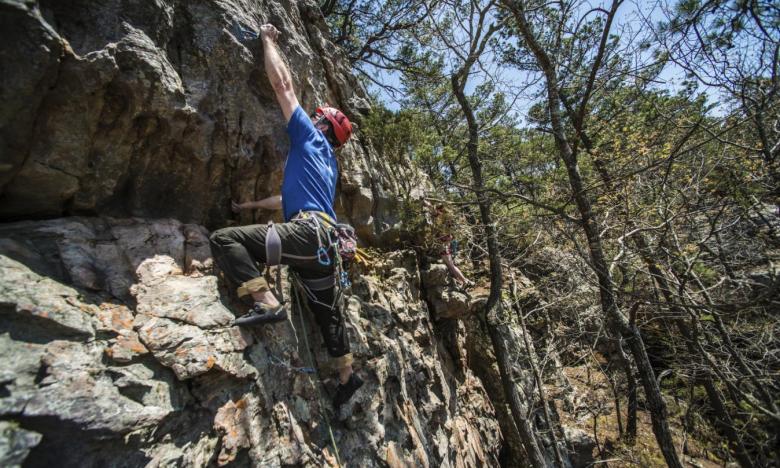 Mount Magazine
Mount Magazine's 2,753-foot high point is the most dramatic location for technical rock climbing in Arkansas. This flat-topped mountain, with its rugged bluffs, deep canyons and natural diversity, is the highest peak in Arkansas. Traditional Arkansas bouldering and sport climbing as well as rappelling is allowed in a designated area on the mountain's south bluff overlooking the Petit Jean River Valley, according to Arkansas State Parks. This 1,500-foot wide stretch of sandstone boasts more than 100 routes up to 80 feet high, ranging from 5.5 to 5.12c in difficulty, with plenty in the 5.10 and under range as well as plenty of Arkansas bouldering areas. Before rock climbing this crag, you are required to register at the Mount Magazine State Park Visitor Center.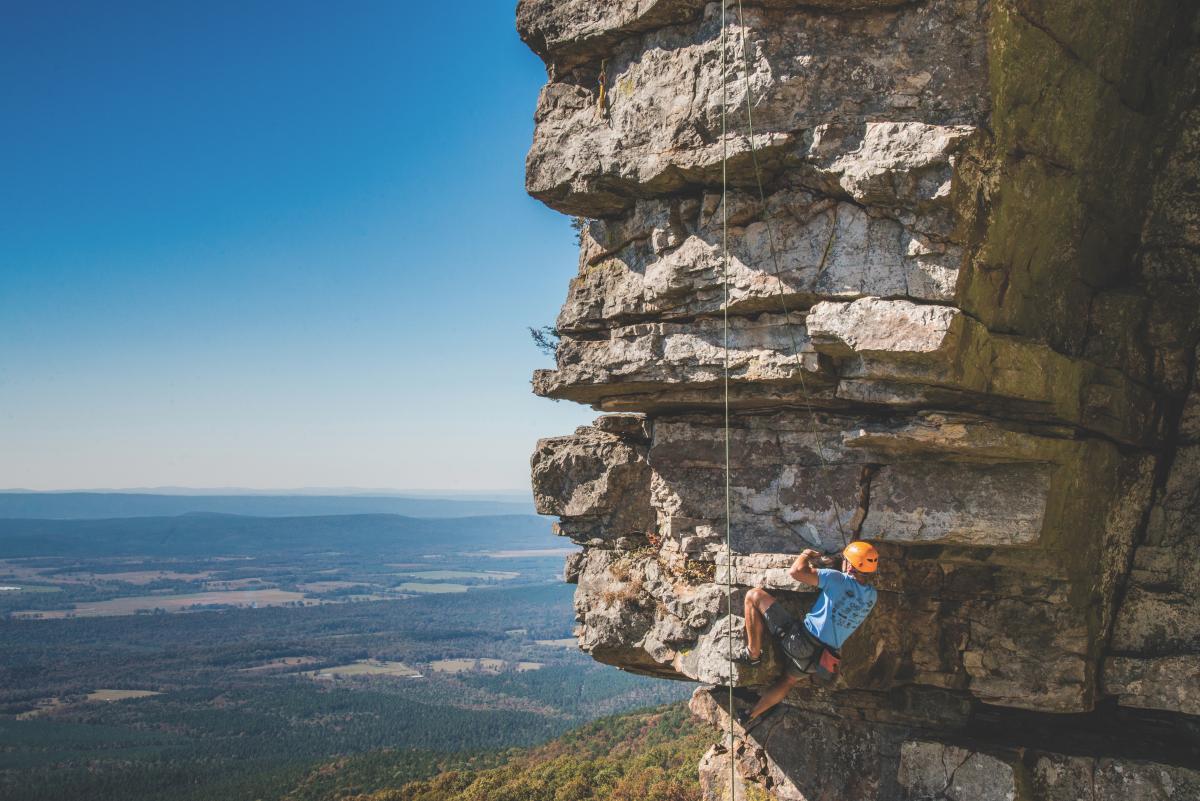 The More You Know
The best way to find details about the places mentioned above and all of the other climbing spots in The Natural State is to check out the book, Rock Climbing Arkansas, by Cole Fennel. He's just published this second edition and it's considered the bible of Arkansas rock. It lays out conditions of the rock, driving directions, where to stay, grocery stores, restaurants, gear, and more.
Fennel is also a Fayettechill Athlete.