Time for the 2014 Wild Hog Musicfest and Motorcycle Rally
"Only a biker knows why a dog sticks his head out of a car window."  ~Author Unknown

Each April, historic downtown Helena hosts motorcycles, music and massive merriment during the Wild Hog Musicfest and Motorcycle Rally. The three-day event takes place April 24-27 and offers a packed schedule of events, activities and performances.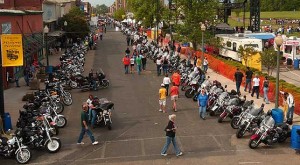 If you've never attended Wild Hog, you might think it's a festival dedicated to motorcyclists…and it's definitely not. The three-day event is jam-packed with fun, food, music and activities, many that don't require a motorcycle at all. Vendors selling food and merchandise will line historic Cherry Street in downtown Helena, offering festivalgoers a variety of wares to eat, drink, enjoy, wear and display.
This year's Wild Hog Musicfest and Motorcycle Rally officially kicks off on Thursday, April 24, at the Wild Hog Saloon, located one block south of the Cherry Street Pavilion (the main stage). Early bike registration begins at 5 p.m., followed by the early bird party and live music featuring the Tommy Akers Band. The band Geneva, one of this year's main stage performers, is planning to sign autographs at the Wild Hog Saloon on Thursday evening.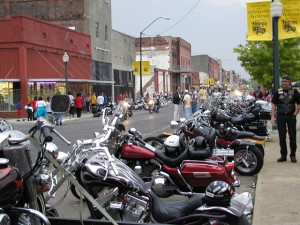 Friday's events begin at 2 p.m., as bike registration continues at the Wild Hog Saloon. Live music from the Cherry Street Pavilion starts at 3 p.m. with a performance by the Tommy Akers Band, Mustang Sally, Geneva and Pulse. An escorted bike parade through Helena-West Helena, beginning and ending in the historic downtown, commences at 6:30 p.m. The music at Wild Hog Saloon begins at 8 p.m. and features Memphis Yahoos.
Bike registration opens at 8 a.m. on Saturday, April 26. New to Wild Hog this year is a Saturday Morning Breakfast Ridge beginning at 8 a.m. Bikers will ride to Tunica's Rivergate Festival parade, followed by breakfast. The festival's poker run begins at 10 a.m. (last bike in at 2 p.m.). Live music kicks off at the Cherry Street Pavilion at noon with a performance by Memphis Yahoos. Also at noon, registration for the bike show begins at the corner of Cherry and Missouri streets and registration for the dyno shootout is at the corner of Cherry and Phillips streets. The rest of the afternoon includes a dyno shootout, bike games, and the festival bike show. Down 2 Five takes the stage at 4 p.m. At 5:30, festivalgoers meet the contestants for the ever-popular Ms. Wild Hog contest and winners for the bike show, dyno shootout and bike games are announced. Immediately following, it's All My Rowdy Friends, followed by Big Guns at 8. Finalists of the Ms. Wild Hog are announced at 9:30. Deep South takes the stage at 10:30. Saturday's musical entertainment at the Wild Hog Saloon features Down 2 Five from 8 p.m. until midnight.
The conclusion of the festival takes places on Sunday, April 27, with morning church services and blessings of the bikes, beginning at 9:30 a.m.
Whether you arrive on four wheels or two, this year's Wild Hog offers something for everyone. General admission is $20 for the entire event. Basic registration begins at $30 for one rider and one bike. Passenger registration is $10.
To learn more about the 2014 Wild Hog Musicfest and Motorcycle Rally, log on to the festival's website at www.WildHogMusic.org.