Featured Article
A Trip to Mountain Harbor Resort & Spa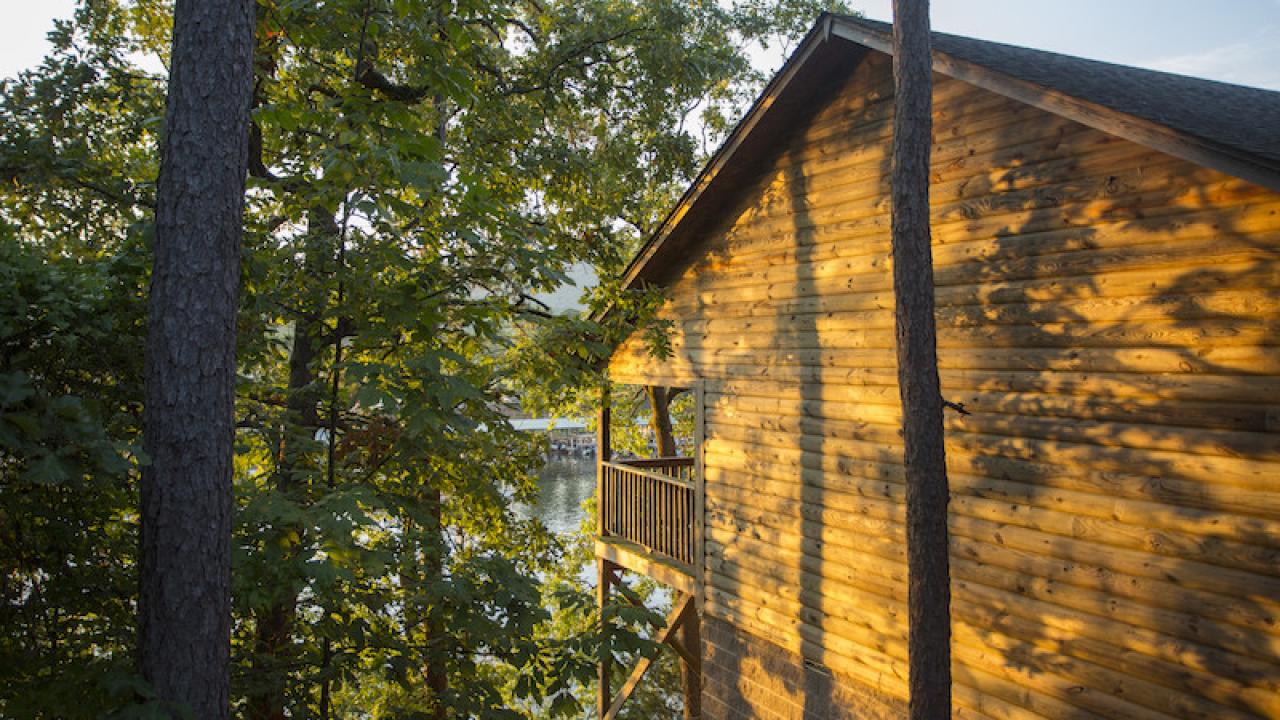 One of the sparkling gems in the Diamond Lakes Region of Southwest Arkansas is Lake Ouachita. Arkansas's largest lake, it is also the cleanest. Surrounding the lake is pristine shoreline with miles of world-class hiking and mountain biking trails. In fact, the International Mountain Bicycling Association (IMBA) recognizes the Lake Ouachita Vista Trail (LOViT) as an IMBA Epic Ride for its backcountry experience with technical sections that lead to stunning views of the lake below. Bring your bike, or simply arrive with a willingness to explore this special place on and off the water. When it comes to where to stay, Mountain Harbor Resort & Spa is a longtime favorite. 
Located on wilderness Lake Ouachita, the award-winning Mountain Harbor Resort & Spa has been family owned and operated since 1955. An old brochure from 1965 says, "We Treat You Like a Friend, Mountain Harbor, Harold. M. Barnes, Pres." This is still true today. Hal's son Bill Barnes, current owner and operator, and the entire Harbor Crew offers the same personal attention. It's the little things – like arriving to a handwritten welcome note and little chocolates for those special occasions – that make Mountain Harbor a memorable experience. 
Just 30 minutes from Hot Springs, you can easily get to town, but you won't want to. Mountain Harbor has everything on-site, including luxury cabins with full kitchens and large decks with rocking chairs, hot tubs and lake views. There are boat rentals and guide services at the marina. The lodge's restaurant is open daily with a country breakfast to start your day of fun. And, of course, a spa to help you wind down afterwards. 
A Day on the Lake  
What makes Lake Ouachita unique is its size. It's huge, and even during peak season, it never feels crowded. There are islands and coves to claim for your own. Whatever water activity you like to do, Mountain Harbor can get you going. From ski boats to party barges and pontoon boats, the marina has all of the top-of-line rentals – even luxury houseboats with sundecks and water slides. Here, you've also found the sweet spot for fishing. Rent a custom fishing boat with trolling motor, depth finder and the latest fishing report, and hire a professional guide to take you directly to the honey holes.
A Spa Day 
From the moment you walk over the suspended bridge and onto the grounds of Turtle Cove Spa, you immediately feel more relaxed. Nestled in the wilderness overlooking the lake, the spa is designed to reflect the natural elements and promote harmony and tranquility. The menu of services is different than what you might expect from the traditional treatments. In addition to massage, facials and body treatments, Turtle Cove offers Eastern and European techniques, including sound baths, grounding rituals and chakra balancing using native Arkansas quartz crystals. There are also woodland workouts and seasonal activities that make it a more holistic approach to wellness with the purpose of feeling aligned, centered and grounded and leaving feeling better than when you arrived. 
From Day to Night 
After a day of adventure, Mountain Harbor is a comforting place to come home to. The lodge itself feels nostalgic as if you've been here before, even when it's your first visit. Built in 1955, the lodge maintains the original mid-century modern architecture of the era and all of the charm, including the kidney bean pool from the '60s (Harbor has three additional pools onsite). Sitting on 900 acres, the lodge is at the center of the property where you'll find the registration desk, offices and the Lodge restaurant and is surrounded by guest rooms, studios, poolside cabanas, cottages and condos. 
At check in, you'll receive a map of the entire property, including where your unit or cottage is located and where you can find the marina, spa and hiking trails. Spend some time walking the grounds, simply enjoying the wooded surroundings. The property itself is pet-friendly with most of the units allowing pets, so feel free to bring every member of the family.
There's something to love about all of the accommodations available, but the cottages are truly impressive with full kitchens, large bedrooms and bathrooms, cozy furnishings, Arkansas art and décor and a hot tub on the deck where you can soak in the beautiful lake views. It's everything you could want from a cabin in the woods.  
Mountain Harbor is currently welcoming its sixth generation of Harbor families. Whether it's on a family vacation, romantic getaway, fishing trip or corporate retreat, you've come to the right place to add your story to the history here. And, as always, Mountain Harbor is happy to have you and will treat you like family.  
Getting to Mountain Harbor
Mountain Harbor Resort is located 25 miles west of Hot Springs on wilderness Lake Ouachita. Take Hwy. 270 West towards Mount Ida, and look for the Mountain Harbor sign at the Valero Station just past the township of Joplin. Turn right at the sign onto Mountain Harbor Road, and travel approximately two miles.