Two Programs About David O. Dodd: "Boy Martyr of the Confederacy" Jan. 11
Editor's Note: This particular event is from 2014 but the copy reflects the role David Owen Dodd has in Arkansas and American history.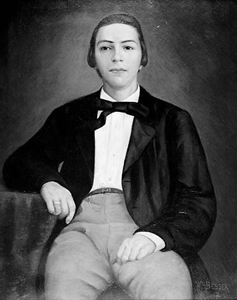 ​
On Christmas Eve 1863, David Owen Dodd traveled from Camden to Little Rock on family business, with his birth certificate and a pass to cross Union lines. Dodd left Little Rock on Dec. 29, and since he was headed back to Camden, he surrendered his pass to a Union soldier.
He lost his way and ended up back behind Union lines. Officers detained him and discovered a small notebook containing a Morse-coded message with information on Union troops. He was tried and found guilty as a Confederate spy. When offered freedom for the name of an informant, he reportedly replied:
"I can give my life for my country but I cannot betray a friend." 
On Jan. 8, 1864, David O. Dodd was hanged. He would become known as the "boy hero of Arkansas" and the "boy martyr of the Confederacy."  This year is the sesquicentennial of his trial and hanging.
The MacArthur Museum of Arkansas Military History  has two programs in January in honor of Dodd and his role in Arkansas and American history. An "Observance of the Life and Death of David O. Dodd" will take place on Jan. 11 at Mount Holly Cemetery, 1200 South Broadway in downtown Little Rock.  The program begins at 10 a.m., is free and open to the public.  Camp #619 will march from the museum to the cemetery. The Dodd Camp will then conduct a service in honor of the "boy martyr of the Confederacy," with a three-volley salute, prayers, laying of flowers and a program on Dodd.
That afternoon at 1 p.m., a program entitled "David Owen Dodd: The Man, the Myth, and the Window" will be feature guest speakers Anthony Rushing, Dr. Carl Moneyhon, and Stephan McAteer.  Rushing will discuss the historical figure of Dodd, giving information on his life, and his Arkansas ties. 
The myths regarding Dodd which came into being during the post-Civil War era will be the topic of Dr. Moneyhon's talk. Mcateer, the director of the museum, will focus on the stained glass window of Dodd, its origin, and the journey it took from Richmond to Little Rock and the museum. He also explains how the piece of art is used to interpret the Dodd history.