Walk this way: 100 years of women's footwear
A new exhibit at ESSE Purse Museum demonstrates that you don't have to walk a mile in a woman's shoes to learn something about her—you only have to look at them. A Walk in Her Shoes, which runs Oct. 11 to Jan. 15 at the museum in downtown Little Rock's SoMa district, walks visitors through a 100-year exploration of the way women have dressed the oldest and most reliable form of transportation: the human foot. The show features 50 pairs from the collection of the Fashion History Museum in Cambridge, Ontario, Canada, as well as an extensive selection from ESSE Purse Museum's own vault.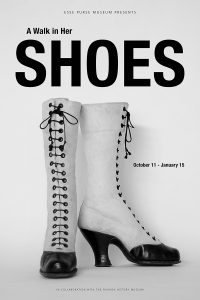 "It's kind of in the eye of the beholder, but for me it raises questions about women's mobility and their ability to move about in the public sphere," says Devin Hancock, ESSE's program and collections manager. From the impossibly small lace-up boots of the early 1900s, which look to have required not only small feet but small fingers to fasten them (as well as a boot hook and perhaps an assistant), to the impossibly tall platforms of the 1990s, it's hard not to wonder how footloose and fancy free a woman might have felt wearing any given pair. "Some are very beautiful, and some look torturous," says Hancock.
Each decade of the 20th century is represented with anywhere from 6 to 10 pairs, and moving through them it's interesting to see how changes in culture and in fashion were reflected in footwear. For example, as the floor-sweeping skirts of the Victorian era began to rise in the 1910s, plain brown or black boots grew higher up the calf to fill the modesty gap; during WWI, boot uppers were often made of wool or suede, rather than leather, which was more valuable to the military. When skirts rocketed up during the roaring '20s, boots were abandoned for daintier, more decorative shoes—which were also more conspicuous in relation to dress. Now women needed multiple pairs to stay in vogue. And onward the exhibit marches.
Even if you have no interest in fashion, history (in general) or women's history (in particular), it's worth visiting purely as an art exhibit. There are leather pumps with complex applique detailing, mules buried under a frizzle of multicolored feathers, embroidered slides with native villages carved into their wooden heels, boots both slick and spangled, plus examples from many of the most famous shoe designers in history. It's a dizzying display; it's also weirdly uplifting to imagine so much time and attention invested in something meant to be stepped on and scrape the ground.
The ESSE Purse Museum is the only North American museum dedicated to the art of women's handbags. For more information, please visit their website: essepursemuseum.com.