At a recent concert at Sunrise Stage in Fayetteville by Trout Fishing in America, the band played a song titled "When the Fog Rolls In." It was written by Ezra Idlet, one half of the iconic duo, about the place where he lives near a creek in Northwest Arkansas.
As I listened to his ballad about fog blanketing meadows and cows and more, I began to think of all the places I have enjoyed in Arkansas when the fog rolls in.
Two locations immediately stood out in my mind – the White River and the Buffalo National River.
My memories of the Buffalo are two-fold. One is of rising through the fog in a hot air balloon until popping through the thin veil to see the world spread below me, warm and vast. Above me, the morning rays of the sun splayed through the cloud formations. Below me, the fog lay like a blanket in the valleys of the Ozark Mountains, which we floated above at well over 2,000 feet above mean sea level. The 150-foot cliffs of our nation's first national river looked monstrous even from that vantage point.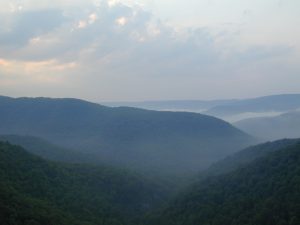 The other is of sipping coffee at sunrise from the deck of a mountaintop cabin at Buffalo Outdoor Center in Ponca. I looked out over the upper Buffalo to see ethereal seas of white laying thick in the valleys of the rolling hills that seemed to go on forever. I've actually had the pleasure of this cabin view many times. It never gets old. In every instance it is soothing, refreshing, inspiring.
The fog of the White River I have walked into early in the mornings as I waded out in the cold tailwaters of Bull Shoals Dam or Norfork Dam with a fly rod in hand. I have been surprised more than once by the shroud melting away to reveal more anglers than I realized casting up and down stream beside me. Or other times, none at all.
There are also the boat rides on the White, be it a johnboat and spinning rod experience or river boat and fly rod. Hearing those boat motors before you can see them always makes me appreciate my guide's navigational skills.
I particularly love when the sun begins to melt the fog on the river, causing me to shed layers of clothes that protected me from the early morning chill. But before the fog yields completely, the boat zooms through the remaining pockets, giving me goose bumps until we reach the sun again and the stretch of river we plan to work for trophy trout.
All of those experiences are like music to my ears and I treasure them, just like my favorite and aptly named band, Trout Fishing in America.
Where do you like to be when the fog rolls in?