Where to Ride in Wet Weather Conditions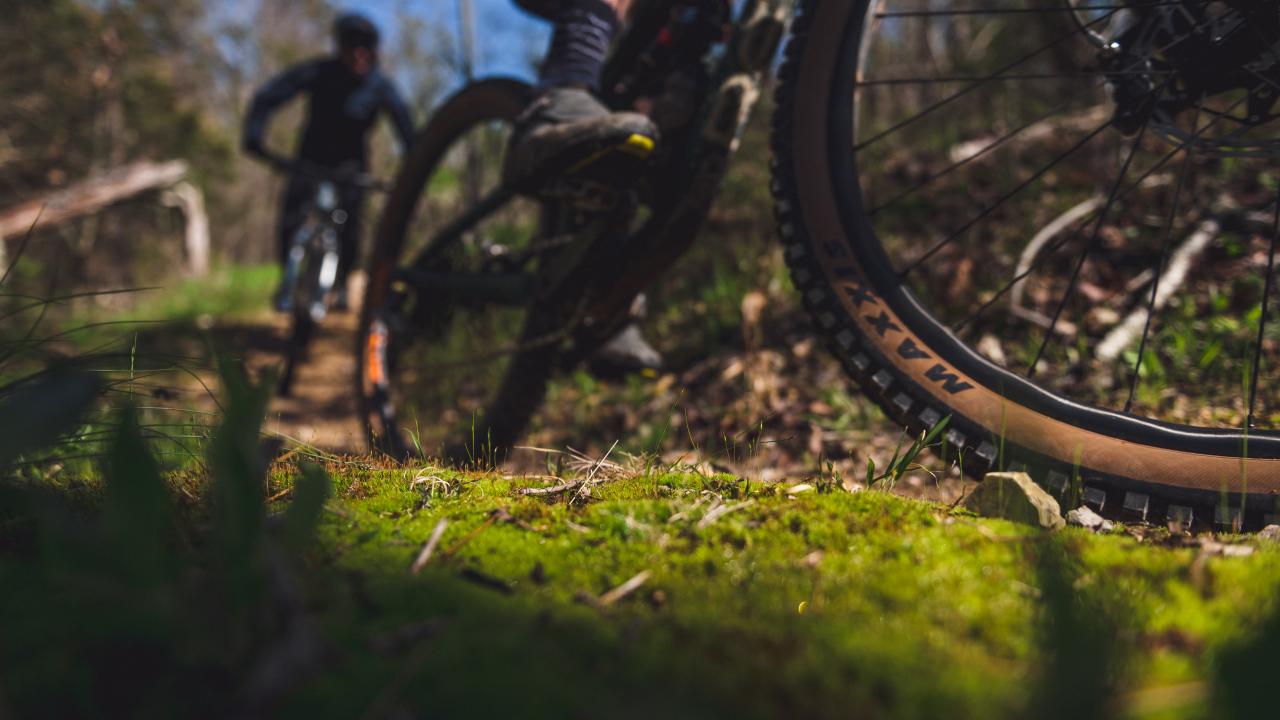 With four mild seasons and great trail design, Arkansas's mountain bike trails are perfect for riding year round. Yet, some trails can turn into a muddy mess when the soil becomes saturated enough. If you're riding in The Natural State when rain arrives, there are a few trails that handle wet or winter weather biking better than others.
If you're riding and you see you are harming the trail - rutting the soil or chewing up corners - bail from the trail you're on and look for one of these rides until conditions improve. Our trail maintenance crews will thank you.
Hidden Diversity
Riders can enjoy lots of variety on about 22 miles of single track on the Little Clifty, War Eagle, Bashore and Dutton Hollow loops that make up the Hidden Diversity Trail at Hobbs State Park-Conservation Area. It's smooth and fast with stout climbs and sharp turns. The trail meanders through a lush pine forest just east of Beaver Lake. Hobbs Monument Trail holds up for wet weather rides as well.
A short drive from downtown Rogers, parking is available on Piney and Townsend Ridge roads off AR 12.
Little Sugar
Little Sugar consists of a 24-mile outer loop called Tunnel Vision with other trails crisscrossing the middle, as well as multiple trailheads, which means riders can easily choose their own adventure. The trail system is composed mostly of rock, making it fine for wet conditions, except maybe the gravity zones. Stick to the Tunnel Vision loop and Down Under.
The Back 40 is connected to Little Sugar by a 400-foot bridge that spans Little Sugar Creek in Bella Vista, which now has a hundred miles of trails.
Wet Weather route on the Back 40
Ridable even after a heavy rain is a portion of Back 40 Loop. To access the wet weather route, take a left onto the Back 40 Loop at the Bear Hollow Trailhead. This heavily gravel route drains well and has a long continuous descent and a lot of flow. There is a creek crossing that may have a lot of water depending on the rains but it is ridable.
Lake Wedington
Like Hobbs, the soil full of chert on the trails at Lake Wedington drain well for all weather riding. Located in the Ozark National Forest the trail system received a huge upgrade recently and is now a 24-mile trail system.
It's located just 15 minutes west of downtown Fayetteville with the new mileage built during the pandemic.
Cedar Glades
Cedar Glades Park is home to one of the most diverse mountain bike rides in the Ouachita Mountains. There are about 10 miles of trail over varying terrain with fun descents, jump lines, short climbs, several bridges and water crossings. The surface is a combination of dirt, roots and rocks/gravel.
Cedar Glades is connected to the Northwoods Trail System and is located just a few short miles from historic Bathhouse Row in Hot Springs National Park in Hot Springs.
Camp Robinson
One of the oldest trail systems in the state, Camp Robinson has more than 40 miles of hand-built trails for riders of any skill level. Trails are tight and varied - smooth flow to technical rocky sections - and handle moderate rainfall well.
Access to the trails requires a pass and you'll need to present your license, insurance, and registration when you get to Camp Robinson in North Little Rock to obtain it. For detailed information visit www.centralartrail.com/camp-robinson-info.html.
Boyle Park
The newly updated portion on the northwest side of Boyle Park is fairly flat, flowy and perfect for beginners while the east side entrance to Archwood Drive is strenuous and aimed at intermediate to advanced riders. The South Nature Trail starts with a good climb but then levels out with a wide, fast, slightly downhill section. Riders can mix it up for different challenges on the variety of terrain.
Boyle Park in Little Rock was one of the original parks built by the Civilian Conservation Corps and many of its original structures are still present today.
Finding Trail Conditions
The best way to find trail conditions of most Arkansas trails is to follow their Facebook pages. Just search for the name of the trail system and trail conditions; e.g. "Slaughter Pen Trail Conditions."