7 Arkansas swimming holes perfect for summer fun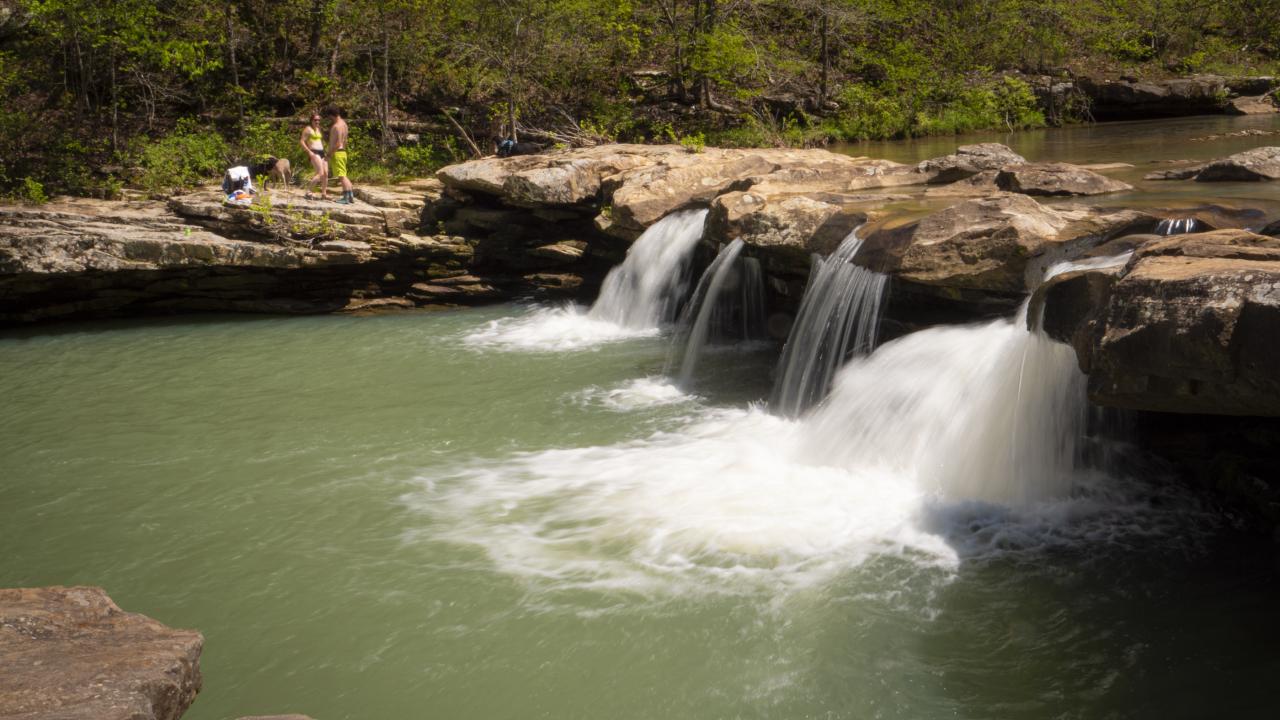 Other than an outdoor sprinkler on the lawn when you are a kid, there may be no greater recreational pleasure in the summer than splashing the heat away in a swimming hole at a lake or river. Arkansas, The Natural State, has plenty of them that in addition to keeping the heat at bay offer great scenery.
Make a splash on your next Arkansas road trip in one of these Ozark swimming holes :
Blanchard Springs Recreation Area
One of the best known swimming holes is Blanchard Springs Recreation Area just north of Mountain View in north central Arkansas. At the recreation area, you'll find ample opportunities for swimming, fishing, picnicking and hiking, surrounded by picturesque bluffs. There are also outdoor theatre programs in season and tours are offered at Blanchard Springs Caverns. To get to Blanchard, take Ark. 9 north from Mountain View for seven miles, go west for six miles on Ark. 14, then take Forest Service Road 1110 for three miles.
Gunner Pool
Also nearby is Gunner Pool, located northwest of Mountain View. Here, you'll find a clear mountain stream backed by high bluffs and plenty of opportunities for fishing and hiking. To get to Gunner Pool, take Ark. 87 from Mountain View for 16 miles to the community of Fifty-Six, then go three miles north on Forest Service Road 1102.
Shores Lake
Eighty-two acre Shores Lake is a popular swim spot. Located about 15 miles north of Mulberry on Ark. 215, the lake is in a mountain setting and provides access to the Ozark Highlands Trail. You can also fish, hike and picnic here.
Buffalo Point
Any place along the Buffalo National River is considered a good place to splash the day away but a good "hole" is located at Buffalo Point. Take Ark. 15 about 15 miles south from Yellville. You'll find rugged mountain scenery and nature trails, an overlook, fishing, and nature programs in season. Cabins and a restaurant are located near the swimming hole, making it a great road trip getaway.
Long Pool Recreation Area
A big natural pool can be found on Big Piney Creek at the Long Pool Recreation Area near the Scenic 7 Byway near Dover. Head north on Scenic 7 from Dover for six miles to Ark. 164, then go west for three miles to the access road. From there, follow Forest Road 1901 for three miles, then go two miles on paved Forest Road 1804. High bluffs, fishing, hiking and canoeing are other amenities to this swimming hole.
Kings River Falls Natural Area
A 2-mile in-and-out trail parallels Mitchell Creek, a tributary, for the first 0.1 mile, then turns north and parallels the Kings River. Hikers cross one small bridge roughly half a mile in. The highlight of this natural area is scenic Kings River Falls and the great swimming hole it creates. This river is relatively unique for the Ozarks because it flows from south to north. From the community of Boston on State Highway 16 (between Fallsville and St. Paul), go north on County Road 3175 (dirt) for 2.1 miles; bear right as the road forks onto County Road 3415. Stay on this road for 2.3 miles until you come to a "T" intersection with County Road 3500. Turn left, and go across the creek and park at natural area sign.
Mulberry River
The 56-mile Mulberry River is definitely one of the state's wildest rivers during spring, making it popular for kayaking, canoeing and rafting. In drier times, it's a good place to swim, wade, skip rocks, and fish. Visitors to the Mulberry can expect prime Ozark Mountain scenery--narrow canyons, tree-lined bluffs, and dense woods. Prime swimming spots can be found at Wolf Pen Recreation Area, Bluff Hole Park and at Turner Bend. Stop in the Turner Bend store for provisions. The stream is amazingly convenient; the Highway 23 crossing is less than a dozen miles north of Interstate 40.
Falling Water Falls
The falls spill into a lovely and large pool, perfect for swimming. It's also easy to access as it is right by the road. At the junction of Arkansas 7 and 16 at Pelsor, turn east on 16 to Ben Hur, then south about 1.5 miles to Forest Service Road 1205. Turn east on this road and remain on it for about 3 to 4 miles (maybe less). You'll be following Falling Water Creek and will come upon the falls to your right — easily visible from the road.
These are just some of the swimming holes in The Natural State. Nearly every major lake in Arkansas has some secluded coves that can become your own personal "swimmin' hole." For information on Arkansas's more than 600,000 acres of lakes and 90,000 miles of rivers and streams, visit Arkansas.com.