Sponsored Article
Basin Park Hotel in the Heart of Downtown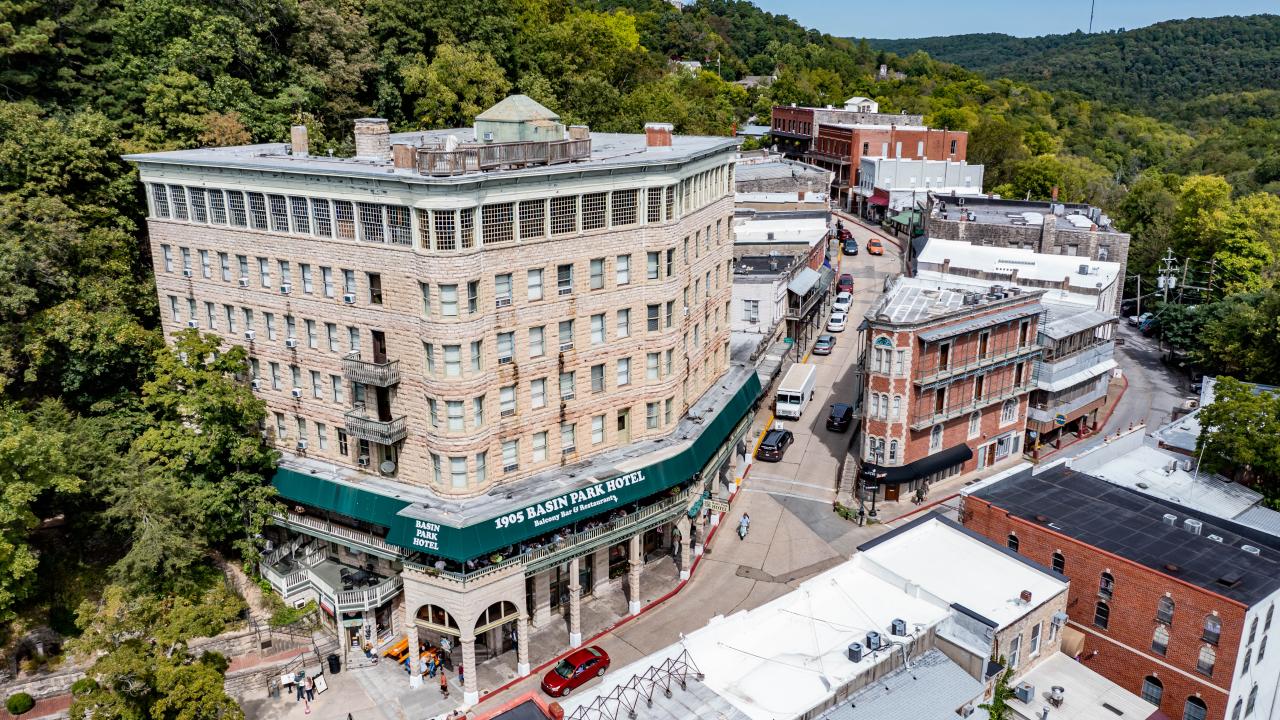 Eureka Springs Only Full Service Hotel
Enjoy a town like no other where the streets are lined with Victorian homes, painted rainbow staircases, healing springs, colorful gazebos and secluded gardens with pathways that wind up-and-down the mountainous terrain of Eureka Springs. At the center of this quaint and quirky town is The Basin Park Hotel, the only full-service hotel in downtown Eureka Springs.
Standing tall over Spring Street with its breathtaking architecture and historic charm, this famous Arkansas hotel is in walking distance to every upscale restaurant, coffee shop, boutique, game store, craft emporium, spa, eccentric gift shop, gallery and museum in town. Choose from newly styled specialty suites with king beds, a seating area, jacuzzi tub and balcony access. Stay inside the Spa 1905 in one of the Spa Collection Rooms. Sleep in a corner king room that provides the best views of Spring Street, or vacation on a budget in a standard room that offers the same style and comfort found throughout Basin Park.
Come to where you can park your car for free, use a complimentary shuttle service and spend the rest of the day exploring what makes the Basin Park Hotel and Eureka Springs so special and unique.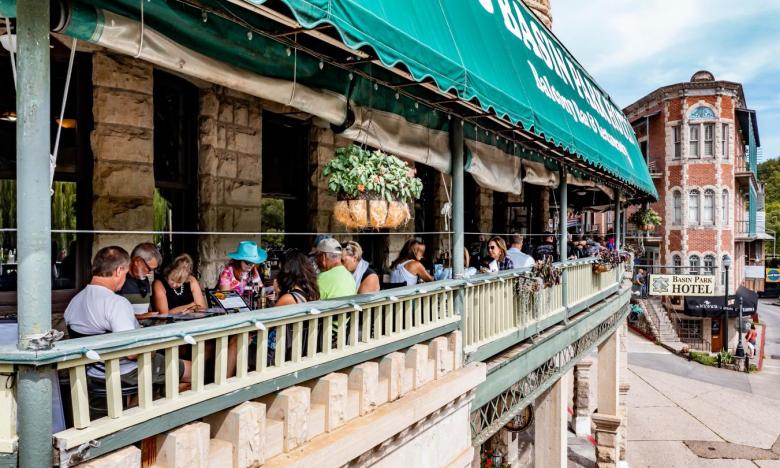 Balcony Bar & Restaurant
Balcony Bar & Restaurant is known as a must-stop during any trip to Eureka Springs. Take in unbeatable views of historic Spring Street from the wrap-around balcony while enjoying fun food and live music performances. Chow down on juicy burgers, wings, croissant sandwiches, fresh salads, ribs, sirloin and fried fish as the sights and sounds of downtown Eureka wash over your other senses. Have a drink inside at the large bar that serves up colorful cocktails and features regional craft beer or take it out to the new 30-seat copper bar area that overlooks Basin Spring Park. From here you will have the perfect view of Eureka's Summer Music Series and will have the best seat in the house for parades like Eureka Springs Mardi Gras Extravaganza and St. Patrick's Day Parade.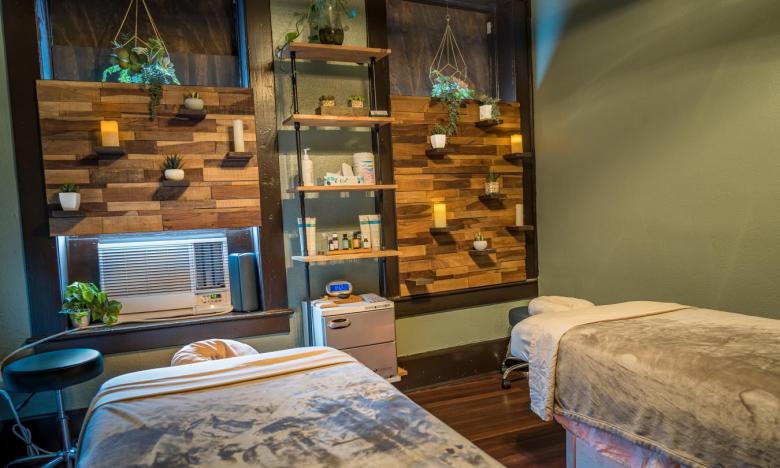 Unwind at Spa 1905
On the second floor of the hotel, retreat to Spa 1905 for a relaxing massage or full weekend of rejuvenation while staying in a Spa Suite.
Secluded from the rest of the hotel with a door that self-locks at 10 p.m., the extra private spa suites at Spa 1905 are the perfect place to have a romantic getaway, fun girls trip or a solo treat-yourself weekend. Wake up to a complimentary breakfast box and then simply walk across the hall in your bathrobe and slippers to your massage room. Here a licensed massage therapist will create a flawless massage experience as soothing music and scents of lavender and eucalyptus fill the room. Choose from couples' massages, traditional massages, hand and foot treatments, body wraps and scrubs, mineral baths, relaxation facials and hot stone therapy. After your relaxing massage, spend the rest of your day unwinding in your spa suite or head out to the Spa Deck that features a large hot tub, lounge chairs and a fire pit seating area decorated with hanging Edison lights. Pure bliss.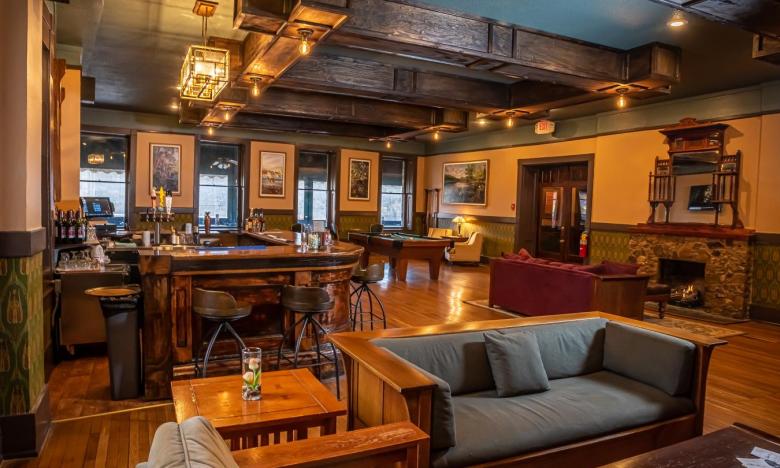 Sip into History at Jack Rabbett's Whisky Bar
Feel like you've stepped into a vintage mountain lodge at the Jack Rabbett's Whisky Bar where classic drinks, craft beer and upscale bar food are a given. This rustic bar room holds over a hundred years of history contained within the art deco green walls, original wood floors and wooden beams decorated with Edison light bulbs and the massive wooden bar.
Sip on an Old Fashioned while playing a game on one of the two pool tables. Catch up with friends in front of the stone fireplace or watch your favorite team on three large TVs that surround the bar's different seating areas with leather couches and club chairs. There is no other bar like it in Arkansas.
JR's Game Room
This atrium-style room has exposed stone and brick walls and a Victorian-style glass ceiling that allows you to watch the clouds stroll by and is the ideal place to be on a rainy day. Enjoy time with family as you play a life-sized game of Connect Four or Jenga. Perfect your skills on the old wooden shuffleboard and foosball table. Play classic board games like chess, checkers and backgammon. And for cozy nights in, gather on the couch for family flicks on the large movie screen.
Paranormal Investigation Tours
At the Basin Park Hotel, Paranormal Investigation Tours allow you to investigate the hotel's most active spaces. Paranormal investigators will share ghost tales and evidence of paranormal incidents at the hotel, teaching you the evolution of ghost hunting so that you can become a ghost hunter yourself. See how to measure cold spots with an infrared thermometer, take detailed photos and use special audio equipment to pick up hidden sounds.  Travel from the rooftop all the way down to the chilling limestone cave that was once a speakeasy.
Take the one-hour tour Wednesday through Sunday at 10:30 p.m. for your chance at witnessing some of the Basin Park's regular ghosts – the cowboy, the gangster, the musician, the laughing girl on the stairs and the whistler. You may even encounter a new entity!
Daily Resort Activities
Besides the hotel's famous ghost tours, you can also partake in multiple hotel activities and enjoy free passes to different locations around Eureka Springs. Take the Behind-the-Scenes Tour of the Basin Park Hotel, go on a historical hiking tour, have a DIY Day at Spa 1905, limber up at Yoga Flow classes, gain free access to the Eureka Springs Historical Museum, enjoy free passes to the Downtown-N-Underground Tour that takes you below the city streets and so much more.
Romance in the Heart of Downtown
Say "I Do" on the top floor of the Basin Park Hotel in The Grand Ballroom & Foyer. This one-of-a-kind event space maintains its original form and features hardwood flooring, a large stage, chandeliers and original multicolored stain glass windows from 1905.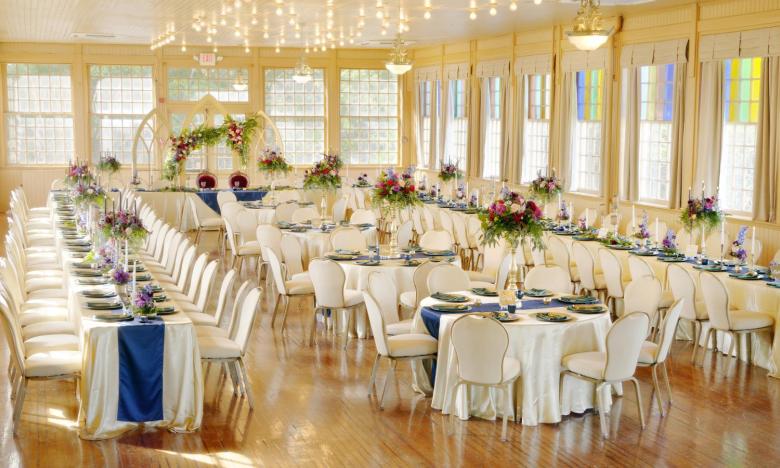 Have the most fun downtown by visiting basinpark.com to plan out your next downtown Eureka Springs vacation.