Beat the Summer Heat in an Arkansas Show Cave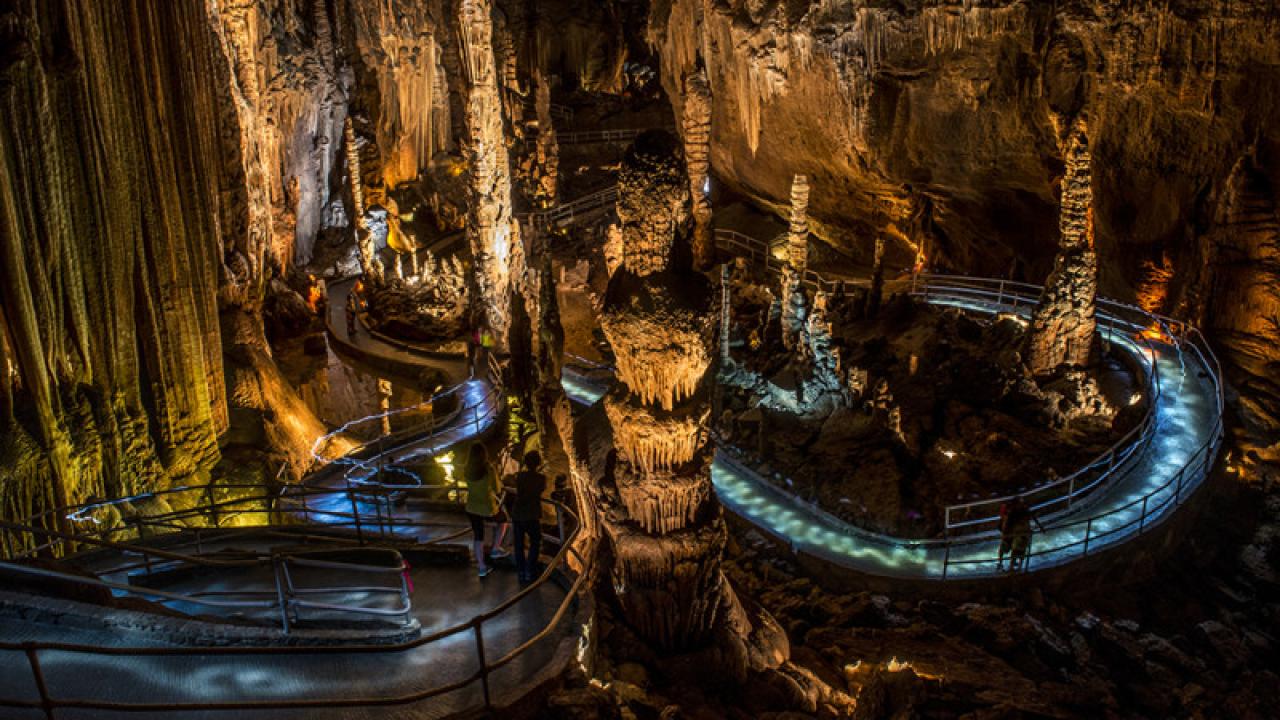 There are two great ways to beat the summer heat. The first you've likely already thought of for yourself. Find water -- swimming pools and water parks or one of Arkansas' numerous recreational lakes or swimming holes. 
The second may not come to mind as quickly but is the perfect escape from the harsh glare of the sun. Find a show cave, which is simple to do in the Arkansas Ozarks. Bearing names like Mystic, War Eagle, Crystal Dome, Cosmic, Spanish Treasure, and other flights of imagination, seven of these caves currently are open to visitors. Each cave is distinctly different.
With an average year-round temperature ranging from the upper 50s to lower 60s, depending on the cave, Arkansas' limestone caves are a welcome haven when the thermometer's blood creeps toward the 100-degree mark.
But they're also an entertaining respite with lingering legends of desperados, moonshiners and Spanish Conquistadors. 
Visitors who venture below ground will find glistening fossils; popcorn, flowstone, helictite, stalagmites, stalactites and other formations; sometimes narrow passageways; and deep pools that are home to blind salamanders. There are vast rooms glittering with massive formations, as well as tiny niches that might hold just one corkscrew-like piece of geological history.
Arkansas' caves are living, which means the formations, caused when minerals are deposited by dripping water over long periods, are continuing to change. 
Nearly all the caves provide guides who assist with safety as well as with cave lore. Several of the caves are open all year, but days vary by season. Some are open from spring until fall only. Visitors should check with individual properties before planning a visit.
Some caves offer other on-site attractions, such as gift shops, museums, snack bars and more.
Access varies by cave, as some contain stairs, steep or uneven walkways, narrow passageways, or ramps. Some caves can accommodate wheelchairs. Visitors with questions about access should check with cave operators before planning a visit.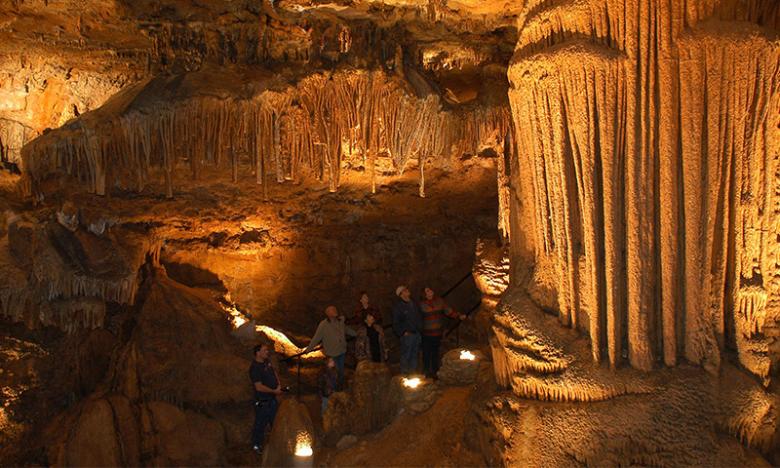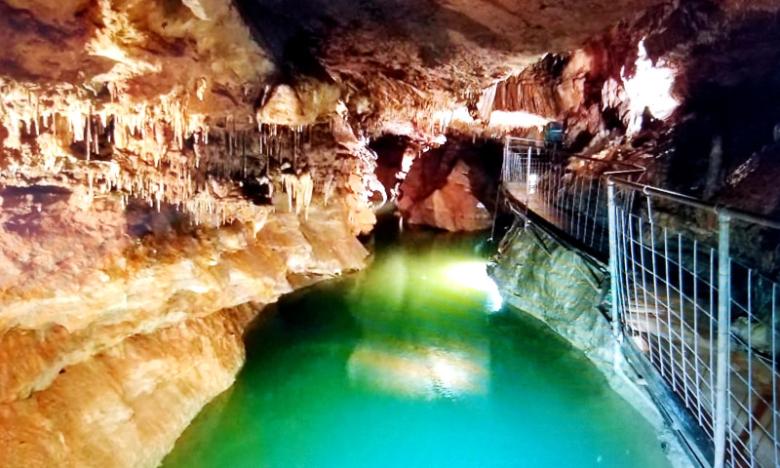 Cosmic Cavern
As visitors venture into Cosmic Cavern near Berryville, strategic illumination casts lights and shadows onto a wonderland of shapes, colors, sizes and textures. There are frozen waterfalls, stalactites, stalagmites, flowstones, soda straws, helictites, cave bacon, draperies and many other speleothems. The Silent Splendor room houses one of the longest soda straw formations in the Ozarks. It measures more than nine feet in length.
Two bottomless lakes and an underground bridge can be seen on the one hour and 15 minute guided tour. The first lake, South Lake, is home to the Ozark Blind Cave Salamander.
Cosmic Cavern also offers gemstone mining, fossil digs and wild cave tours. Ark. 21 N.; 870-749-2298; cosmiccavern.com
Bull Shoals Caverns
At Bull Shoals Caverns in Bull Shoals, Confederate soldiers pulled saltpeter out of the grotto to make gunpowder. This limestone cave contains an underground river as well as drapery, soda straws and other typical formations. Unique to the cave is a formation named the Liberty Bell, which is colored by iron oxide and hematite; and one of the rarest of all cave formations, boxwork. It forms when a crack appears in a clay-covered ledge. Water and minerals seep in and harden. When the clay is washed away, the formation is left. 
The Cathedral Room is the highest point in the cave and contains a chime-like formation which makes beautiful music when struck with a padded stick. The lowest point in the tour is 95 feet below the surface and 600 feet from the entrance. Guided tours are about 45 minutes to an hour long. Mountain Village 1890 is an above-ground historical attraction at the same location. Off Ark. 178; 800-445-7177; 1890village.com
Old Spanish Treasure Cave
As legend has it, more than 350 years ago Spanish conquistadors buried their treasure deep within what is now known as Old Spanish Treasure Cave in Sulphur Springs. Over the years, many explorers looked for the gold, which remains hidden if, indeed, it ever existed. However, a stone on the property bears a map thought to have been carved more than 300 to 350 years ago. An oak tree beside the stone contains some trace remnants of a map as well. Reportedly, some helmets, pieces of armor, weapons and a few gold coins have been found over time. The hunt continues today.
The cave offers a well-lighted, non-strenuous guided tour that takes approximately one hour. Visitors can also try their luck at gemstone panning. Ark. 59; 479-787-6508; spanish-treasure-cave.com
Mystic Caverns
Mystic Caverns in Harrison is actually two caves separated by 60 feet of rock. Mystic, which has been opened to public tours since the 1920s, contains one large room featuring a 28-foot "pipe organ" among its formations. Crystal Dome Cavern next door was discovered in 1967. Because of its later discovery, the eight-stories-high cave is the epitome of pristine. Scenic 7 Byway; 888-743-1739
Onyx Cave
Visitors to Onyx Cave in Eureka Springs take self-guided tours. Radio headphones guide visitors past amazing formations of stalactites and stalagmites. Ramps provide access to the cave and a non-strenuous trail goes through it. Off U.S. 62 E.; 479-253-9321
War Eagle Cavern on Beaver Lake
An underground stream runs through War Eagle Cavern on Beaver Lake near Rogers. The cave contains unusual dome pits, some reaching 60 feet in height, abundant crinoid fossils, rimstone dams and waterfalls. The natural entrance, which is surrounded by plantings, is located on Beaver Lake, so visitors can arrive via car or boat. The tour is an easy walk, with no stairs or tight places.
Cave lore involves bluff-dwellers, outlaws, moonshiners and explorers. Other activities available at the cavern include panning for semi-precious gemstones and maneuvering through the Lost in the Woods Maze. In the summer, the cavern's Smoke Signal Café is open Scenic Ark. 12; 479-789-2909; www.wareaglecavern.com
Blanchard Springs Cavern
Discovered in 1963, Blanchard Springs in Mountain View is filled with unspoiled formations such as the 65-foot-high "The Column," as well as another huge formation named "The Flowstone." The cavern was opened to the public in 1973. There are guided walking tours and a wild cave tour. Off Ark. 14 N.; 870-757-2211; www.blanchardcavetours.com/