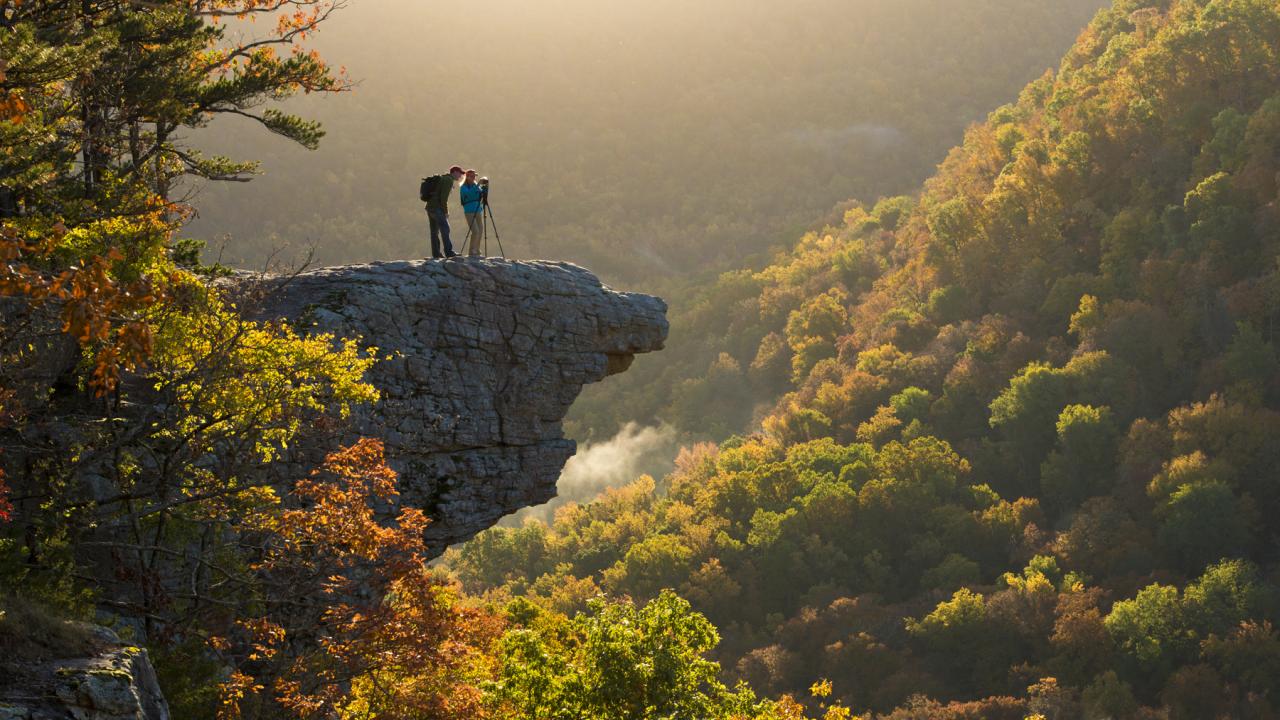 Crisp fall weather is prime for outdoor activities in Arkansas - hiking, biking, and wildlife watching in particular. There are locations that become treasure troves in autumn when the leaves turn. Places that are downright magical. Places where your senses are heightened. Your spirit soars. Where you can breathe deeper and see deeper. One of a kind places and experiences.
Here are a few of those for your bucket list for fall:
Whitaker Point, a sandstone rock outcrop jutting out about 100 feet above the forest floor, is one of the most photographed spots in the state. Also known as Hawksbill Crag, it is located in the Upper Buffalo Wilderness Area. Take a hike to the crag, relish the view, and be careful on the cliff. The sea of fall leaves are astounding from this vantage point.
Arkansas is one of the nation's premier biking destinations with terrain and events for all skill levels. The Natural State is home to five trails deemed Epic by the International Mountain Bicycling Association (IMBA), which held its world summit in northwest Arkansas in 2016. Three Arkansas cities hold IMBA Ride Center status — Bentonville (silver level), Fayetteville (bronze level), and Hot Springs (bronze level). This designation is awarded to areas that offer a range of trails for various riding styles and first-class amenities that cater to cyclists. Northwest Arkansas has been named the first-ever regional Ride Center.
The OHT is a backpacking and day-use hiking trail that roams across the highlands of the Ozark National Forest for 210 miles in all from Lake Fort Smith State Park to Tyler Bend of the Buffalo National River, and across the Sylamore Ranger District.
If you can't hike or bike but still want to enjoy a breathtaking experience, head to Boxley Valley.  Elk have free range and can be seen at several different locations near the Buffalo National River in North Central Arkansas. The most common place to view them is the six miles of Arkansas 43 and Arkansas 21 in Boxley Valley. You can park on the pull-offs on the side of the road and stand along the fence line to see them. The best times to see the elk are dusk and dawn. Autumn is a great time to see them in the fields, particularly October and November. They put on an extra show because it's rutting season and bull elk have large antlers to show off to their cow elk, other bulls, and you.
You can also book your ticket to ride on a train in northwest Arkansas. The Arkansas & Missouri Railroad rolls through the scenic Boston Mountains. The passenger train departs from Springdale, Winslow, Van Buren and Fort Smith year-round. The views from the train are spectacular in the fall as the route passes over high trestles and through tunnels.