Enjoy the Arkansas River from Rockwater Marina
Rockwater Marina is located on the north side of the Arkansas River. It is central Arkansas's first downtown marina  and offers an access point  to enjoy the river while offering a base from which to explore North Little Rock and Little Rock via boat, bike, or feet. It offers both skyline views and quick access to local attractions.

The marina is near locales like the Argenta Arts District, Dickey-Stephens Park, Simmons Bank Arena and the Little Rock River Market District, an entertainment hub of the city. There are many pit stop options among the many restaurants, coffee shops, stores, and museums that call the two cities home.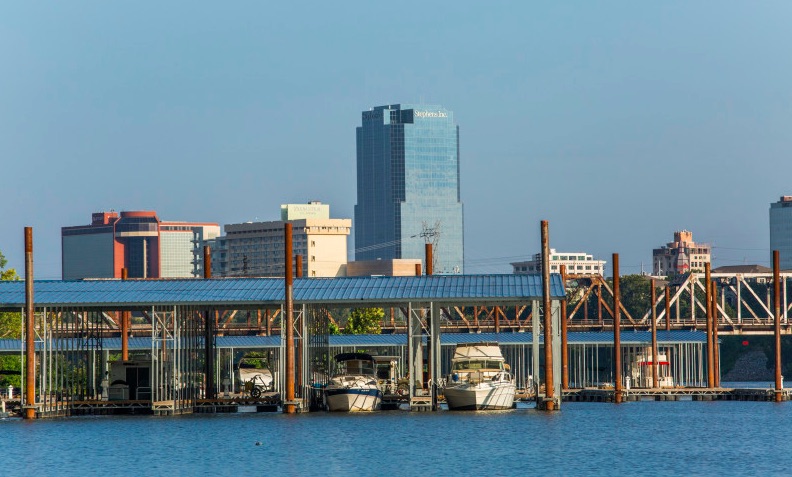 The marina is also adjacent to the Arkansas River Trail, a beloved route to experience the region's natural beauty in the midst of an urban landscape. The core of the Arkansas River Trail is a 15.6 mile off-street trail loop anchored by the Big Dam Bridge to the west and the Clinton Presidential Park Bridge to the east and running along both sides of the Arkansas River in between.

Rockwater Marina, which is located at 1600 Rockwater Blvd in North Little Rock, is home to two locally-owned water recreation businesses including Rock Town River Outfitters, which is Little Rock's first Arkansas River outfitter. The guiding service offers an outlet via which to kayak the Arkansas River and bike the Arkansas River trail. There is also an Air BnB on site available to stay at aboard a vintage Sea Ray boat.  Yoga classes are also taught at the marina and boat rentals are being planned for the future.

For those that own their own boat, the full service marina serves as an opportunity to spend a few days and enjoy the river and surrounding cities. It has 64 boat slips, available for both long term or short term rental. On site is a ship store and a main dock that serves as a community area . A walkway leads to all the boat slips and the main dock has a beautiful view of the Little Rock skyline.