Featured Article
Explore the Hot Springs and Diamond Lakes Region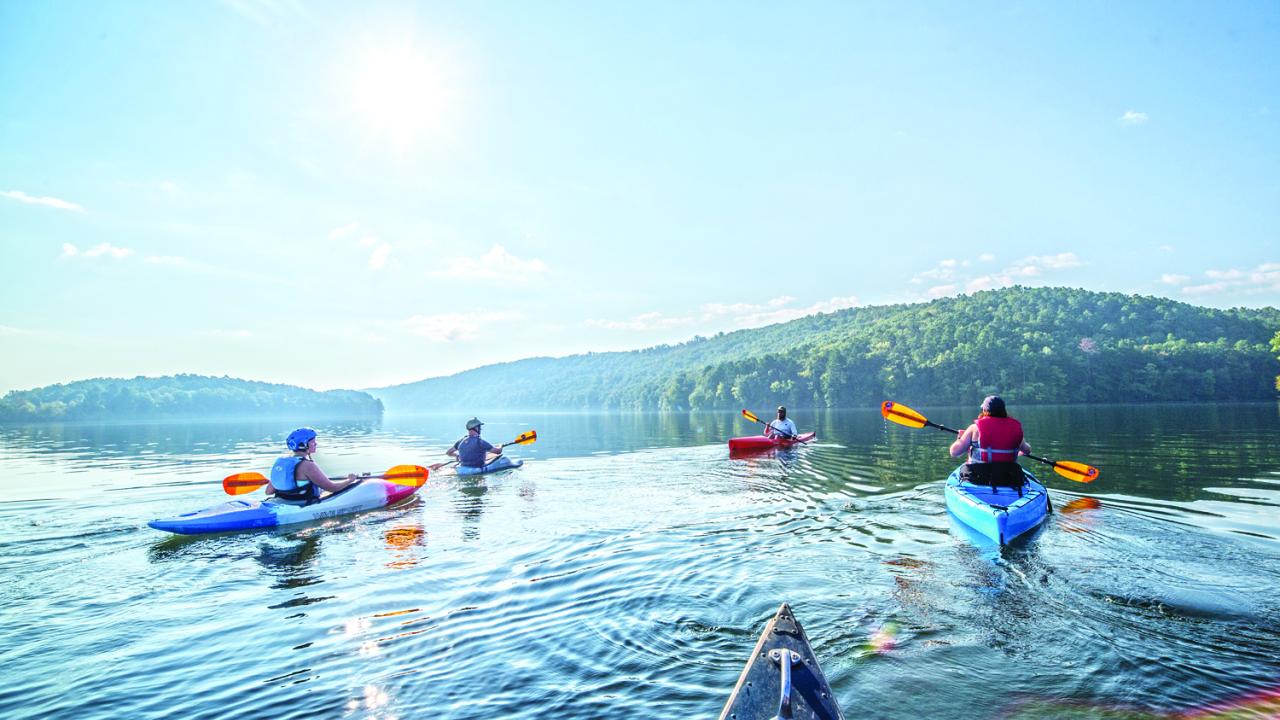 Arkansas's Diamond Lakes Region welcomes travelers looking for hiking, mountain biking, water sports, mining, swimming and more. Located in the Southwest part of the state, the Diamond Lakes region represents Arkadelphia, Caddo Valley, Glenwood, Hot Springs, Malvern, Mount Ida, Murfreesboro and the communities surrounding these key cities. The region is named for the five lakes found here: Lake Catherine, DeGray Lake, Lake Greeson, Lake Hamilton and Lake Ouachita. The area consists of a national park, diamond mine, water and theme park, three International Mountain Bicycling Association (IMBA) Epic Rides, casino and live thoroughbred racing. Here are our top spots for the perfect vacation in the Diamond Lakes Region.
Hot Springs National Park
No trip to this region is complete without a stop in Hot Springs. Native Americans called it "Valley of the Vapors," and it was a neutral site where tribes could use the healing waters in peace. In 1832, President Andrew Jackson designated the area as the nation's first federal reservation. Today, Hot Springs National Park is made up of the northern part of the city and comprises nearly 50 natural springs and more than 30 miles of hiking and biking trails.
For centuries, travelers have come to Hot Springs to enjoy its soothing natural waters, made famous on historic Bathhouse Row. Downtown Hot Springs features historic hotels, as well as all kinds of shops, restaurants, museums and music venues.
The lake resorts in the region are far enough away to be one with nature but close enough to visit town for whatever you need. Spend a day on the lake, fishing, boating or hiking, then come into town for shopping and dining.
Wherever you choose to stay, bring your bike. Some of the best trails in the country are found in the Diamond Lakes Region. Three of these trails are designated as IMBA Epic Rides – Lake Ouachita Vista Trail (LOViT), Ouachita National Recreation Trail and the Womble Trail. Hot Springs is recognized as an IMBA regional Ride Center for the amenities and resources available to riders.
On the Water
Lake Catherine is a fishing lake located between Hot Springs and Malvern. The 11-mile, 1,940-acre lake is surrounded by the breathtaking Ouachita Mountains. Lake Catherine State Park offers campsites, cabins and the only full-service marina on the lake, open in the summer months. Bonus: Many of the historic buildings in the park were built by the Civilian Conservation Corps in the 1930s.
DeGray Lake is 13,400-acres and is home to the state's only resort state park, DeGray Lake Resort State Park. The resort is the perfect spot for families where you can enjoy the great outdoors while staying in the on-site lodge. Play a round of golf at the scenic and challenging 18-hole championship course and enjoy unique dining experiences before heading to the beach or out on the trails. Want to get a fun workout in? Go disc golfing or horseback riding before soaking in the pool.
Twelve-mile-long Lake Greeson is known for its excellent fishing and kayaking opportunities. But you can also partake in swimming holes, picnic areas and campsites that make it fun for families. There are also 45 miles of trails around the lake. Pick up a trail map at Daisy State Park where you can also book a campsite or yurt.
One of the state's most popular recreational and residential lakes, Lake Hamilton is the perfect family fun spot. Garvan Woodland Gardens is a botanical garden on the lake that can be accessed by boat or land. Both make for the perfect getaway for any family.
The largest lake in the state at 40,100 acres, Lake Ouachita, can be peaceful even on the busiest weekends. There is plenty of room for sailing, boating, water sports and scuba diving. If you're a fisher, catch bream, crappie, catfish, or striped bass in the open waters or quiet coves of the lake. Lake Ouachita consistently ranks as one of the top 10 spots in the nation for largemouth bass fishing. Surrounded by the Ouachita National Forest, the lake has more than 100 uninhabited islands for camping and on the eastern shore is Lake Ouachita State Park with campsites and cabins.
A favorite of Arkansans to float is the Caddo River. The easiest way to get on the water is at Glenwood or Caddo Valley. Popular trips include Collier's Creek to Arrowhead, an easy three miles; Arrowhead to Glenwood, 7.8 miles for all levels; and Norman to Arrowhead, eight miles of very fast, difficult floating, intended for experienced paddlers only. Enjoy kayaking, canoeing, rafting and tubing along this beautiful river.
The Little Missouri River runs 29 miles through Ouachita National Forest, southwest of Mena. Below the river's dam near Murfreesboro is a well-known stretch of trout fishing. If you're into whitewater rafting, there is a series of wild rapids in its upper reaches with Class II and III ratings. If you aren't up for that much adventure, take a swim in one of the deep pools or hike along the streambank to capture the very best of wildlife photography.
In the Woods
Lake Ouachita Vista Trail (LOViT) is 45 miles of mountain biking you can't experience anywhere else. This IMBA Epic ride located on the southern shore of Lake Ouachita starts with the first 10 miles of rolling and moderately challenging hills then picks up in the last 35 miles from Joplin to Hickory Nut Mountain where it is steep, sustained and strenuous. But it's worth it for those views at the top.
Ouachita National Recreation Trail is the longest mountain biking trail in the state at 108 miles. Another IMBA Epic, this trail promises to be one of the biggest climbs you will ever do. This one is not recommended for novices, but the trail connects the Womble Trail for an even more epic adventure.
The Womble Trail near Mount Ida is yet another IMBA Epic trail at 37 miles. It's made of loose rock with occasional areas of packed dirt. It is rolling terrain, but there are a few steep drop-off sections that require skill and focus. This one is ideal for summer as the rolling hills lead to beautiful, green views of wondrous vistas.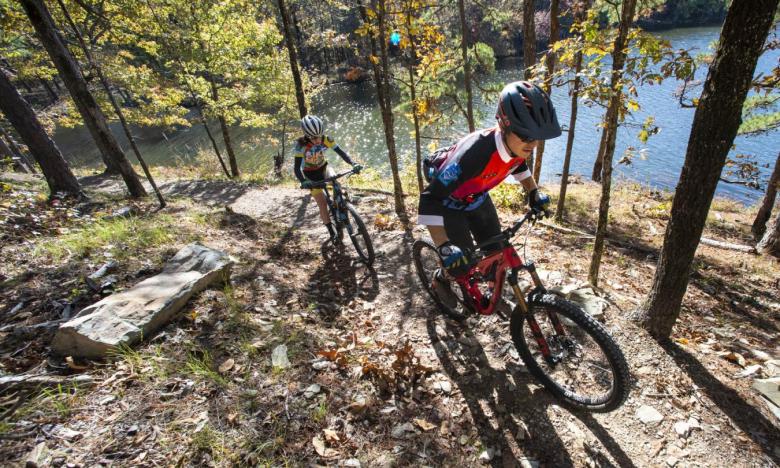 A ride on the Northwoods Trails will take you from total wilderness to Downtown Hot Springs in spectacular fashion. Suitable for riders of all skill levels, these trails have plenty of tricks up their sleeve for even the most advanced riders. A work in progress, the current trail system is 16+ miles of riding the whole family can enjoy.
Out and About
A trip to The Natural State wouldn't be complete without a stop at Crater of Diamonds State Park. This diamond mine is open to the public and you get to keep whatever rocks you mine (specified rules limit quantity). Located in Murfreesboro, it's also the site of an aquatic park and splash pad for cooling off post-dig.
A trip to Magic Springs Theme & Water Park is an exciting adventure to bring out the kid in everyone. As Arkansas's only theme and water park, it features roller coasters, waterslides, a wave pool, lazy river and more. If you're visiting in the summer, make sure to stay for the summer concert series, which brings national touring acts to the outdoor amphitheater.
The Mid-America Science Museum is an award-winning Smithsonian affiliate and an interactive museum with more than 100 exhibits, including the new DinoTrek – a permanent outdoor dinosaur exhibit. Kids will enjoy the Marvelous Motion Gallery where they can play with a sand pendulum, vertical wave machine and more. The Bob Wheeler Science Skywalk will impress the entire family with views of the 21-acres of woods that surround the museum.
Stop in at Mount Ida, the Quartz Capital of the World, where you can find crystal mines that are open to the public. Dig your own crystals at the Wegner Crystal Mines, they make for the perfect souvenir, especially if you make them into jewelry.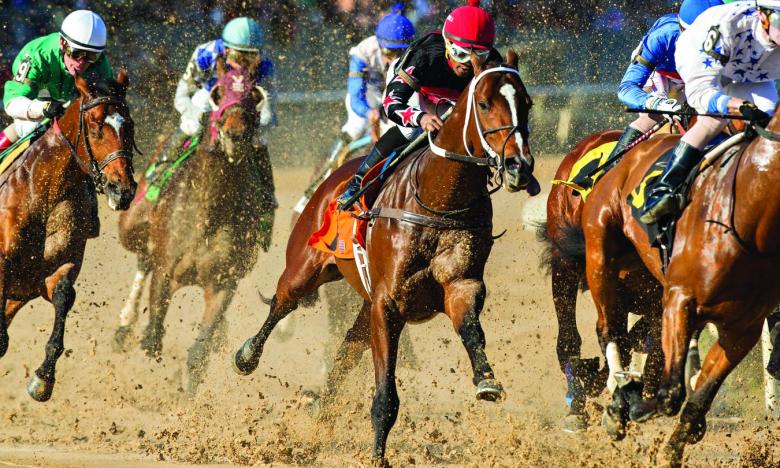 If you enjoy live thoroughbred racing, visit Oaklawn Racing Casino Resort. A Kentucky Derby qualifier and renowned racetrack for more than a century, the live racing season was recently extended from January until May. The newly renovated casino offers table games, slots, sports betting, video poker and blackjack. Opening in 2020, the new hotel will offer an unparalleled gaming experience in The Natural State.
Arkansas's Diamond Lakes region has so much to offer for travelers. No matter what you choose there is an adventure waiting right around the corner, whether it's mining your own jewels or biking a challenging IMBA course. This part of the state's beauty will blow your mind while making you appreciate the small stuff.