Fishing the Diamond Lakes of Arkansas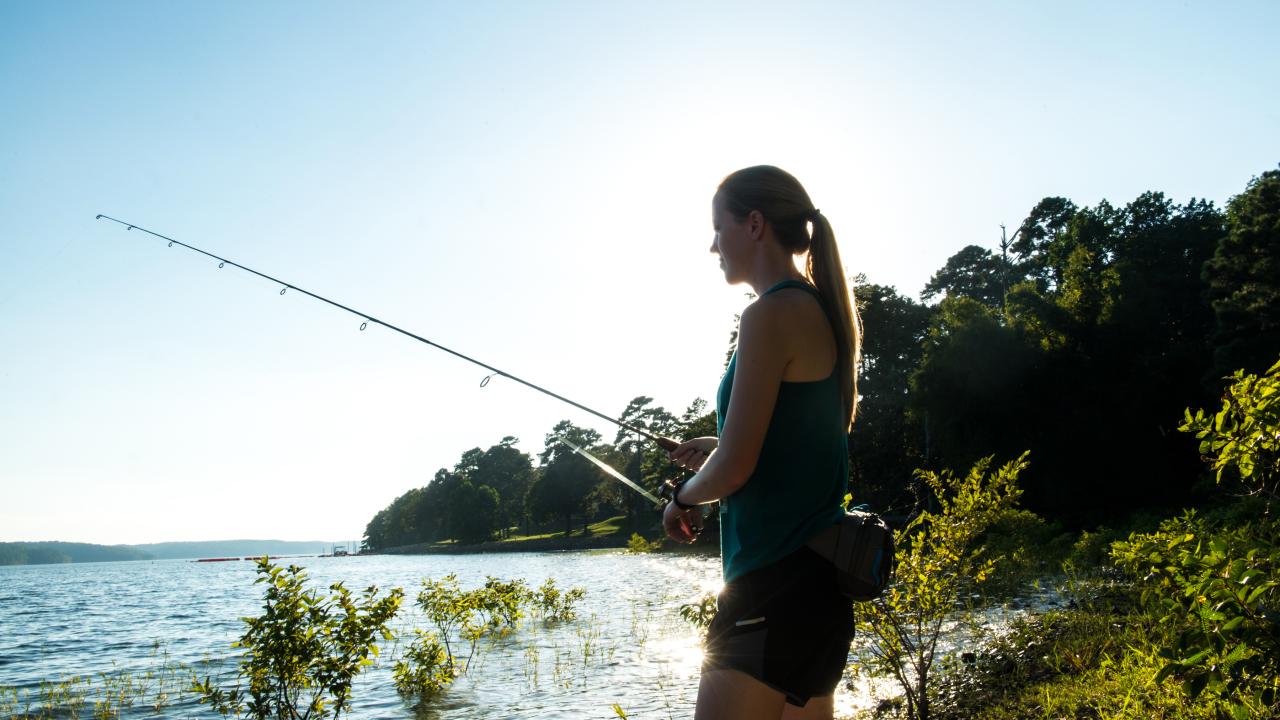 Arkansas is home to more than 600,000 acres of lakes. Among these are five in Southwest Arkansas collectively known as the Diamond Lakes. These are Lake Ouachita and Lake Hamilton at Hot Springs, Lake Catherine near Malvern, DeGray Lake at Arkadelphia and Lake Greeson between Glenwood and Murfreesboro.
Arkansas angler and fishing expert Billy Murray has extensive knowledge of these waters. The Hot Springs native, who was recently inducted into the National Bass Fishing Hall of Fame, first started his career over 50 years ago as a fishing guide at Lake Ouachita. He enjoys fishing all of the lakes of the state, including the Diamond Lakes.
"Each body of water has its own personality," he said. "The characteristics of each is different and the fisheries have different species available and are on different river systems. Within our five lake area here we have almost any type of water you would like for recreation. Our wealth is in our water. We are so fortunate to have what we have. It's a boom to Arkansas and gives our people the opportunity to go out and enjoy our state."
Below, Murray shares his insight on each of the five lakes.
Lake Ouachita is surrounded by the Ouachita National Forest. The 40,100 acre lake is well known for fishing and consistently ranks as one of the top 10 spots in the nation for largemouth bass fishing. The lake has more than 100 uninhabited islands for camping and on the eastern shore is Lake Ouachita State Park.
"Lake Ouachita is the largest lake we have in the state."
"It is a wilderness lake. It has no homes on it. It is there for flood control and the lake fluctuates greatly up and down depending on rain and drought. It has multi species available in the lake. The main ones being bass, striper, walleye, and crappie. Each one of these species has a different niche in the water. They don't cohabitate, they have their own area of the lake they live in. The lake is able to generate more of these fish because of the extensive amount of water fluctuation it has.
"It is probably the premier striper fishing lake in the state."
"It has a tremendous population with many fish caught being over 30 pounds. And it is one of the few lakes in Arkansas you can go out and target walleye and catch them. Walleye is normally a northern species found in the northern part of the country.
The bass population is good too. You have largemouth bass, smallmouth bass, which are catch and release only, and then there is Kentucky spotted bass. The length limit on the largemouth and spotted bass is 13 inches, which gives these fish a chance to get to maturity before they can be taken out of the lake.
"The river system that feeds Lake Ouachita has got more lakes on it than any other river system in our state. You have Lake Ouachita, Lake Hamilton and Lake Catherine, all on the same river, which is the Ouachita River. So it is a very diverse fishery in that it has huge amounts of big open water, which is not only good for outdoor recreation such as fishing, but it is also a big recreation lake for swimming, skiing, scuba diving, it is a multi use reservoir. It has somewhere around 1300 miles of shoreline. So it's a huge body of water.
The one thing that makes it so unique is it has huge tributaries that go off of the main body of the lake.
It's serpentine shaped with creeks that go 6 or 7 miles off the main body of the lake. And it has all of the things in it that promote a good fishery, which is grass, standing timber, big open water areas, and lots of long huge shallow flats. Each one of these types of areas is what promotes different species of fish.
The big open areas are the striper areas, the long creeks off of the lake is where most of the bass fishing is done. And most of the walleye fishing is done on the ledges and humps that are out in the main body of the lake."
Downstream from Lake Ouachita is Lake Hamilton. It is of the state's most popular recreational and residential lakes. Garvan Woodland Gardens is a lakeshore botanical garden that can be accessed by the lake via boat and Scenic 7 Byway crosses the lake.
"This is a residential lake. It has homes, motels, restaurants, all types of businesses right on the shoreline of the lake."
"It's what we call a constant level lake. It doesn't fluctuate when you get large rains. They try to hold it at a constant level mainly because they don't want it to flood a bunch of people's houses. Lake Ouachita is the lake they control the water level in the Ouachita River with. It's the one that when it rains real hard they just stop the water right there and start letting out the lakes below so they won't flood.
"Lake Hamilton is a much narrower lake than Lake Ouachita."
"It is kind of long and skinny and doesn't have lots of big open water. It has no standing timber in it and very little grass. So the habitat is more limited than on Ouachita. The main shallow water habitat is boat docks. This is where all of the shallow water cover comes from.
Lake Hamilton has a lot of boat docks, it's a residential lake. It also has largemouth bass, stripers, walleyes and crappie. The main fishing time here is usually early spring and winter. Because in the summer it has thousands and thousands of boaters and skiers on it, it's a high traffic body of water. But it is very important to our area because of how much recreation is on it."
If you continue downstream, the next lake is Lake Catherine. Situated on the lakeshore is Lake Catherine State Park. Though 11 miles long, the lake covers a mere 1,940 acres, nestled in narrow valleys of the Ouachita Mountains.
"This is a much shallower lake than the other two previous lakes above it. There is water in excess of 300 feet deep in Lake Ouachita. It's a deep and really clear lake. As you come downstream, the lakes gets shallower."
"Lake Catherine is the shallowest lake in the chain, and the smallest."
"It is simply a river channel lake. It has huge flats with lots of stumps, no standing timber and very little grass. Parks and Wildlife sources say there is more fish per acres of water here than in the previous two lakes mentioned. It supposedly holds a larger fish population per acre of water.
"Lake Catherine is also a residential lake, there are homes on it. And it is a constant level lake, it does not fluctuate except in the wintertime. They lower it usually around the 1st of November so that everyone who lives on the lake can repair boat docks and work on shorelines. So it stays low in the winter and then they raise it again in the spring. This if for both Lake Hamilton and Lake Catherine.
Catherine has the same species of fishing it which is bass, stripers, walleyes and crappie, mostly game fish.
There is probably less traffic on it than the other two previously mentioned lakes too."
This 13,400 acre lake is home to the state's only resort state park: DeGray Lake Resort State Park. "Lake Ouachita, Lake Hamilton and Lake Catherine are all Ouachita River reservoirs."
"DeGray Lake is our newest reservoir we have built here in the Diamond Lakes area."
"It was built in the early 70s and is on the Caddo River, which is one of the state's premier floating streams. For people who like to river fish or float a river, it's a very scenic river before it gets to the lake. There are outfitters in Glenwood and Caddo Gap that rent canoes and send people downriver on float trips.
The river doesn't get too big or too swift, it's a really nice float. Most of this is done in the summertime so people can enjoy the river. It's a nice outing and good fishing as well as floating and a real scenic small river.
DeGray Lake has DeGray Lake Resort State Park.
"It is really the only facility on the lake besides Iron Mountain, which is the big marina right at the dam. And there are multiple campgrounds. For lake size, DeGray Lake probably has more campgrounds on it than any other lake, it is very accessible to the public. It's a wilderness lake which means the water level fluctuates a lot. It may fluctuate anywhere between 15 and 25 feet a year. It comes up in the spring and down in the winter.
"This large amount of water fluctuation is one of the things that contributes to it being a really good fishery because it floods in the spring and all of the young fish have a place to hide in the springtime to grow big enough to where they can live in a very competitive environment. They don't have to get out there and fend for themselves among all these larger fish.
When that happens everyone gets eaten. So when it floods in the spring during the spawn, they have a place to go hide. They are semi adults by the time they have to pull out of that flooded cover. DeGray does not have stripers in it, like the other lakes we have in our area. But it does have a good hybrid striped bass population, largemouth, Kentucky bass and crappie."
The 12-mile-long, 7,000 acre lake features clear waters and steep, rocky ridges that form islands and long peninsulas extending into the lake. Around the lake shore is Daisy State Park.
"Lake Greeson is on the Little Missouri River. It's the hidden diamond of them all."
"It is the smallest of the five lakes and has two marinas on it, one at Self Creek and one at Swaha Lodge. It is not a residential lake, it's a flood control. So it has lots of water fluctuation, it is up in the spring, down in the winter. Of all of the lakes we have mentioned, it is probably one of the best fishing lakes we have.
It has a tremendous bass and crappie population and large creeks that run off the main body of water.
"As far as habitat goes it has no grass and no standing timber, which usually the more grass and timber you have, the more fish growing habitat you have. But this lake has none. But the water level does go up and down during the year which contributes to it having a larger fish population.
The lake has huge rock bluffs and is very scenic.
It has a tremendous amount of water flow that goes through it because it is small and a tremendous amount of campgrounds, launching ramps, and access facilities to the lake."