Five Holiday Ideas for Southwest Arkansas!
Looking for a few holiday ideas this month? Below are a few suggestions to keep you in the holiday spirit throughout December.
1. See the lights at Garvan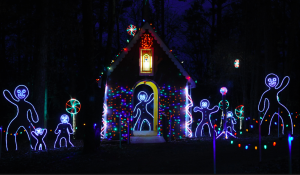 If you enjoy lights, a destination to include in your holiday plans is Holiday Lights at Garvan Woodland Gardens in Hot Springs. The exhibit, which is open through Dec. 31, was created by the Gardens staff in 2001 and is noted as one of the first gardens in the nation to do a winter holiday light display such as this.
The number of lights has increased as the years have gone by, with each year seeing new original designs and more lights. The exhibit now features over 4 million lights and covers about 17 acres in the Gardens. Holiday Lights are famous for the intricate and quite impressive 3-dimensional displays featured such as scenes of gingerbread men, toy soldiers, an ice palace, and a 50-foot animated tree.
The lights go on at 5 p.m. nightly and admission is free for members, $10 for adults, $5 for children 6-12  ( those that are under 5 get in free) and there is free parking too. For more details visit garvangardens.org. The Gardens are located at 550 Akridge Road. Below is a quick video from my venture there last year.
2. Experience a historic holiday
You can enjoy the holidays in a historic setting during the 28th annual Christmas and Candlelight program at Historic Washington State Park in Washington. This special event takes place on both December 6 and December 13.  As to details, from 1– 8 p.m. the entire park can be seen with natural 19th century decorations like natural handmade wreaths. After dark, luminaries light the way for visitors to stroll the streets, see historic buildings and musicians caroling throughout town. Prep for the event takes park staff many months and the luminaries are made by using white paper bags filled with sand and a lighted candle.
Daylight tours are from 1-5 p.m. and candlelight tours begin at 5 p.m. when thousands of luminaries will be lit, and will continue until 8 p.m. You can plan time in your schedule to visit Williams' Tavern, which will have a Christmas buffet from 11 a.m.-8 p.m. You can also enjoy a horse drawn surrey ride while there. Tickets to the program are $10 for adults and $5 for children (6 -12) plus tax.
Historic Washington State Park, a restoration village preserving one of Arkansas's most prominent 19th-Century towns, is located on US 278 nine miles north of Hope and can be reached by taking Exit 30 off Interstate 30.  For more information contact Historic Washington at 870-983-2684, or [email protected]
3. See a parade!
Parades are taking place across the state to celebrate the holidays. A few taking place in Southwest Arkansas include Main Street Texarkana's 30th annual Christmas Parade on December 1 in Texarkana.  This parade starts at 7 and the theme ,"It's a Mad, Mad Victorian Christmas!,  sounds really neat.  A Christmas parade and lighting ceremony will take place in Mena on Dec. 5. In Hot Springs, downtown will be decorated in lights through December 31.  An annual Christmas Parade is set there for December 8.  The largest Christmas parade in South Arkansas takes place in El Dorado on December 11!
4. Stay in a Cabin
There is something cozy and comforting about staying in a cabin during the holidays. Mountain Harbor Resort in Mount Ida is an option and their resort is decked out in lights during the holidays. Here is a list of cabin options across the state!
5. Travel the Trail of Holiday Lights
Every year, cities across the state participate in the Trail of Holiday Lights. Check out this blog by Kerry Kraus to learn more! Happy Holidays!