Texarkana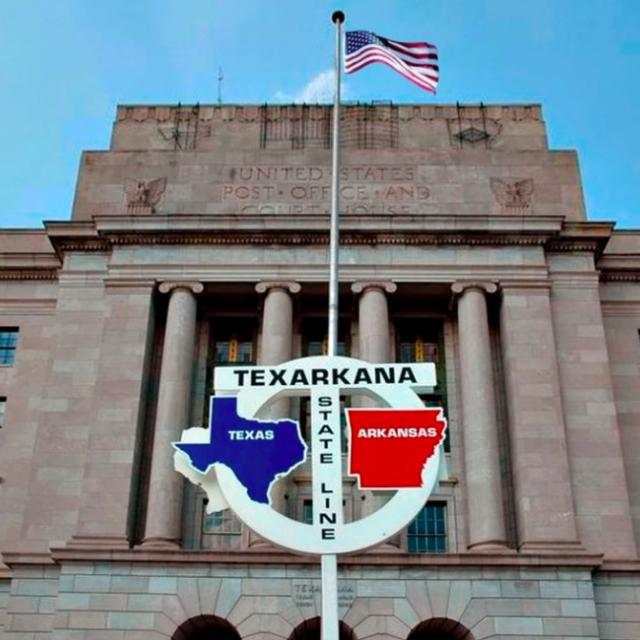 Texarkana
Texarkana is in Miller County and is named after three states: Texas, Arkansas and Louisiana. The two separate municipalities, Texarkana, Arkansas, and Texarkana, Texas, sometime function as one city. The State Line Post Office and Federal Building at 500 State Line Avenue is the only U.S. post office situated in two states. It is said to be the most photographed courthouse in the country after the Supreme Court Building in Washington D.C.
In the late 1850s, the builders of the Cairo and Fulton Railroad laid tracks in the state, completing the railway to the Texas border in 1873. That same year, a group met on the Texas side to organize Texarkana, Texas. Texarkana, Arkansas became a town in 1880.  State Line Avenue, the main street, was laid out to lie on the dividing line between the two states. Each side has a mayor, and there are two city councils and city staffs.
Notable attractions include the Four States Auto Museum, which displays vehicles representing over 100 years of auto manufacturing, and The Draughon/Moore Ace of Clubs House. The Ace of Clubs House is probably best known because of the local legend of being built in 1885 with the money won with the draw of a lucky poker hand. The Texarkana Museums System operates the home plus the historic Museum of Regional History (based in the oldest Texarkana building) and the interactive children's Discovery Place Museum, both of which offer fun events and exhibits.
The Perot Theater, which first opened in 1924, can also be found in town. Classic stars such as Will Rogers and Annie Oakley performed here as well as other popular acts. The theatre is located at 219 Main Street and is currently listed on the National Register of Historic Places. It is run by The Texarkana Regional Arts and Humanities Council (TRAHC), which also operates the nearby Texarkana Regional Arts Center which hosts national, regional and local gallery exhibits year-round.
The Lindsay Railroad Museum, located downtown on Broad Street, honors the railroad history of Texarkana.  Also of note is the Holiday Springs Water Park, which is the city's "go-to" water playground. Another attraction is the Scott Joplin Mural, which pays homage to master ragtime composer Scott Joplin.