Fun in the Sun in the Arkansas Delta!
Enjoy summer from a kayak, a bike, or on your own two feet this July with some exciting events that give you a new perspective of the natural beauty of the Arkansas Delta.
If you're looking for a new way to exercise or to enjoy nature, kayaking might be just the ticket! Crowley's Ridge State Park in Paragould offers Personalized Kayak Instruction on July 4, 18 and 25. Participants receive up to one hour of personalized instruction on how to operate a flatwater kayak, as well as learning more about the history and natural features of the park. All participants must be 10 years old and able to paddle a kayak solo. The cost for the hour-long instruction is $5 per person. To learn more, phone 870-573-6751.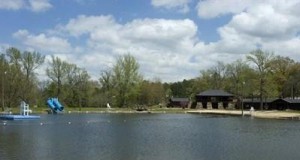 Explore the diverse history and nature of the Delta Heritage Trail State Park in Helena-West Helena as the park hosts a Bike the Rail ride on July 5. Participants bike the former route of the Missouri Pacific's Delta Eagle passenger trail for approximately 10 miles, enjoying the lush beauty of the Arkansas Delta. The ride lasts about two hours. The cost is $10 and includes bike rental if needed. Contact the park at 870-572-2352 for details.
The 31st annual MightyMite Triathlon takes place in Wynne and Forrest City on July 19. The triathlon, which has been named as one of the top 50 races in North America by the readers of "Inside Triathlon" magazine, begins with a one-third mile swim in Lake Dunn at Village Creek State Park. Competitors then bike 13 miles along the beautiful Crowley's Ridge Parkway National Scenic Byway to Forrest City, where they finish with a 3-mile run to the historic Campbell House. Log on to www.s2fevents.com for course descriptions and registration information.