Helena Holiday Festival Kicks-Off This Saturday
Historic Helena is ready for the holidays. The downtown area will be the site of various holiday-themed events during the Helena Holiday Festival, from Dec. 1-15.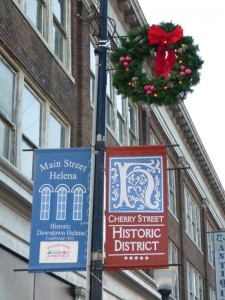 The holiday events start Saturday, Dec. 1, beginning at 6:30 p.m., Court Square Park is the site for the official lighting of the downtown Christmas tree. The Helena-West Helena Advertising and Promotions Commission planted a live tree in the park that will provide holiday cheer for generations to come. Attendees will help decorate the tree, and join in singing carols and sipping hot chocolate. During the lighting ceremony, everyone is invited to help celebrate the 100th birthday of musical legend Sonny Boy Williamson by having a piece of cake!
Warfield Concerts presents Mac Frampton and Friends holiday show, 'Tis the Season, on Dec. 6 at the Lily Peter Auditorium on the Phillips Community College campus. Frampton is considered to be one of America's most exciting pianists and the holiday concert mixes beloved traditional and popular Christmas music. The event is free and starts promptly at 7:30 p.m. Visit www.WarfieldConcerts.com for details. 
On Saturday, Dec. 8, the Helena-West Helena Christmas Parade begins at 6 p.m. in West Helena. Immediately following the parade, the 3rd annual Deck the Paws Party and Silent Auction will be held at Biscuit Row, located at 330 Phillips St. The event will feature music and a silent auction. Food and drinks will also be available for purchase. Tickets are $15 and all proceeds benefit the Humane Society of the Delta.
"Helena on Ice" returns to Court Square Park again this year. The outdoor rink will be open to school groups on Dec. 12-14. On Dec. 14, the ice rink opens to the community from 5-8 p.m. Admission for those 18 years and older is $5.
Friday, Dec. 14, the community is invited to attend the "unwrapping" of a new bronze sculpture of a Southland school student. The statute, located in Court Square Park, is part of on-going interpretation of Civil War Helena. Santa will make a special appearance and school choirs from Helena-West Helena, KIPP and Palestine-Wheatley will be on hand to serenade the crowd. Relay for Life will have a Christmas tree in the park for those who are cancer survivors or have had someone in their life impacted by cancer to decorate the tree through donations for ornaments. All proceeds for the tree ornaments will benefit Relay for Life.
Saturday, Dec. 15, is a jam-packed day of fun for all ages. "Helena on Ice" opens at 10 a.m. for skaters. The rink will be open through 6 p.m. Santa will be on hand for pet owners to bring their furry friends to take photos with St. Nick. Also at 10 a.m., the Delta Cultural Center celebrates 100 years of the museum's restored historic Depot. As part of the celebration, the Arkansas Midland Railroad will have a modern engine parked at the Depot until 2 p.m. Beginning at 2 p.m., City Limitless, located at 227 Cherry St., hosts Delta Ink. Students and community members will share their stories of Arkansas Delta Christmas memories. Come hear wonderful stories that will warm your heart and get you in the holiday spirit.
Historic Helena offers something for everyone this holiday season!