King Biscuit Poster Unveiled…Let the Countdown Begin!
httpv://www.youtube.com/watch?v=Oiu9wpZDMns
"Blind Mississippi" Morris performing on the Lockwood-Stackhouse Stage at the King Biscuit Blues Festival
For me, the countdown to the King Biscuit Blues Festival in Helena-West Helena begins when the official festival poster is unveiled. And that happened last week! So let the countdown begin!
The King Biscuit Blues Festival celebrates 28 years this October. King Biscuit is, of course, recognized for the hottest sounds in contemporary and traditional blues music. But the event is also known for the annual collectible poster, which is featured on official festival merchandise.
This year's winner is Harry Satenstein of Reading, Penn. The title of the piece is "IT'S THE BISCUIT!" The work is an illustrated and whimsical close-up portrait of Delta bluesman "Blind Mississippi" Morris performing at the Biscuit. His mirrored "shades" reflect the surrounding area, including the infamous Mississippi River levee. The piece is a pastel drawing featuring oil pastels, watercolors, pastels, inks and gold leaf.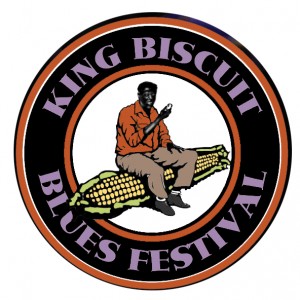 "Blind Mississippi" Morris was born Morris Cummings. He lost his sight at the age of four but wouldn't allow that to stop him from learning the blues. He was named one of the 10 best harmonica players in the world by Bluzharp magazine. Morris has played King Biscuit many times and continues to be a crowd favorite.
Mr. Satenstein is a freelance visual artist specializing in blues-related subject matter including drawing, painting, photography and sculptural mixed media. A series of Satenstein's original blues posters are part of the permanent collection at the Center for Southern Folklore in Memphis. He served as the art director for James "Super Chikan" Johnson's debut album in 1997. Satenstein was commissioned to create 24 original translucent porcelain sconces for the grand ballroom of the Spaso House in Moscow, which serves as the residence of the U.S. Ambassador to Russia. Satenstein was the first American artist to have his work permanently installed at the Spaso House.
The dates for the 2013 KBBF are Oct. 10-12. This year's headliners are Marcia Ball, Robert Cray and the Gregg Allman Band. Visit www.kingbiscuitfestival.com to find out more about the 28th annual King Biscuit Blues Festival.