"Listen local" to Legends in Argenta
The word "concert" doesn't quite convey what Susie Cowan, executive director of Legends of Arkansas, and her team have planned for this coming Saturday, May 14. Think of Legends in Argenta—an offshoot of the Legends of Arkansas festival coming up on its fourth year in September—as an appetizer for that larger fall event. It's full of all the same flavors and packs the same punch of fun, but bite-size, perfect for snacking on a warm Saturday evening. "We decided to do Legends in Argenta for two reasons," says Cowan. "It's a scaled-down version that we can take on the road" (Cowan says Legends hopes to expand to five shows per year—two big shows, in the fall and spring, and three smaller ones, like Saturday's event, spread throughout the year, all of them in different parts of the state), "as well as a promotional event and fundraiser for the main event, which is free. We have to raise money for that, because we pay all of our musicians and artists."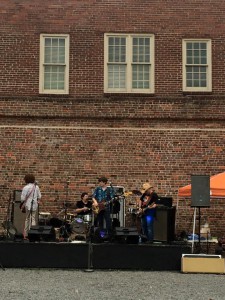 Saturday's event, which runs from 4 p.m. to 11 p.m., will be held in downtown North Little Rock in the plaza at the corner of 6th and Main (you know the one—it's adjacent to the former Argenta branch of the Laman Library, in the historic fire station, which has a stage built permanently against its side). Admission is $5 for adults and free for children 12 and under; dogs are not just welcomed, but encouraged. The menu consists of four musical acts, a variety show, circus performers, arts and crafts vendors and food trucks—all of them local. A brand-new partnership with Arkansas's Brewers Guild will add a dozen craft brews from across the state, and Post winery will be on hand for those who prefer grapes to hops. With that, this event is finally all within the Arkansas family—which is exactly what Cowan is striving for.
"It's all about getting the community out together," says Cowan. "When you see people out there dancing w
ith their kids…last year we had four generations of the same family there. So that's how we try to build our events—something you can be proud to bring your parents to and comfortable bringing your kids to." Saturday, all ages will have the opportunity to dance to Brian Nahlen and Nick Devlin ("Brian is a true legend," gushes Cowan); young musical prodigy Sarah Cecil; Ghost Bones, winners of last year's Arkansas Times Musicians Showcase; and longtime favorites Mulehead will headline. In the midst of all this will be 20 arts and crafts vendors, Paul Prater will perform a variety show and Arkansas Circus Arts will do stilt-walking, hula-hooping and a fire show. "It's a scaled-down version," says Cowan,"but the entertainment is top-notch."
Looks like the weather Saturday is going to be top-notch too—perfect for a little night music. For more information, check out the Legends of Arkansas site.