Meet Mayor Jeff Owyoung of McGehee
The World War II Japanese American Internement Museum in McGehee tells the story of what could be considered one of the lesser known aspects of history in the Arkansas Delta. Jeff Owyoung, now mayor of McGehee, was involved with the project long before he became the executive officer of the town.
Owyoung's commitment to McGehee spans nearly two decades. He was the McGehee Chamber of Commerce's Man of the Year in 2004 and 2009, as well as the Chamber's Volunteer of the Year in 2007. He's a member of the McGehee Planning Commission, member of the McGehee School Board, chairman of the community's Owlfest board, and past chairman of the McGehee Industrial Foundation. He and his wife of 33 years, Sallie, have three children — Kent, Chase and Ross;  Chase's wife Paisley and grandson Ellis are the newest members of the Owyoung family.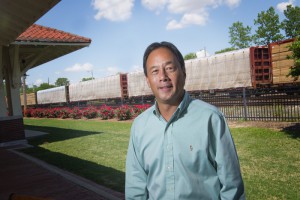 Now, as mayor of McGehee, Owyoung's commitment to the internment museum has not waned. If anything, it's become stronger. I posed questions to Mayor Owyoung about his involvement with the museum project and his hopes for the museum's future.
KW: How did you originally become involved with the WWII Japanese American Internement Museum?
JO: It's really a funny story. We were having a McGehee Industrial meeting ,talking about the plans for the museum, and someone asked if anyone would want to volunteer to chair it? After a brief silence, someone mentioned "What about the Man of the Year" which I had just been named by the McGehee Chamber of Commerce… and the rest is history. But I am so glad it worked out that way because I really didn't know much about the history of this time . I have learned so much from this and have met so many wonderful people. It's an experience that I will treasure the rest of my life.
KW: The museum just celebrated its third anniversary. What is your dream for the museum over the next 10 years?
JO: When I took the project on, I mentioned I would like to have three phases of this museum:
 ·     To get the museum open
·     To hopefully have a original barrack across the street
·     To get a replica guard tower up
I have had several people come to me, wanting to donate one of the original barracks, so we are looking into that now. Hopefully we can have something up in the next 18 months.
KW: What do you feel is the most important thing visitors will learn when they visit the museum?
JO: How mistreated the Japanese Americans were when our government uprooted them from their homes and families and moved them all across the United States just because of their nationality. I hope when visitors leave the museum, they can take this part of history and share it with someone else that didn't realize what went on. It is very important that everyone know this part of history and how unfortunately they were treated.
KW:  I had the pleasure of being at the opening ceremonies in April 2013. I felt it was one of the most moving events I'd ever attended, mostly because of the former internees and their family members that attended. What do you remember most from that day?
JO: I remember all the different stories each of the family members and former internees told. It was very moving to actually meet them and honor them during this special dedication. They were all so appreciative and humbled that we went to all this work to help them share their stories.
KW: Okay…I have to ask! You spent some time with actor and Internet sensation George Takei. Everyone wants to know…what's he REALLY like?
JO: AMAZING! He was the most genuine, sincere person and loved to share memories of the time that he spent at the camp as a little boy. His memory was very vivid about certain things in the museum and when we went to the cemetery/camp (located in Rohwer), he pointed out parts of the land where certain things had been. I think he was really touched when he saw pictures of the camp; it brought back a lot of memories for him.  He also talked about how wonderful and nice the McGehee people were to him. He really enjoyed the southern hospitality we gave him. I really hope we can get him back here at our 5 year anniversary!
KW: Mayor, thank you for your time and your commitment to this wonderful museum. Any last thoughts?
JO: I want to mention that it took a lot of people to make this museum a reality. The McGehee Industrial Foundation is a huge part of the success of the museum; it's the backbone of it. The  National Parks, Arkansas State University, UALR, Wallace Trust, Delta Cultural Center, Clearwater Paper, former Mayor Jack May, Arkansas Parks and Tourism…these are just a few of the people and organizations that made this museum a reality. I am sure I left out many more and I apologize if I did, but there are so many that had a hand in this. Last but not least is special thanks to my wife Sallie; without her support and love I wouldn't have been able to give my time and efforts to this project, but she is such a caring, loving person; she loves helping out just like me. She is not just my wife but my heartbeat in my body that makes me able to do the things I enjoy.
Check out this Meet the Locals video, featuring Mayor Owyoung and George Takei at the opening of the museum, as well as museum director Susan Gallion and Rohwer historian Rosalie Gould.